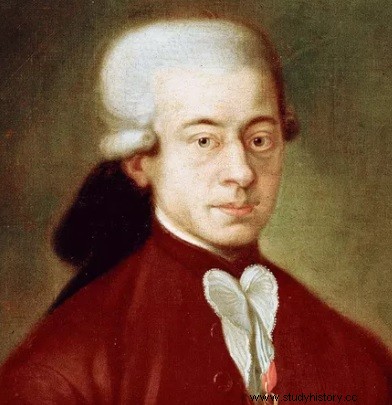 Wolfgang Amadeus Mozart (1756-1791) was an Austrian composer, considered one of the greatest geniuses in the history of classical music. At an age when most children cannot yet read and write, Mozart was already composing minuets. At fifteen he gave his first concerts at the court of Versailles. His genius lies in his ability to translate into music all passions and all feelings (from joy to anguish, from pain to hope) in a form of absolute clarity. During his short existence, he produced an invaluable work, from the "Little Night Music" to his "Requiem", including the "Wedding of Figaro". Leading the way, he died in semi-anonymity and ruined at the age of 35, leaving behind more than 600 works in the classical music repertoire.
The young Mozart, a promising talent
Wolfgang Amadeus Mozart was born on January 27, 1756 in Salzburg, Austria, where his father Leopold Mozart was a musician at the court of Prince-Archbishop Colloredo. Of the seven children of the family, only survived Wolfgang and his sister Maria Anna, his eldest by four years. Both revealed very early exceptional gifts for music. Leopold Mozart (1719-1787), a professional musician, author of a famous violin method, recognized his son's genius very early on.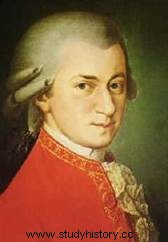 Wolfgang Amadeus (which in Latin means beloved of God) is endowed with what is called the ear absolute and of eidetic memory, which made him capable of transcribing an entire work having heard it only once. At the age of three, he was already astonishing with his virtuosity at the harpsichord; at age five, he learned to play the violin; a year later, the child prodigy composed his first minuets. With his sister, he played in public sometimes blind and quickly caused a sensation. Mozart wrote his first opera at the age of eleven, followed by two others a year later. At thirteen, he was appointed concert master by Prince Archbishop Schrattenbach. He goes on tour in Europe with his father and his sister (nicknamed Nannerl) provoking wonder everywhere. Two musicians will mark him forever:Johann Schobert and Johann Christian Bach (youngest son of J.S. Bach) who will introduce him to the pianoforte and Italian opera.
European tour and return to Salzburg
In June 1763, having obtained leave from his employer, the Prince-Archbishop of Salzburg, Leopold left with his wife, son and daughter for a major European tour (Germany , Brussels Paris, London, Holland, Paris), which would last until November 1766. The year 1768 was spent for the most part in Vienna, where Mozart composed the comic opera La Finta semplice and the singspiel Bastien and Bastienne . From 1769 to 1773, Mozart and his father made three trips to Italy, home of opera, where Ludo Sila was composed (Milan, 1772). Mozart thus forged an international style that would mark him throughout his life.
In 1773 Mozart composed six string quartets influenced by Haydn in Vienna, and in 1773-1774 in Salzburg four important symphonies. With the exception of a short stay in Munich for the premiere of the opera La Finta Giardiniera (Jan. 1775), he would not leave Salzburg until September 1777.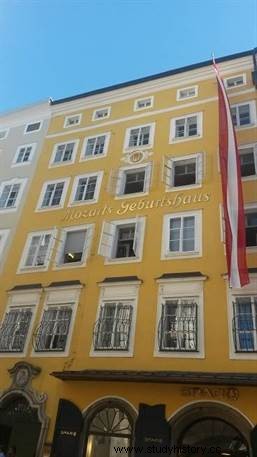 At seventeen he entered the service of the Prince Archbishop of Salzburg but found it very hard to write imposed religious plays. He meets the composer Joseph Haydn in Vienna with whom he will establish a deep friendship. The young Mozart ends up leaving Salzburg to look for another job, it is at this time that he will fall in love with the young singer Aloysia Weber provoking the anger of his father (urging him to think about his career) who sends him in Paris with his mother. He could not find a job in a France in crisis either, contracted debts and, to make matters worse, his mother fell ill and died. Materially, his trip ended in failure, but he came back very matured artistically and humanly.
With a heavy heart, Mozart resumed his former post in Salzburg (which his father had managed to negotiate). In 1778 he received an order for the Munich opera "Doménée Roi de Crete" which was a triumph. Dismissed by the Prince Archbishop who could not understand him, publicly treated by him as a hooligan, Mozart moved to Vienna in Mrs. Weber's boarding house as an independent composer. Aloysia being married, he falls in love with Constance Weber whom he will marry and with whom he will have six children, only two of whom will survive.
The Viennese period
In the Austrian capital, Mozart was received by several high-society families, gave lessons and scored great successes as a pianist. Thanks to Baron Van Swieten, he discovered Bach and Handel. His German opera The Abduction from the Seraglio was created in 1782, while he successfully completed the first three of the seventeen great piano concertos of his Viennese years. From July to October 1783, he stayed for the last time in Salzburg, where his solemn Mass in C minor was heard. , remained unfinished.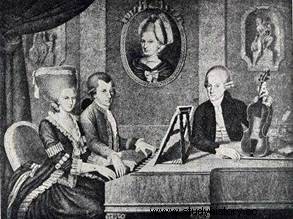 Then begins a period of about two and a half years which is undoubtedly the most active and happiest of Mozart's Viennese career. He then leads, with. Haydn, the "classic Viennese style" at its peak.
In 1784 Mozart entered Freemasonry for which he wrote several pieces including the "Masonic Funeral Music and the "magic flute which is a true description of the initiation into Freemasonry. Freed from family constraints and those of his employers, he was able to give free rein to his immense and prolific talent. He composed many works that would bring him great success (sonatas, symphonies, concertos, operas, pieces of sacred music, serenades). His opera Don Giovanni will be, following the death of his father in 1787, imbued with a strong dramatic intensity.
The triumph of the opera "The Abduction from the Seraglio", commissioned by Emperor Joseph II, aroused in Mozart the hope of being named "Imperial Kapellmeister ", the dream of his life, but to his great disappointment, this post will be awarded to the Italian composer Antonio Salieri.
Mozart's Unfinished Requiem

Perpetually in debt because the family spends lavishly and leads a high lifestyle, often ill, overwhelmed with work, Mozart is exhausted. In July 1791 a mysterious stranger (who turned out to be Count Walseeg-Strupach) ordered a Requiem from him when he had to finish the opera "La Clémenza di Tito", he worked day and night, but deprivation and illness were right for him. him. He died in the early morning of December 5, 1791 at the age of thirty-five without having been able to finish his Requiem (which one of his students, Franz Xaver Süssmayr will complete) and will be buried in Vienna in a common grave.
Despite his rivalry, (there is no evidence that he was responsible for his death, as Milos Forman suggests in his beautiful film "Amadeus") Antonio Salieri, was one of the few people present at Mozart's funeral because he, like Haydn, had recognized his musical genius.
Curious, cultured (he was fluent in several languages ​​including Latin and Greek) constantly listening to the musical and artistic inventions of his time, Mozart was able to bout to evolve his style according to his discoveries. This is the Mozartian genius:to draw inspiration from his contemporaries without ever following any other model than his own. Symphonies, chamber music, piano concertos, operas... His legacy is priceless.
The power, the emotion, the pathos, the humor, the sublime, the grace, the exquisite elegance made Mozart the most emblematic and accomplished composer of his generation.
Main works of Mozart
- 1777:Piano Concerto No. 9 in E flat major ("Young Man"), K. 271
- 1778:Oboe Concerto in C major, K. 314
- 1782:The Abduction aus dem Serail (Die Entführung aus dem Serail), K 384 (opera)
- 1782:Symphony No. 35 in D major ("Haffner"), K. 385
- 1783:Symphony No. 36 in C major ("Linz"), K. 425
- 1783:Mass in C minor, K. 427 1784 String Quartet in B flat major ("The Hunt"), K. 464
- 1786 :The Marriage of Figaro (Le nozze di Figaro), K. 492 (opera)
- 1786:Symphony No. 38 in D major ("Prague"), K. 504
- 1787:Don Giovanni , K. 527 (opera)
- 1787:Little Night Music in G major (Eine kleine Nachtmusik), K. 525
- 1788:Piano Concerto No. 26 in D major ("Coronation" ), K. 537
- 1788:Symphony No. 40 in G minor, K. 550
- 1788:Symphony No. 41 in C major ("Jupiter"), K. 551
- 1789:Quintet for clarinet in A major, K. 581
- 1790:Cosi fan tu tte ("Thus Do All Women"), K. 588 (opera)
- 1791:The Magic Flute (Die Zauberflöte), K. 620 (opera)
- 1791:Requiem in D minor, K.626
Bibliography
- Mozart by Jean Blot, biography. Folio, 2008.
- Mozart:The Light of God, by Mildred Clary. Pygmalion 2004.
- The Magic Flute:Masonic Ritual by Wolfgang-Amadeus Mozart. 2006.