An American photographer known in particular for her depictions of motherhood and her portraits of Native Americans, Gertrude Käsebier (1852 – 1934) helped pave the way for women in photography.
The conquest of the west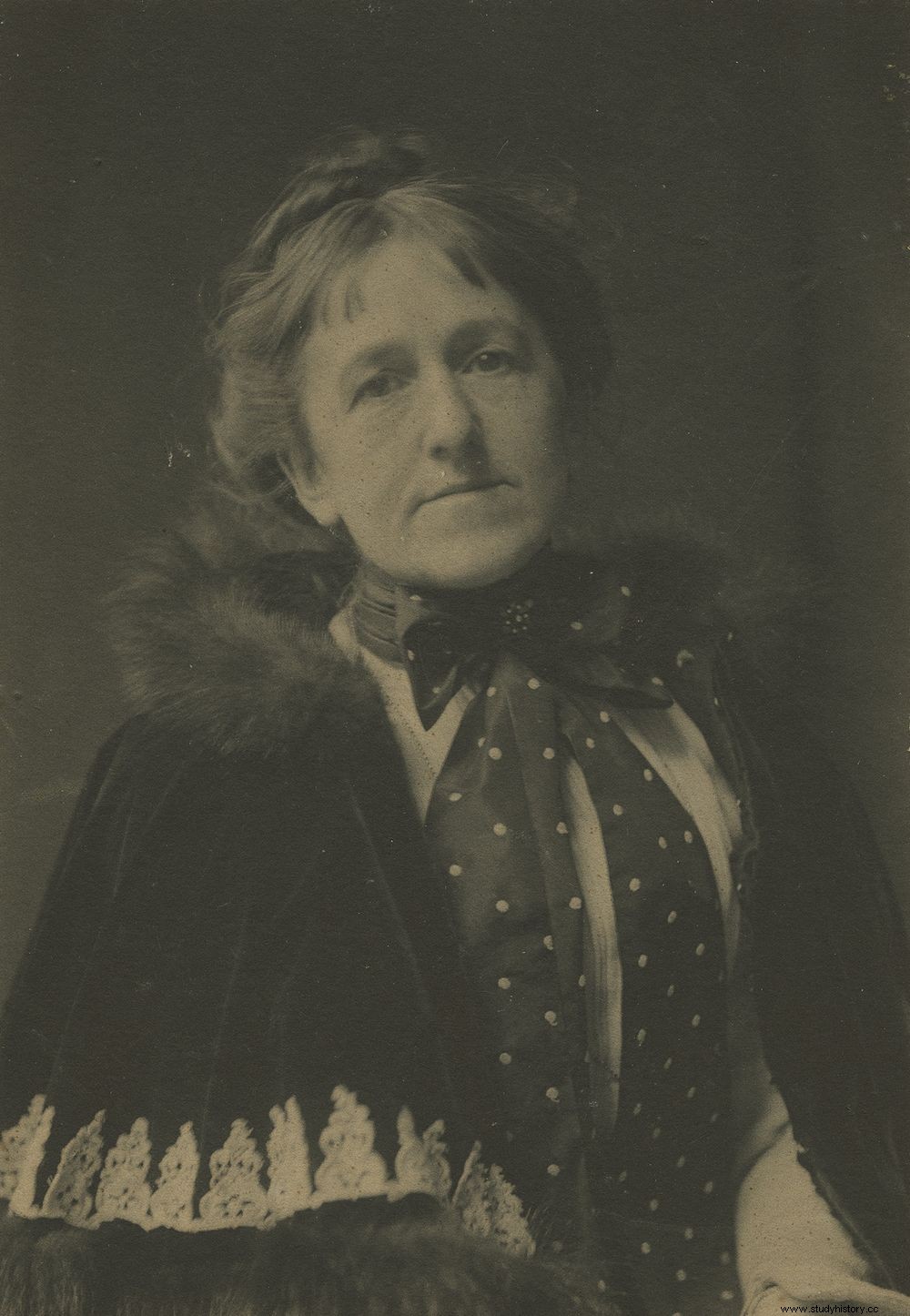 Daughter of Muncy Boone Stanton and John W. Stanton, Gertrude Stanton was born on May 18, 1852 in Fort des Moines, Iowa, State of the United States of America since 1846. She was born and grew up in full conquest of the west , marking the gradual colonization by settlers of European origin of the territories from the Mississippi to the Pacific Ocean. A period punctuated by gold rushes with massive displacements of settlers, massacres and conflicts with native peoples who seek to defend their lands and resources.
It was in this context that, when Gertrude was seven years old, the Pikes Peak Gold Rush, one of the largest in North America, caused the influx of about one hundred thousand people into what will become Colorado. John W. Stanton participates; he creates a sawmill in Golden, enriches himself thanks to the real estate pressure which ensues and becomes the first mayor of the city. The following year, Gertrude, her mother and her little brother joined him.
John died suddenly in 1864, however, and Muncy Boone Stanton took her children to Brooklyn, New York, where she opened a boarding house. Thereafter, Gertrude lived for a few years with her grandmother in Bethlehem, Pennsylvania, where she studied at the Bethlehem Female Seminary.
Bride
At the age of 22, Gertrude married Eduard Käsebier, a businessman six years her senior and from a family originally from Germany. Their union will turn out to be unhappy and conflictual. Gertrude will testify later, after her widowhood:"If my husband has gone to Heaven, I want to go to Hell. He was terrible…Nothing was ever good enough for him. » (If my husband is in heaven, I want to go to hell. He was terrible...nothing was ever good enough for him). This suffering in marriage can be read in one of her photographs, baptized "harnessed and muzzled – marriage", and representing two children looking at harnessed and muzzled oxen, an image of the strong constraint she feels.
Despite everything, the couple had three children between 1875 and 1880:Frederick William, Gertrude Elizabeth and Hermine Mathilde. In 1884, they settled on a farm in New Jersey to raise their children. Without separating, because at the time divorce was not really an option, the spouses led an increasingly distant existence.
Artist debut
At 37, Gertrude Käsebier decided to study art. Against her husband's advice, but with his financial support, she moved to Brooklyn with her children and enrolled at the Pratt Institute. She studied drawing and painting in particular, but it was photography, in particular, that aroused her interest. A new field, both artistic and scientific, because Gertrude was also introduced to photographic chemistry.
To complete his studies, the budding artist decided to travel to Europe. She spent a few months in Germany, then in France where she studied with the American painter Franck DuMond. In 1895, she returned to Brooklyn, now strong from an academic apprenticeship, training with artists, encounters with various artistic currents and several years of practicing her art.
Professional photographer
In 1895, Eduard was seriously ill and the family's financial resources were dwindling. Gertrude Käsebier then decided to become a professional photographer, in order to have an income while indulging in her passion. Having become an assistant to a portrait painter, she adds to her mastery of photography skills such as the management of a photography studio.
Gertrude does not neglect her own career, however, and quickly opens her own studio. The following year, she exhibited 150 photographs at the Boston Camera Club, a very substantial work in view of the complexity of the photographic techniques of the time. The success of the exhibition earned him to present his photos again in 1897, at the Pratt Institute and at the Photographic Society of Philadelphia in 1897.
In Philadelphia, Gertrude is also invited to speak about her work. At a time when we consider that the place of women is in the home, she does not hesitate to address them:"I earnestly advise women of artistic tastes to train for the unworked field of modern photography. It seems to be especially adapted to them, and the few who have entered it are meeting a gratifying and profitable success. » (I advise women who love the art to embark on the new field of photography. It seems to me specially adapted to them, and the few who have embarked on it meet with gratifying and profitable success).
Portraitist
At the end of the 1890s, Gertrude Käsebier discovered William Cody's "Buffalo Bill's Wild West" in New York. The show aims to recreate the atmosphere of the American West and the conquest of the west, featuring cowboys and Native Americans in particular. Staging a period that is coming to an end, the show reminds Gertrude of her childhood on the Great Plains and her respect for the native peoples she met there.
During the following decade, Gertrude then embarked on the artistic project of making portraits of the Sioux as part of the show. Unlike other photographers, she does not seek in her work to emphasize traditional clothes and related elements, but rather to leave room for faces, expressions, individualities. His portraits are thus very expressive, like his photograph of Flying Hawk, an Oglala Lakota warrior:it shows the resentment of a man who has seen and experienced wars and massacres and is now forced to perform in a show to avoid a life misery on a reservation.
The photos taken by Gertrude during this period are among her most famous; they contribute to his fame, as well as that of his subjects, Flying Hawk and Iron Tail in particular.
At the peak of his career
In 1888, five works by Gertrude Käsebier were published in the journal Camera Notes. She is hailed as "beyond dispute, the leading artistic portrait photographer of the day." (the best current portrait photographer, without a doubt). Photographer and critic Joseph Keiley said of her:"a year ago Käsebier's name was practically unknown in the photographic world…Today that names stands first and unrivaled…" (A year ago, the name Käsebier was almost unknown in the world of photography. Today, this name is the first, and without rival).
In the same year, his photograph The Manger, showing a woman and a baby, sold for $100, the highest price ever paid for a photograph. His work meets a double success, artistic and commercial. Now at the peak of her art, Gertrude reaps the honors and obtains various publications and exhibitions. She travels to Europe, where she notably photographs Auguste Rodin.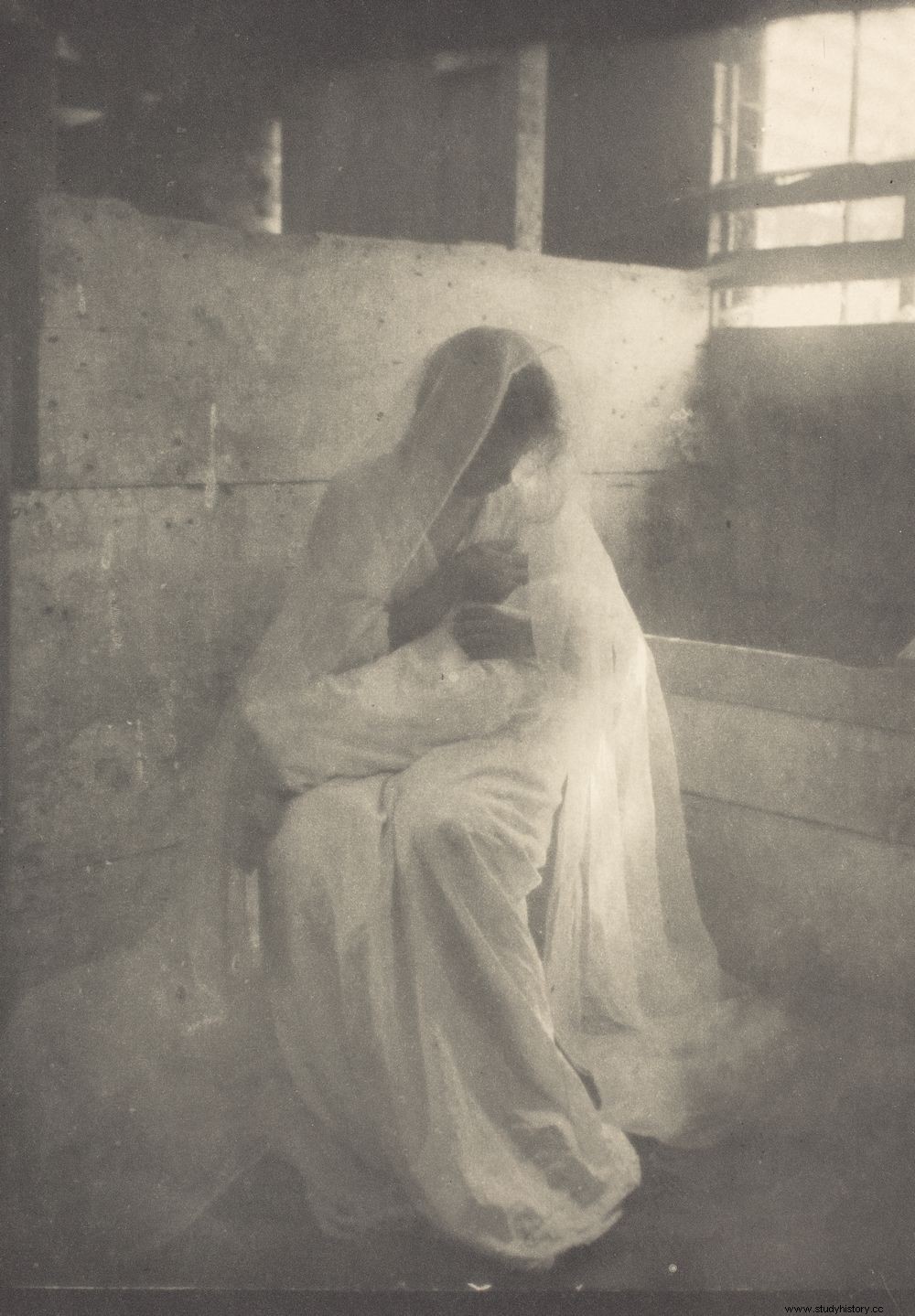 Committed to women in photography
Gertrude Käsebier continues to promote the place of women in the artistic and professional world of photography. In 1908, with other women like Belle Johnson and Mary Carnell, she created the Women's Federation of the Photographic Association of America; she will be its president. She will help establish the Women's Professional Photographers Association of America.
In addition to her commitments, Gertrude will also be a figure of inspiration for many young women in the world of photography, both for her artistic talents and for her independence as a businesswoman. She will notably inspire Clara Sipprell, Consuelo Kanaga and Laura Gilpin.
End of career
In 1910, Gertrude Käsebier's husband died. Widowed, she also finds herself freer to pursue her career as she sees fit. In the 1910s and 1920s, she developed her activities as a portraitist, taking pictures of many influential people of her time. She is joined by her daughter Hermine Turner.
Gertrude also devotes many photographs to the theme of motherhood, with particular emphasis on the bond between mother and child.
In 1929, a major exhibition was devoted to Gertrude's work at the Brooklyn Institute of Arts and Sciences. The same year, at the age of 77, she completely ceased her activity as a photographer.
Gertrude Käsebier died in October 1934, at the home of her daughter Hermine Turner, after having been one of the most influential photographers of her time.
Works