Yaa Asantewaa (circa 1840–1921), Queen of Ejisu in the Ashanti Empire (now Ghana), led a rebellion against English settlers in the early 20th century. The anti-colonialist war it leads is called the "War of the Golden Stool".
Regent of Ejisu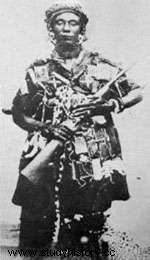 Born around 1840, Yaa Asantewaa is the sister of Nana Kwasi Afrane Okpese, the Ejisuhene , the leader of Ejisu. He awarded his sister the title of "Queen Mother of Ejisu ". During his brother's reign, Yaa Asantewaa witnessed the growth of British power in the region, as the English took control of large areas of the Ashanti Empire.
On the death of Nana Kwasi Afrane Okpese in 1894, Yaa Asantewaa used her prerogatives as Queen Mother to name her grandson Ejisuhene . Barely two years later, however, the British exiled about fifty leaders, including the king of the Ashanti Empire, Prempeh I, and the new Ejisuhene . Yaa Asantewaa then becomes regent of Ejisu.
"We women will do it. »
To break the resistance of the Ashanti Empire, British Governor General Frederick Hodgson demanded that he be given the "golden stool", symbol of the nation. This demand causes the remaining members of the government to meet secretly to consider the return of the king. While opinions diverge, Yaa Asantewaa, the only woman present, gives a speech that has remained famous:
"I see some of you are afraid to fight for our king. In the days of Osei Tutu, Okomfo Anokye, and Opoku Ware I, leaders wouldn't have sat and watched their king be exiled without firing a single shot. No European would have dared to speak to the chiefs of Ashanti as the governor spoke to you this morning. So it's true that Ashanti's courage is gone? I can not believe it. It can't be true! I have to tell you this:if the men of Ashanti don't go to the front, we will. We women will. We will fight! We will fight until the last of us falls on the battlefield. »
The War of the Golden Stool
With these words, Yaa Asantewaa takes the lead in the Ashanti Empire revolt movement of 1900. Soon, the rebellion besieges the fort of Kumasi, where the British have taken refuge. After several months of siege, the British governor-general sends 1,400 men to crush the revolt. In the battle, Yaa Asantewaa and fifteen of his advisers were captured and exiled to the Seychelles. On January 1, 1902, the Ashanti Empire became a protectorate of the British crown.
Yaa Asantewaa died in exile in the Seychelles on October 17, 1921. Three years later, Prempeh I and members of the Ashanti court in exile were allowed to return home; Prempeh ensures that Yaa Asantewaa's mortal remains are buried on Ashanti soil.