German painter, Paula Modersohn-Becker ( – expressionist movement.
A cultured child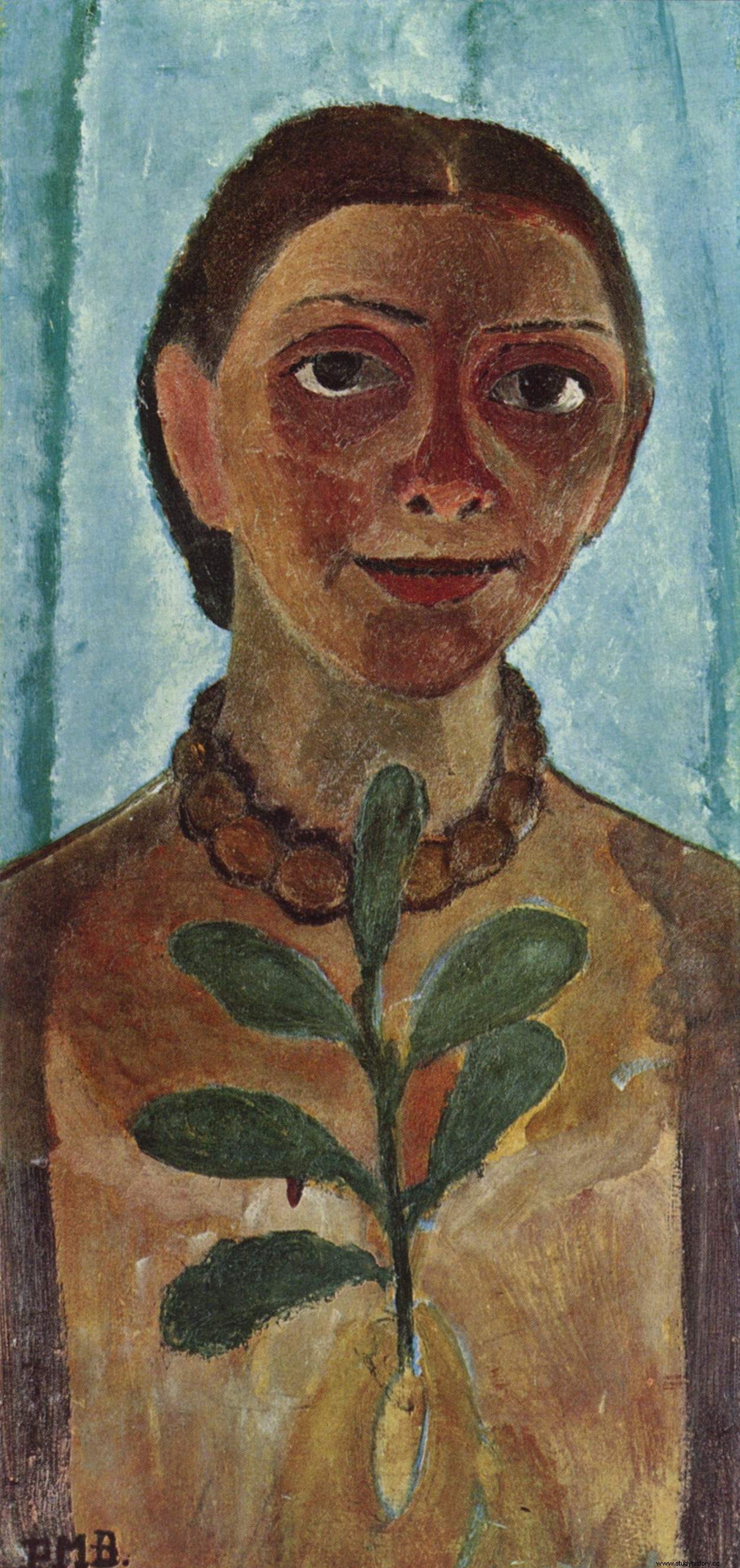 Third among the seven children of Mathilde Becker and Carl Woldemar Becker, Paula Becker was born on February 8, 1876 in Dresden (Germany) into a middle-class family. His mother comes from a noble family and his father, an engineer, is a cultured man, a travel enthusiast who speaks several languages ​​including French and English.
The Becker children receive a quality education leaving a large part to art and culture, from poetry to music. Paula and her sisters receive piano lessons in particular. Their mother also cultivates many connections in artistic circles and the Becker children are immersed in this environment.
As a child, Paula was playing with her cousins ​​Maidli and Cora in a sand pit when a landslide surprised them and buried them. Paula and Maidli are found in time, but little Cora, who is only eleven years old, does not escape. This drama left a lasting mark on Paula, as she later testified in her correspondence.
First drawing and painting lessons
At 16, Paula was sent to an aunt near London for a few months to learn English. During her stay, she also took her first drawing lessons and ended up joining a school of Fine Arts, where her artistic passion developed. Discouraged by the discipline imposed by her aunt and suffering from homesickness, she cut short her training to return to Germany.
To please her father, Paula entered a school for teachers like her older sister, from which she graduated in 1896. Alongside her studies, she took painting lessons with the painter Bernhard Wiegandt. She works from models and begins to make series of portraits of members of her family. Thanks to her mother, who struggled to pay for her studies, Paula then joined a very prominent painting school in Berlin. The level is high there and Paula notably creates many nudes, marked by plays of chiaroscuro. She also took advantage of her stay in Berlin to visit museums and immerse herself in classical culture and the art of artists of her time.
The artistic community of Worpswede
In 1897, Paula went with her family to Worpswede, which was then home to a community of artists, especially painters, who wanted to be in direct contact with nature. Paula was fascinated by this environment, both cultural and natural, and decided to return there the following year to meet the community and take lessons with the painter Fritz Mackensen. In her mind, the idea of ​​becoming a professional painter herself took hold.
In Worpswede, Paula notably met the sculptor Clara Westhoff and the painter Heinrich Vogeler, with whom she formed a friendship, as well as the painter Otto Modersohn who would become her husband. Paula benefits from drawing and painting lessons, but her style, simplifying colors and shapes, differs too much from the more academic art practiced in Worpswede and in Germany in general. Paula then decides to go to Paris.
Paula arrives in Paris, where she finds her friend Clara, in 1900. As she had done in Berlin, she takes classes at the Colarossi Academy, an art school that accepts women, and regularly visits museums and Art Galeries. It is deeply marked, in particular, by the painting of Paul Cézanne who is then completely unknown. The pace of work that she imposes on herself deteriorates her state of health and, when the sums entrusted to her loved ones run out, Paula is in no condition to find a job as a governess as her father suggests.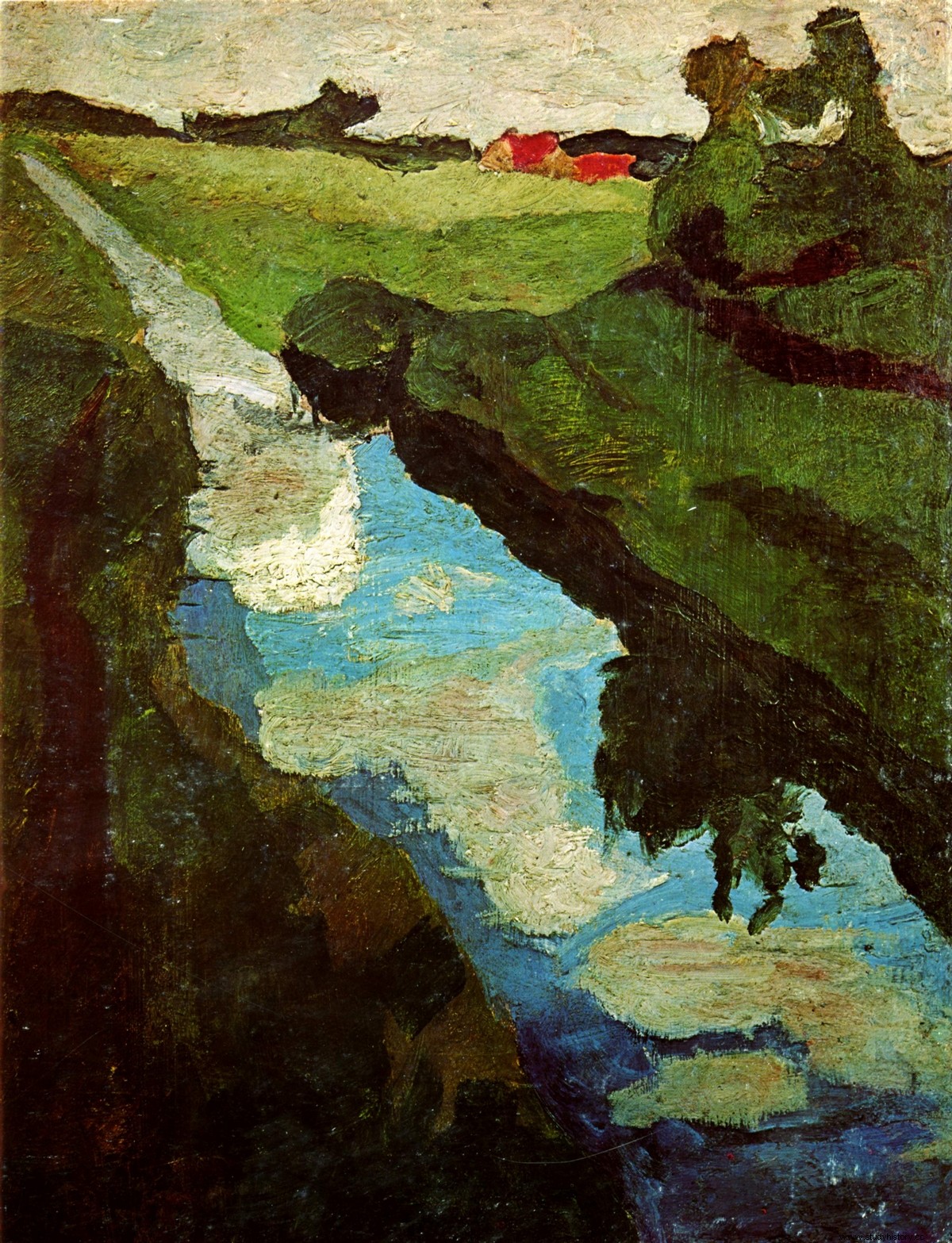 Otto Modersohn
Back in Germany, Paula recovers slowly and Otto visits her frequently. In September, the couple announced their engagement; they will marry in May of the following year. During her engagement period, Paula accepts under family pressure to take cooking lessons, but she will not last long before giving up. Thereafter, she strives to combine her new life as a married woman, as the mother of a little girl Otto had during a previous marriage, and as a painter. Her husband supports her in her art, convinced of her talent and her exceptional creativity.
Despite the fact that this marriage relieves her of financial constraints and allows her to devote herself to her art rather than a profession, Paula regrets many aspects of her life as a couple. He notably misses the bustling cultural life of Paris, while Otto loves peace and quiet and dislikes modern French art. In 1902, Paula wrote in her diary:
"Experience has taught me that marriage does not make you happier. It removes the illusion, once pervasive throughout space, that there is a soul mate. (…) I write this in my cookbook, Easter Sunday 1902. I am sitting in my kitchen preparing a roast veal. »
Between France and Germany
In 1903, Paula Modersohn-Becker spent a few months in Paris without her husband and daughter-in-law. She resumed visiting museums and in particular the Louvre, where she drew inspiration from Greek and Egyptian antiquities as well as traditional Japanese prints. After this long absence, she finds her husband and her daughter-in-law with pleasure and returns with the hope of having a child herself.
Alongside her many still lifes and among her portraits, Paula paints portraits of young children and more and more babies. Her lines and colors become simpler as she develops an increasingly personal style. The shapes she paints, especially on still lifes, come closer and closer to their essence and a simplified geometric outline; Otto, for his part, no longer understands and no longer appreciates his wife's art.
During her next stay in Paris, Paula resumed some drawing lessons but quickly abandoned them because they no longer suited her free line and the character of her style. During a stay in Paris, she discovered the art of Gauguin, which fascinated her.
"My life is a party"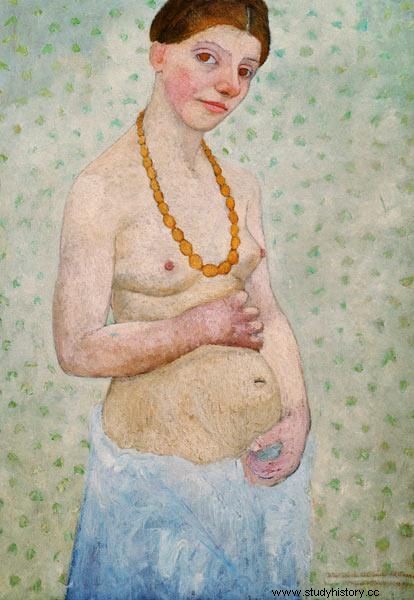 In 1906, Paula Modersohn-Becker left Worpswede and her husband at the same time, to whom she indicated that she wanted to pursue her own path. It is he, however, who continues to meet his needs. Based in Paris, Paula shares her life between drawing lessons, exhibitions and a sociable life within the artistic and cultural circles of Paris.
It was the artist Bernhard Hoetger who gave her self-confidence by complimenting her painting and encouraging her to continue her artistic research. In 1906 – 1907, Paula painted relentlessly and made about ninety canvases. She produced many still lifes and also inaugurated a new genre by making entirely nude self-portraits, which at the time and for a woman in particular required great audacity.
At the end of 1906, probably because of her financial situation, Paula reunites with her husband who comes to spend the winter with her in Paris. The following March, the couple returned to Worpswede. Finally pregnant, Paula suffers from having less time to devote to painting but still produces a few works. She gives birth painfully in November, giving birth to a little girl named Mathilde, and has to stay in bed. Three weeks later, when she was allowed to get up, she suffered from a pulmonary embolism and died, at the age of 31, as a result of the childbirth she had so hoped for.
In 1900, in her diary, she wrote:
"I know I won't live very long. But is it so sad? Is a party better because it's longer? My life is a party, a short and intense party. […] And if love flowers me a little more before it flies away, and makes me create three good paintings in my life, I will gladly leave, with flowers in my hands and in my hair. »
In 1927, the "Paula Becker-Modersohn House" museum opened in her former home in Bremen.
Gallery