Amelia Mary Earhart (1897 – 1937) was an American aviation pioneer. She is the first woman to cross the Atlantic Ocean by plane. His disappearance at sea remains an unsolved mystery to this day.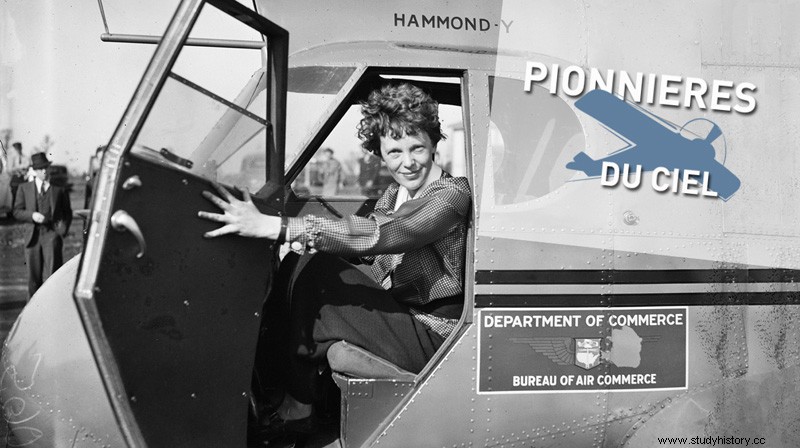 Nursing training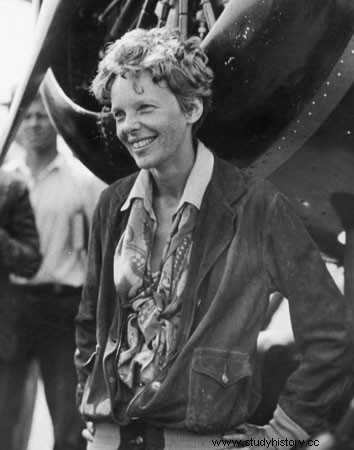 Daughter of Amelia "Amy" Otis Earhart and Samuel "Edwin" Stanton Earhart, Amelia Earhart was born on the 24th July 1897 in Kansas. Nicknamed Millie, Amelia has had a leadership character from an early age, especially with her younger sister Grace Muriel, nicknamed Pidge. They both receive an unconventional and very free education for little girls and spend a lot of time playing outside.
In 1916, Amelia graduated from Hyde Park High School. She closely follows the stories of women succeeding in masculine fields, such as cinema, engineering, law or advertising. In 1917, during the First World War, Amelia joined her sister in Toronto. There, she received nursing training and worked as a volunteer with soldiers who had returned injured from Europe. In 1918, an epidemic of Spanish flu reached Toronto and Amelia continued her activities as a nurse. Falling ill herself, her convalescence will last a year during which she reads a lot and studies mechanics.
Flying lessons from Neta Snook
In Long Beach, in 1920, Amelia Earhart and her father visit an aerodrome. Pilot Frank Hawk gives him a first flight that will change his life. She would later recount that while she was in the air, she suddenly knew she had to fly. Doing various jobs to save money, she managed to afford flying lessons from another aviation pioneer, Anita "Neta" Snook, which she began in January 1921. Aware that she At risk of being judged by the other pilots and eager to realize her dream, she works hard. Six months later, she bought a yellow biplane which she named Le Canary. On October 22, 1922, Earhart reached an altitude of 4,300 m, a record for an aviator at that time. On May 15, 1923, she became the 16th woman to obtain her pilot's license.
First woman to cross the Atlantic alone by plane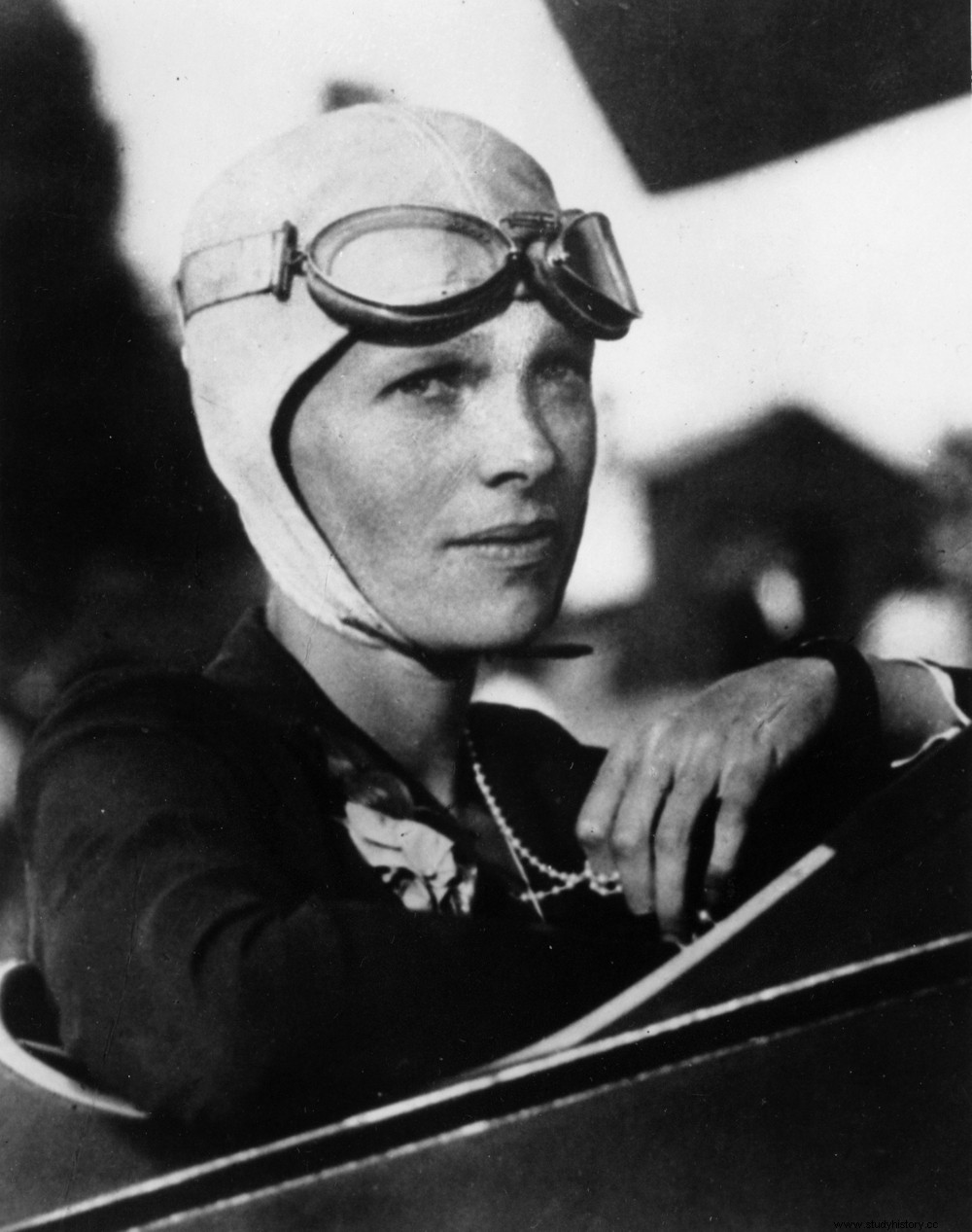 In 1927, Charles Lindbergh crossed the Atlantic by plane and Amy Phipps Guest expressed the wish to sponsor a similar flight with a woman. Amelia Earhart is chosen. In 1928, she took off on a transatlantic flight with two companions. This is a flight that Amelia is not trained for, and she does not pilot, but this flight gives her phenomenal notoriety.
Upon her return, she accepted a position at the Cosmopolitan, which she used to promote aviation and the role of women in it. With Charles Lindbergh, she represents Transcontinental Air Transport and is involved in the creation of a New York – Washington line. She continues her own flights and becomes the first woman to make a round trip to North America. On May 20, 1932, Amelia set off from Newfoundland and Labrador, on a 14 hour and 56 minute solo flight to Northern Ireland:she became the first woman to cross the Atlantic alone in airplane.
Women's speed and distance records
In January 1935, Amelia Earhart became the first person to successfully complete a solo flight from Honolulu to Oakland, a flight previously attempted by a team. She then flies solo from Los Angeles to Mexico City and then from Mexico City to New York. She competes in long-distance races and breaks several women's speed and distance records.
In 1937, Amélia Earhart and her navigator Fred Noonan attempted to circumnavigate the globe from the east on a twin-engine Lockheed Electra. They disappeared at sea on July 2, 1937, after being last seen in Lae, New Guinea. For four months, the American government launched around fifty planes in search of him, but in vain.