Aline Sitoé Diatta (between 1910 and 1920 – 1944), sometimes nicknamed "the Joan of Arc of Africa", is a heroine of the anti-colonialist resistance in Casamance in Senegal.
The voice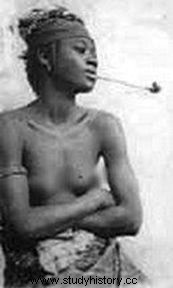 Daughter of Assonelo and Silisia Diatta, Aline Sitoé Diatta was born around 1920 in the coastal town of Kabrousse in Casamance . Located in the south of Senegal, the region, mainly populated by Diolas, then belonged to French West Africa. Orphan of a very young father, it is a paternal uncle, Elaballin Diatta, who raises her. At a young age, she left her village to work as a docker in the town of Ziguinchor. The working conditions are quite trying and Aline, aged 18 or 19, ends up going to Dakar to work as a maid for a settler.
In 1941, in Dakar, Aline heard a voice asking her to return to Casamance to organize the fight against the settlers and liberate Senegal; if she fails in this duty, she will suffer the consequences. The story goes that the young woman, not obeying the voice, woke up paralyzed for four days. Brought back to Casamance, she would have immediately regained her mobility but would have retained the after-effects, notably through a persistent limp.
Civil disobedience to the settler
Back home, Aline Sitoé Diatta leads her people in a movement of civil disobedience. It encourages everyone to refuse to pay taxes, to abandon the cultivation of peanuts wanted by the French in favor of that of rice, to refuse to enlist in the French army, to reject the culture of the colonist; to disobey, in any way possible. She launches her appeals to nearby villages, and urges them to spread the message. Claiming to be the bearer of a divine message, Aline advocates a return to her roots, rehabilitating old customs and prayers and establishing new ones. She gains a reputation as a priestess and prophetess. She is said to be capable of miracles, such as making rain fall or healing the sick. Her message spreads with her reputation, and delegations from surrounding villages come to meet her. Her audience became such that Aline would even have been crowned Queen of Casamance.
Declared rebellious and rebellious
Weakened by the defeat of the Second World War and faced with the growing influence of Aline Sitoé Diatta and the movement of disobedience it generated, the colonial administration began to worry. Considered dangerous, Aline is declared rebellious and rebellious. The French soldiers come to arrest her when she is menstruating, bound by the Diola rule to leave her home to sleep in a reserved place. Thinking she has fled, the soldiers open fire and kill a woman whom they take for their target. The next day, wanting to avoid the death of a new innocent, Aline surrenders herself to the settlers. She was arrested, with her husband, in May 1943. Tried, she was sentenced to deportation and imprisoned in Senegal, Gambia, Mali.
Aline Sitoé Diatta died in 1944 in her prison in Timbuktu, Mali, of scurvy probably contracted as a result of deprivation and ill-treatment. Aged about twenty-four, the young woman remains an emblematic figure of Casamance's resistance to colonial authority.