American writer, Lorraine Vivian Hansberry (1930 – 1965) was the first black woman to have one of her plays performed on Broadway. She was involved in the fight against racial segregation in the United States.
Militancy in the blood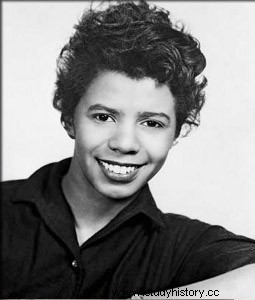 Born May 19, 1930 in the midst of racial segregation, Lorraine Hansberry is the fourth child of Nannie Louise, a teacher, and Carl Augustus Hansberry, a successful real estate broker. His parents are both committed to anti-racism and the fight for civil rights. In 1938, his father bought a house in a white neighborhood in South Chicago. Furious, the inhabitants of the district oppose their arrival and Carl Augustus Hansberry will have to win before the Supreme Court of the United States the right to buy and occupy his home.
Involved in associations including the National Association for the Advancement of Colored People (NAACP) , the Hansberrys were frequently visited by intellectuals and civil rights activists, including W.E.B. DuBois and Paul Robeson. She grew up with the idea that ''Above all, there were two things which were never to be betrayed:the family and the race.'' ('Above all, there are two things that should never be betrayed:family and race'). Carl Augustus Hansberry died in 1946, when Lorraine was fifteen. Later, she would say that American racism precipitated her death.
Lorraine was educated in Chicago and then joined the University of Wisconsin, in the city of Madison, where she quickly became known for her political commitments. In 1948, despite the disapproval of her Republican mother, Lorraine worked on Democrat Henry Wallace's presidential campaign. The following summer, she spent the summer in Mexico to learn painting, before deciding to embark on a career as a writer in New York. She attended the prestigious The New School there and moved to Harlem in 1951.
Freedom
In 1951, Lorraine Hansberry joined the staff of the Freedom newspaper, edited by Louis E. Burnham and published by Paul Robeson. She works there alongside W.E.B. Du Bois, and other Pan-African activists (movement to unite Africans and the African Diaspora into a global African community), serving as receptionist, editorial assistant, and writing a few articles. She writes in particular on the Sojourners for Truth and Justice, a protest movement initiated by African-American women and evoking the anti-slavery activist Sojourner Truth. It does not only cover the news of the civil rights movement in the United States, but is also interested in anti-colonialist revolts in Africa, such as the Mau Mau Revolt. She believes that the challenges faced by Africans in the face of colonial domination and African Americans in the face of segregation are similar; all strive for and yearn for freedom.
Feminist and admirer, in particular, of the Second Sex of Simone de Beauvoir, Lorraine believes that women are oppressed "twice as much", and must fight "twice as much". In this struggle, which she feels she must fight by all possible peaceful means, she also believes in the help of men, writing in an essay:"If by some miracle women should not ever utter a single protest against their condition there would still exist among men those who could not endure in peace until her liberation had been achieved. (If, by some miracle, women did not protest against their condition, there would be such among men who could not be at peace until their liberation was accomplished).
A Raisin in the Sun
In 1953, Lorraine Hansberry married Robert Nemiroff, publisher, composer and activist; their marriage will last ten years. Her personal writings, such as her involvement in associations and newspapers fighting against homophobia and for the rights of homosexuals, suggest that she was a lesbian. After her marriage, however, the success of her husband's songs allowed Lorraine to start writing full time. It was at this time that she wrote the play A Raisin in the Sun , telling the story of a poor African American family in Chicago who receives an inheritance and must decide how to use it. The piece is, in part, inspired by his father's experience of buying his house in Chicago.
In 1959, the play was performed on Broadway with Sidney Poitier in the lead role. The success was immediate:in the following two years, A Raisin in the Sun was translated into 35 languages ​​and performed around the world. The first African-American to have her play performed on Broadway, Lorraine receives the New York Drama Critics' Circle Awards of the best piece. Subsequently, she will try to adapt it into a screenplay for the cinema, but her scripts are considered too controversial and systematically rejected. At NBC request, she writes The Drink Gourd , television program on slavery, which is considered "superb"… but also rejected.
Lorraine continues to write and publishes numerous articles and essays. In 1961, she obtained the direction of the play Kicks and Co , which is successful in Chicago but will not be performed on Broadway. In 1963, Lorraine Hansberry was diagnosed with pancreatic cancer. Two operations failed to remove the tumor, and she died on January 12, 1965 at the age of 35, the night of the last Broadway performance of her play The Sign in Sidney Brustein's Window . During his funeral, we read a message from Martin Luther King:"Her creative ability and her profound grasp of the deep social issues confronting the world today will remain an inspiration to generations yet unborn. (His creativity and deep understanding of the social issues facing the world today will continue to inspire generations to come).
Subsequently, Robert Nemiroff will take up his unfinished manuscripts to complete them and adapt some of them in the play To Be Young, Gifted and Black , which would be successful on Broadway in 1968 – 1969. Nina Simone, a close friend of Lorraine, dedicated the tribute song of the same name to her.