Considered one of the greatest American dancers, Maria Tallchief (1925 – 2013) was the first Native American to be named prima ballerina. She is particularly noted for her energy and great technical abilities.

Abundant youth
Osage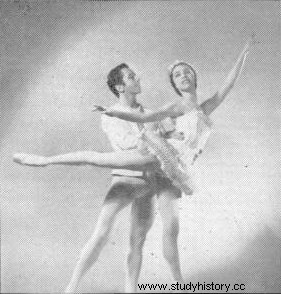 (tribe of Native Americans living primarily in Oklahoma) by his father Alexander Joseph Tall Chief and Irish-Scottish by her mother Ruth Porter, Maria Tallchief was born on January 24, 1925 as Elizabeth Marie Tall Chief, nicknamed Betty Marie.
Betty Marie and her five siblings grew up on the Osage reservation in Fairfax, Oklahoma, in a wealthy family. Their father owns many properties, including the town movie theatre, and Betty Marie grows up feeling that "her dad owns the town."
The ballet
Frustrated at not having been able to become an artist herself, Ruth introduced her daughters to dance very early on. From the age of three, Betty Marie received lessons, participated in summer ballet camps and began to learn ballet. A brilliant little girl, she also distinguished herself by her results at school, although she was bored in class.
When Betty Marie was eight years old, her family moved to Los Angeles with the idea of ​​involving the children in Hollywood musicals. The young girl continued her dance lessons and, alongside ballet, learned tap dancing, Spanish dances and the piano. It was while studying with the dancer and choreographer Bronislava Nijinska that Betty Marie realized that she wanted to devote her life to ballet. At fifteen, she participated in ballets staged by her teacher, within the corps de ballet .
The Russian Ballet of Monte-Carlo
In 1942, Betty Marie graduated from Beverly Hills High School, where she was the victim of so much discrimination that she decided to unify her name Tall Chief, to write it now Tallchief. Betty Marie wishes to continue her studies but her father refuses; he believes that after paying for her dance lessons, it is time for the young woman to find a job.
Betty Marie gets a role in the musical Lily Mars stars , but the experience displeases her and, encouraged by a friend of the family, she decides to leave California for New York. She was only 17 then. After initial refusals, she was hired by the Ballet Russe de Monte-Carlo directed by Serge Denham. In the eyes of the latter, Betty Marie has an advantage over other Russian dancers:American citizenship, obtained by the Amerindians in 1924.
The first roles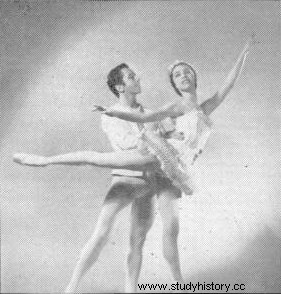 Thanks to Bronislava, Betty Marie is quickly promoted to the rank of pupil of the prima ballerina Nathalie Krassovska for the main role of a ballet. This promotion, attributed to an American dancer whom the Russian dancers consider inferior, as well as her origin undoubtedly earned her the animosity of her comrades.
At the time, it was common for dancers to change their name to sound Russian, but Betty Marie was attached to her name and refused to be called "Tallchieva". She accepts, however, to be called Maria rather than Betty Marie, and becomes Maria Tallchief.
In two months, Maria appeared in seven ballets within the corps de ballet, and learned from contact with other dancers. In 1943, Maria replaced Nathalie Krassovska who left the troupe at short notice; his performance, in the lead role of Chopin Concerto , was hailed by critics, but Maria returned to the corps de ballet as soon as the tour was over.
George Balanchine
In 1944, choreographer George Balanchine joined the troupe. Maria is immediately seduced by her work, and the choreographer by that of the dancer; he appoints her as a replacement for the prima ballerina Alexandra Danilova, who will help him a lot, and assigns her increasingly important solo roles. Maria Tallchief becomes a soloist, and obtains a supporting role for the Ballet Imperial .
Maria and George developed a deeper and deeper relationship, and in 1945 George asked the young dancer to marry him. They married in August 1946; Maria was then 21 years old, and George 42. Their union would only last a few years; Maria will remarry twice and have a daughter, Elise Paschen.
Ballets of Paris and New York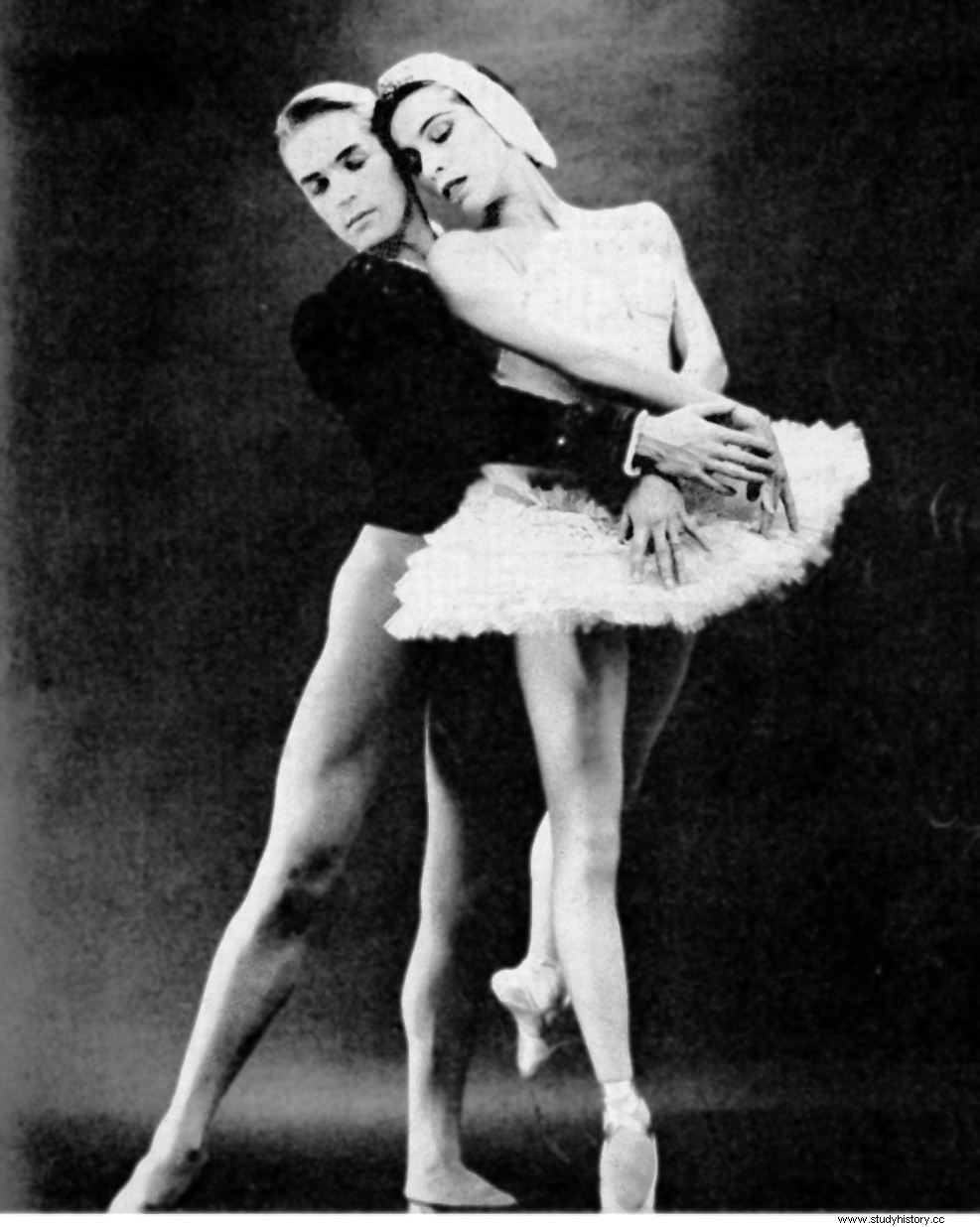 In 1947, Maria Tallchief joined George, who had gone to work at the ballet of the Opéra national de Paris. The dancer immediately received roles in several ballets such as The Kiss of the Fairy or Apollo . She is the first American to perform with this troupe. The public and the critics appreciate his performances, which does not prevent him from suffering racism from his comrades but also from the press, fascinated by his origins:newspapers headline "Peau Rouge dances at the Opera for the King of Sweden or "The Daughter of the Great Indian Chief Dances at the Opera ".
Back in the United States, Maria landed roles with the New York City Ballet, which opened its doors in October 1948. Highly noted for her energy and great technical abilities, Maria became the troupe's first prima ballerina after her role in The Firebird . At the same time, she becomes the first Native American prima ballerina.
Maria performed with the New York Ballet until 1960, in classical ballets and in roles custom-made for her by George. She dances in Swan Lake , Orpheus , The Prodigal Son , and his performances help George's career as George's creations help his own. At the same time, she occasionally performed with other troupes, including the Ballet Russe de Monte-Carlo, the Chicago Opera Ballet and the San Francisco Ballet. In 1954-1955, she was paid the highest salary received by a dancer at the time. After leaving the New York City Ballet, Maria joined the American Ballet Theatre. She tours Europe, South America, Japan, Russia.
End of career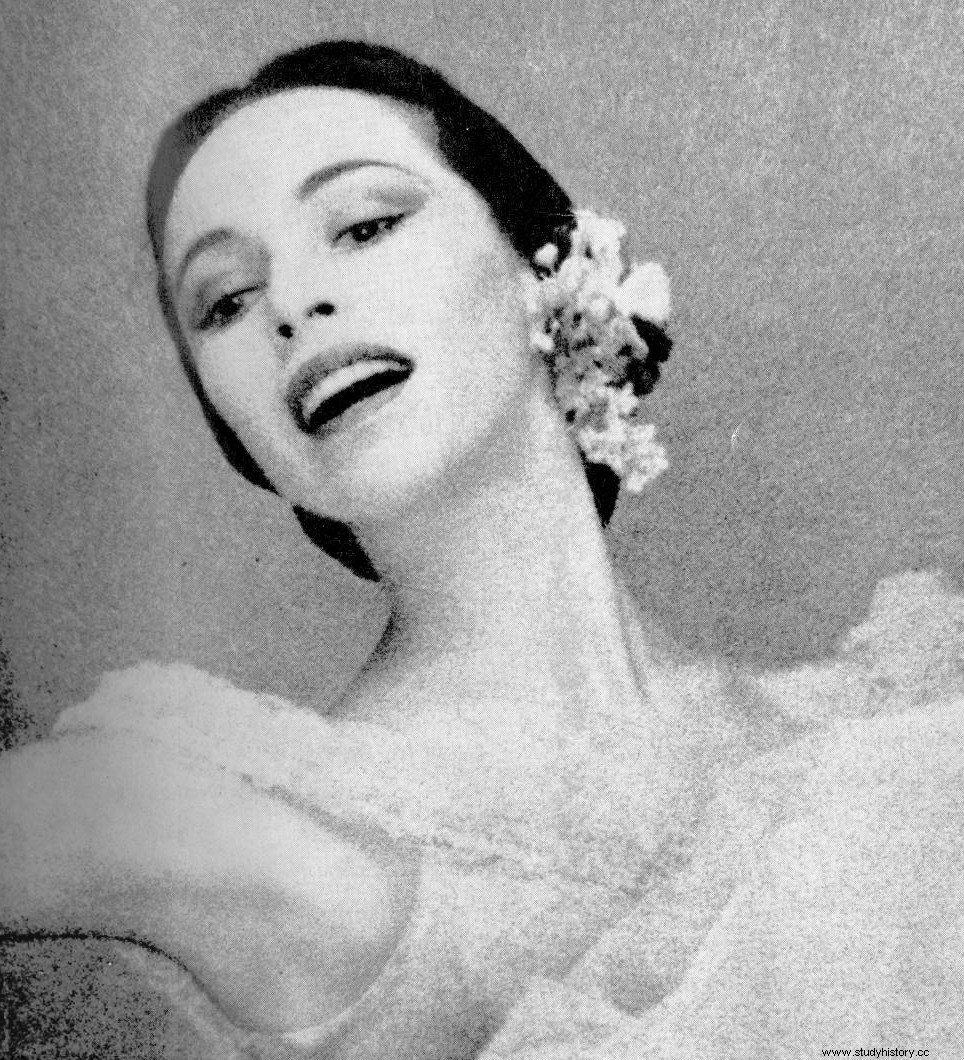 Besides the stage, Maria Tallchief also performs in musicals and variety television shows like The Ed Sullivan Show . In 1966, she appeared in Cinderella by Peter van Dijk, one of his last performances. Aged 41, she is ending her dancing career.
After retiring, Maria devoted herself to teaching and directing ballets. With her sister Marjorie, she founded the Chicago City Ballet in 1981. of which she was co-artistic director until 1987. Although the company went bankrupt, it helped popularize dance in Chicago.
Maria Tallchief died on April 11, 2013, from complications from a broken hip. Considered one of America's greatest dancers, she helped break down ethnic barriers and prejudice. Named to the National Women's Hall of Fame, she has received numerous honors and awards, including from the Osage Nation.