Mozambican artist, Bertina Lopes (1924 – 2012) creates sculptures and paintings with African and Portuguese influences. His art, often geometric and colorful, is imbued with social criticism and nationalism.
Portuguese Studies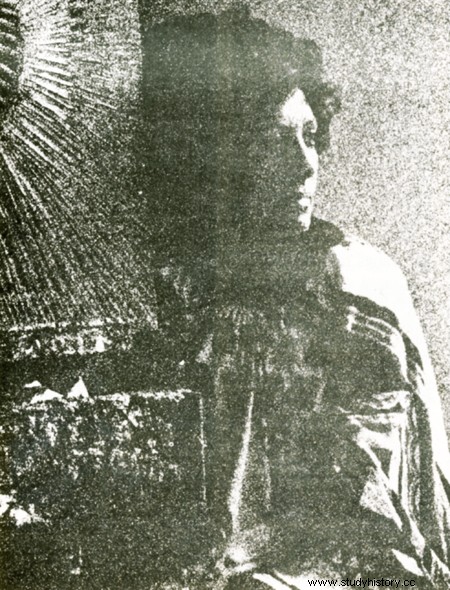 Bertina Lopes was born on July 11, 1924 in Maputo, the current capital of Mozambique, which at the time bore the name of Lourenco Marques. Mozambique then belongs to the Portuguese colonial empire, under the name of Portuguese East Africa. Mozambican, her mother belongs to a well-known and respected family. His father, Portuguese, works the land.
Bertina and her three sisters receive a strict school education, but her family environment stimulates her interest and predispositions for the artistic field. After her second year of secondary education, Bertina left to complete her studies in Lisbon. She began to learn painting and drawing, notably with the artist Lino António, who produced frescoes, stained glass and ceramics.
At the António Arroio School of Decorative Arts (Escola de Artes Decorativas António Arroio ), Bertina notably took a course in lithography and decorative painting and met many Portuguese artists, painters, poets and intellectuals, notably the painter Carlos Botelho. In 1949, she graduated and trained as an art teacher.
During her studies and her life in Portugal, Bertina immersed herself in the art of Western painters, South American graffiti artists and especially Portuguese avant-garde artists. At the time, artistic creation was however suffocated by the authoritarian regime of Salazar. Like others, Bertina joined antifascist circles in contact with which she developed ideas of freedom and democracy. Openly communist, she is kept under close surveillance by the political police.
Return to Mozambique
In 1953, Bertina Lopes returned to Mozambique to teach drawing to young girls for nine years. His innovative teaching, based on the observation of the natural, urban and social environment, and tinged with artistic freedom, is very popular with his students; but he deviates from the strict rules of the school.
Bertina meets and marries Virgílio de Lemo, one of the most important Mozambican poets. In 1955 they had twins, Virgilio and Eugenio. Fervent opponent of colonial domination, her husband composed under a pseudonym an anti-colonialist poem which earned him a trial for desecration of the Portuguese flag. Joining the national resistance of Mozambique, he would later be arrested for subversion and association with clandestine groups.
The influence of her husband, as well as political opponents she met at the time, such as Eduardo Mondlane and Samora Machel, reinforced Bertina's anti-colonialist positions. His opposition to oppression, racism and social discrimination are reflected in his art. The humble and the downtrodden are frequently the subject of his work. His strong political opinions eventually forced him to leave the country; in 1961, Bertina returns to Lisbon, quickly followed by her children while her husband narrowly escapes and goes to Paris.
Italian life
In Lisbon, Bertina Lopes meets new avant-garde artists and develops her art. Strongly based on the tales, history, social and political events of Mozambique, his works express his desire for independence for his country and develop a more colorful palette and deconstructed lines. With specialists, she began to train in ceramics.
In 1964, Bertina freed herself from the control of the Portuguese political police by moving to Rome, where she would live until the end of her life. She refined her artistic training there and rebuilt her life there, marrying Francesco Confaloni, an art and music lover, in 1965 and obtaining Italian nationality. Bertina meets many Italian artists, intellectuals, art critics and confronts her style and language with theirs.
Far from his country, his very expressive art persists in expressing his attachment to it. In the 1970s and 1980s, she directed an artistic series entitled La mia radice antica (my old root), revealing a nostalgia for its past.
A long career
In 1975, Bertina Lopes moved briefly to the United States and visited contemporary art museums in New York, Boston, Washington, Philadelphia. She completes her knowledge of avant-garde art, Braque, Matisse, Picasso, whom she considers to be the genius of the 20th century.
After Mozambican independence, the ensuing violent civil war deeply affected Bertina and her art. She explores new supports and materials, creates "totems" made of wood, rope, paper, which are emblems of her torn country. In the early 1980s, she began a series of totem-shaped bronzes that are metaphors for violence.
In 1981, Bertina was invited by the President of Mozambique Samora Machel to participate in the celebrations of the sixth anniversary of the country's independence. The following year, alongside the exhibitions she held in Europe, she presented her painting at the National Museum of Modern Art in Maputo. She also exhibits in Luanda in Angola and in Rome.
In 1993, Bertina was appointed as Mozambique's cultural adviser to Italy. During her long career, she produced numerous exhibitions in prestigious places and received awards and distinctions for her artistic work as well as for her human commitment. Bertina Lopes died in February 2012 at the age of 87, after an exceptional career.