Japanese poet, Yosano Akiko (1878 – 1942) publishes daring texts and collections of poetry, celebrating feminine sensuality or affirming her feminist and pacifist positions. She is considered one of the first Japanese feminists.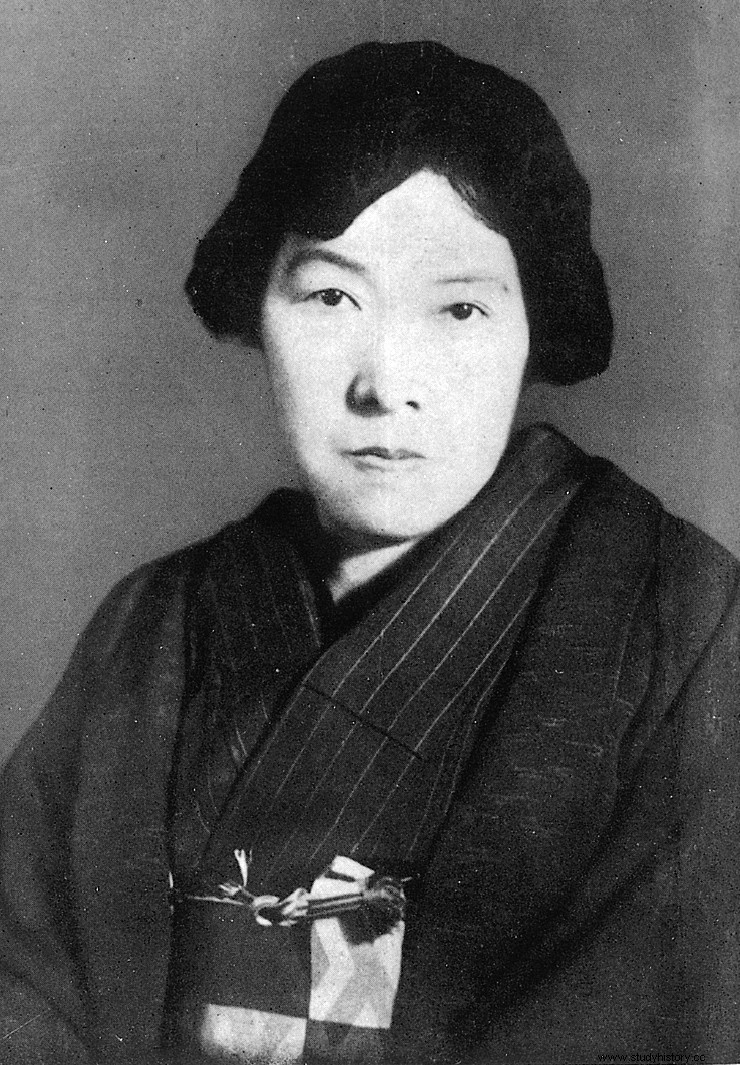 A child with a passion for reading
The third child of Hō Tsuya and Hō Soshichi, Akiko ("Autumn Girl") was born on December 7, 1878 in Sakai, a city in Osaka Prefecture in southern Japan. The country then experienced a period of great upheaval, marked by the end of two centuries of isolationism and the overthrow of the feudal system, known as the Meiji era. Akiko's parents run an old confectionery and the young girl sometimes lends them a hand, while studying at school; she discovered literature and music there.
Young Akiko was passionate about classical or more recent Japanese writings. She reads at school the masterpiece of Japanese literature The Tale of Genji by Murasaki Shikibu as well as the works of Sei Shonagon, both poetesses of the 11 e century, and discovered many novels and literary journals from his older brother, such as Sakusoshi and Bungakukai . After graduating at sixteen, Akiko stopped studying to work in the family business; at the same time, she devotes her free time to writing, and in particular to writing poetry.
First poems
Yosano Akiko writes wakas , a genre of Japanese poetry that includes short poems (tankas ) and long poems (chōka ). At the age of 20, she began to send her texts to the literary magazines that she devoured. She also participates in poetry contests. It was during one of these occasions, in 1900, that she met the poet Yosano Tekkan. The two quickly fall in love and begin an affair; they will marry later, and will have twelve children.
Tekkan publishes Myojo review , and Akiko published her first tankas there. . In 1901, at the age of 23, the young woman achieved dazzling success by publishing her first poetic collection, Hair entangled (Midaregami ). She reveals her artistic style, celebrating with audacity but subtlety feminine sensuality. A boldness that won him the wrath of conservatives, but the recognition of the literary world.
Summer Song
Summer surprises me with its new joy...
0h! summer… where the sun is the eternal drunkard
which suddenly opens the door to the outlet of delicious sake…
Summer ! you project the light, the heat, the perfumes
and various colors...
you tempt men in front of this seductive bottle.
Don't give your life
In 1904, Yosano Akiko's younger brother, 24-year-old Chūzaburo, was mobilized in the Russo-Japanese War. A pacifist, the poet then published a long poem entitled Do not die or Don't give your life ("Kimi shini tamô koto nakare") in her husband's magazine. She addresses her brother there, urging him not to die in the war but to return to his pregnant wife and his parents to resume their business. She also speaks out against the emperor "who does not go to the battlefield". The work earned him the wrath of the nationalists.
"Don't give your life"
Oh brother, I cry for you
Don't give your life
The last child among us
You are the beloved of my parents
Did they give you a sword
And learned to kill?
Did they raise you to 24
Telling you to kill and die?
A stay in Europe
In 1911, Yosano Akiko sponsored the feminist literary magazine Seitō, created by women (Raichô Hiratsuka, Yoshiko Yasumochi, Kazuko Mozume, Teiko Kiuchi and Hatsuko Nakano) and whose name means "Les Bas Bleus". Akiko publishes poems there. Subsequently, feminist activists Itô Noé and Fukuda Hideko will also contribute.
In 1912, Akiko accompanied her husband to Paris for a few months; she first draws the soap opera Modern Women on his travel plan, then a travelogue. She took advantage of her trip to Paris to visit England, Belgium, Germany, Austria and the Netherlands. She also observes there, notably in England, the feminist movements and in particular the actions of the suffragettes in favor of the right to vote for women.
"When I walk in Paris in a kimono, wherever I go, I attract attention like a show at a fair. […] I try to dress as often as possible in the Western style, except when I pay a visit or go to the theater, but as I am not yet used to the corset, it is a real martyrdom for me.
[…]
The women's suffrage movement arose in England as a result of several very complex factors, but it seems to me that the most important of these was that here, unlike Parisian women who were very concerned about makeup , women have long thought about the importance of female education and its generalization. […] The most radical women in the women's suffrage movement are constantly daring to do things that men would not dare today and scandalize the leaders. Yet it is difficult to deny the legitimacy of their claims. »
(Translation Claire Dodane)
Bunka Gakuin
In 1914, in his travelogue (Pari yori , Journal de Paris), Yosano Akiko nourishes her reflection and her already marked commitment to feminism with her European experience. She takes a firm stand for women's right to vote, for their education and their financial independence. At the same time, she teaches poetry, gives conferences, continues her writing work and publishes collections; she will write about 50,000 tankas and is working on a modern translation of the Tale of Genji .
In 1921, Akiko founded a coeducational private school (Bunka Gakuin, meaning "cultural institute") with her husband, the architect Isaku Nishimura and the painter Hakutei Ishii. She teaches literature to girls and boys, very attached to the principle of equality between the sexes in education.
Yosano Akiko died on May 29, 1942, at the age of 63. She is considered one of the first Japanese feminists and the most poetess of modern Japan.
Fontainebleau Forest
Autumn songs ring out with sad sweetness
in the depth of birch and beech forests.
Listening to these songs, we will talk,
talk quietly... quietly...

Are they red Japanese lacquers, faded
those torn gold leaves?
They fall, these leaves, without the wind blowing.
Do not get rid of these leaves if they fall on your kimono.
A small white butterfly also flies and descends lightly,
like the leaves.
It descends to the ground, over the purple and pointed grasses,
who shiver...

Do you give?... do you sleep, butterfly dancer of the first days of summer?
Do you sleep because you are tired?
We walk along a narrow path,
and we talk affectionately, gently again...
Oh ! there are springs hidden under the rocks
and who sing "coro! coro! "… a tender song!
the spring water sings, it is certainly for us…
My friend!… speak no more!…