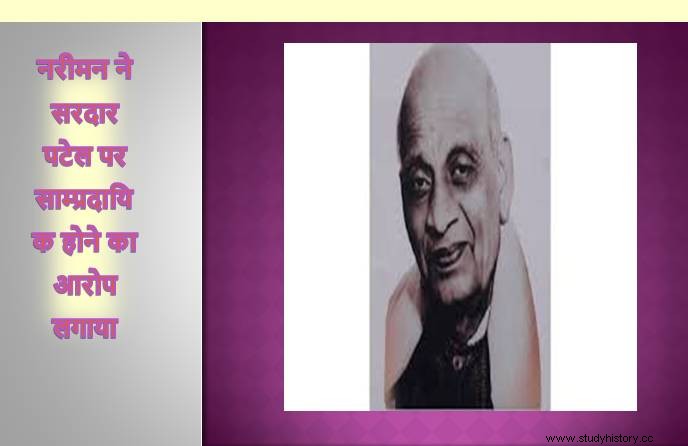 Elections to the Central Legislative Assembly were held before the Provincial Legislative Assemblies. There were two seats from Bombay on which Congress won the K. F. Nariman and Dr. Deshmukh were given tickets. Nariman was then the President of the Bombay Congress Committee. They wanted Congress to give ticket to Nariman in one seat and leave the other seat for non-Congress candidate Sir Kawasji Jehangir. Nariman made a open statement that it would be better if the Congress contested only one seat in Bombay. Patel did not accept this demand.
When the time came for filing nominations, Nariman refused to fill the form. On this, Chairman of the Central Parliamentary Board, Vallabhbhai Patel, considering Nariman's behavior as unfair and anti-party, canceled the candidature of Nariman and declared Kanhaiyalal Munshi as the Congress candidate. Nariman annoyed and infiltrated the party due to which Munshi lost by a very small margin of votes.
After the Central Legislative Assembly elections were held for the Provincial Legislative Assemblies. In these elections, Nariman came out winning from Bombay. He had full hope that the Congress leader in the Legislative Assembly would be made the same, but the anti-party activities of Sardar Patel and the top leader of the party, Nariman were not forgotten. Therefore Balasaheb Kher was elected the leader of the party in place of Nariman.
Nariman considered this to be his dishonor and published many unwarranted things against Sardar Patel in the newspapers under his influence, which simply meant that Sardar Patel is a communal person, so he did not consider Nariman of Parsi religion as the leader of Congress in Bombay Legislative Assembly. Let it be After this Nariman sent a complaint to Congress President Jawaharlal Nehru along with newspaper clippings and sought his intervention in the matter.
Jawaharlal replied that I cannot directly interfere in this, if you wish, I can present it in the Congress Working Committee. On this Nariman wrote to Jawaharlal that the decision of the working committee would be fair, I doubt it. On this, Nehruji wrote to Nariman that then you can take your case to the League of Nations, the Privy Council or any higher institution. Nariman did not give up and wrote the whole matter to Gandhiji. Gandhiji already knew everything but he suggested to Nariman that if Nariman wanted, I (Gandhiji) and D.N. Bahadur (a Parsi leader) is ready to investigate.
Nariman accepted Gandhiji's proposal. When Gandhiji and D.N. Bahadur ruled that it was not Sardar Patel's fault, so Nariman's wind was spoiled. Nariman accepted this decision at first but later refused to accept it. On this, Gandhiji wrote to Jawaharlal that it is clear from Nariman's entire behavior that he does not have the ability to hold any office, so he should not be given any post in future.