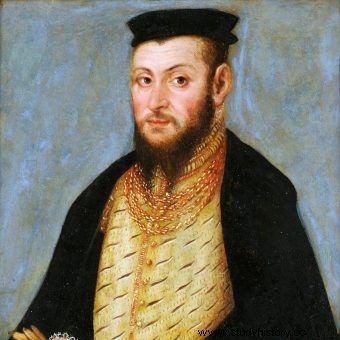 Portrait of Sigismund II Augustus, workshop of Lucas Cranach.
Zygmunt II August
The King of Poland and the Grand Duke of Lithuania from the Jagiellonian dynasty. He was the son of Zygmunt I Stary and Bona Sforza who came from Italy. Due to his mother's forethought, he was the first (and only) king in Polish history to be elected vivente rege - so while my father was still alive. This happened in 1529, and the coronation was carried out the following year. Zygmunt August was the only child and sole candidate for the Polish throne. Despite this, his parents, especially his mother, did not give him the opportunity to acquire political manners and military skills. In the opinion of the noble elite, he was brought up "by women and Italians who were more fearful than women".
In 1543, Zygmunt married Elżbieta from the Habsburg family. Soon he left for Lithuania, where he got into an affair with the local aristocrat Barbara Radziwiłłówna. After his wife's premature death, he secretly stood with his mistress on the wedding carpet. His relationship with a Lithuanian woman caused a huge scandal and led to an irreversible conflict between the young monarch and his mother, Bona.
Sigismund Augustus took full power in both countries in 1548. Thanks to him, the Union of Lublin concluded in 1569, consolidating the relationship between the Crown and the Grand Duchy of Lithuania. The king also decided to incorporate into Poland vast territories that had previously belonged to Lithuania:Podlasie, Volhynia and Ukraine. He was said to be a monarch exceptionally avoiding war. Compared to other rulers of this era, he was relatively tolerant. Collecting was his great passion:he collected armor and decorated cannons, among other things.
Towards the end of his life, he engaged in controversial affairs, especially the one with Barbara Giżanka, who was substituted for him by members of the influential Mniszech family. He died childless in 1572 as the last king of the Jagiellonian dynasty.