Texas. Today it brings to mind crude oil, space flights and cowboys in hats. And yet it should also be associated with Silesians! Forgotten conquerors of America, led by a very peculiar priest ...
Poles appeared in Texas at the beginning of the 19th century. In 1830, sources mention what seems to be the first visitor from the Vistula, Jan Demer. Six years later, during the war of independence from Mexico, Ludwik Napoleon Dębicki fought on the side of Texas. He was executed after the surrender of Fort Goliad, and the large allocation of land he received posthumously caused a flood of his "heirs" for over a century.
After 9 years of independent existence, Texas has become the next state of the United States, but its inhabitants have never quite come to terms with the fact that they have to submit to someone. Even those who came there a little later ... The rush to freedom was also no stranger to other Poles in the far south of the United States.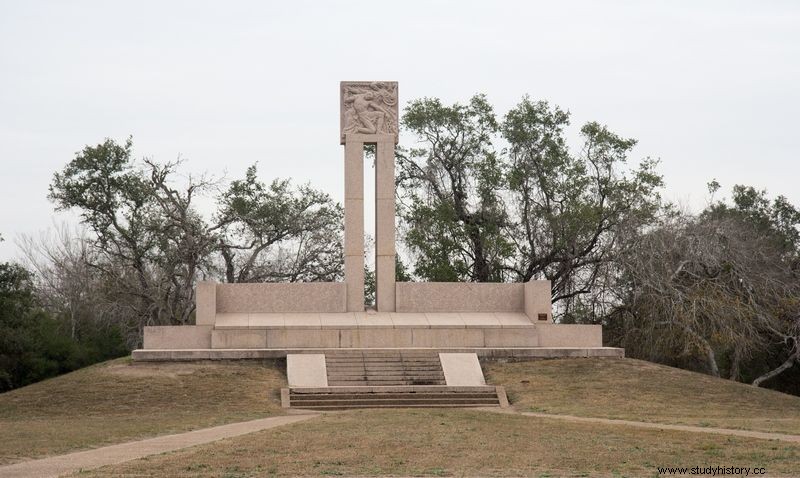 Monument commemorating the site of the massacre of the defenders of Goliade, including Ludwik Napoleon Dębicki (photo P6150, license CC BY-SA 3.0).
Moczygemba goes overseas
Leopold Moczygemba, son of an innkeeper from Płużnica Wielka near Toszek, was a freshly baked Franciscan. In 1852, he readily responded to the call of the first Texas bishop for missionaries to work in that state. A 28-year-old Silesian has set out to bring the Good News among ... native Germans living near San Antonio.
Leopold looked at Texas during his ministry, and there is much to say. He liked it. He found it a good place for his poor relatives. He wrote to them in letters that there is "many who will want the earth." And so, thanks to one Moczygemba, a whole wave of emigrants went overseas.
First response
It is not surprising that Daddy's words found fertile ground. His countrymen barely made ends meet due to the crop failure and the flood. They had small farms, but many children - Moczygemba himself had seven siblings and he wrote his letters with them in mind.
The peasants of Podopolska had just been released from the bonds of servitude, and the Prussian law regulated the issue of leaving the village and leaving the state. Everything was conducive to emigration.
In 1854, a group of about 150 pioneers, mostly young couples with children, were tempted by the vision of the endless expanses of Texas. The daredevils traveled by train to Bremen, and then for 9 weeks they traveled by ship to the port of Galveston. From there, they walked west across the prairie. Not all survived.
Virgin Mary of Cibolo
After a two-week march, the newcomers reached Father Leopold. The symbolic beginning of their stay was the Christmas Eve Mass, celebrated by Moczygemba in the valley of the Cibolo River. It was then that the first purely Polish settlement in the USA was founded:a village called Panna Maria.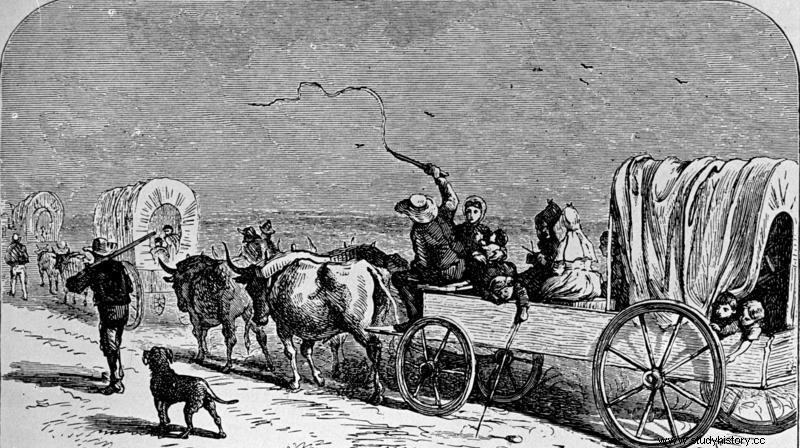 German settlers on their way to the settlement of Neu Branunfels, Texas in 1844. The Silesians wandering 10 years later were not so comfortable ... (photo:Bundesarchiv, Bild 137-005007, license CC-BY-SA 3.0 de).
The appeal of Father Leopold in the next two years had an even greater response. At that time, over 2,300 Silesians left for Texas! Not only the Moczygemb family swarmed there, but also the Jaints, Dupników, Farts, Dziuki and Jarzombek families.
Expansion time
The crowd in Panna Maria was becoming more and more crowded, so the settlers also flooded the surrounding towns. There were loads of them and they felt at home. For example, they changed the names of the settlements - Martinez became Jadwiga and St Joe ... the new Częstochowa. Poles also founded new villages such as Pulaski, Kosciusko and Cotulla. Thus, among the dry landscape of Texas, Poland in miniature was born.
Frederic Law Olmsted, who described Texans at that time, settlers from Panna Maria, briefly characterized: "colony of Silesian Poles" . As you can see, in the environment of Father Moczygemba, no one denied their origin and culture.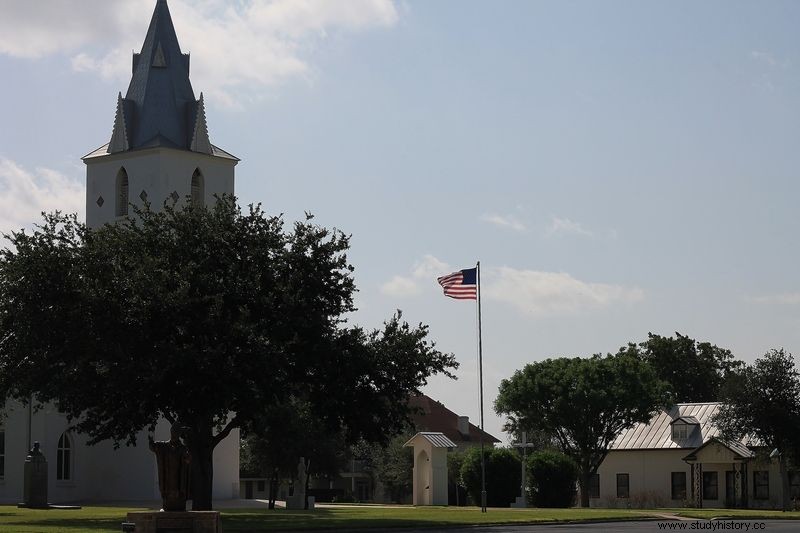 The first Polish church in the USA - the church of Of the Immaculate Conception of the Blessed Virgin Mary in Virgin Mary - founded in 1856 on the initiative of Father Moczygemba (photo:Renelibrary, license CC BY-SA 3.0).
Life like in Egypt, only Pharaoh stayed in Sosnowiec ...
The Silesians organizing themselves in the new country encountered a serious problem - Texas lies in a climate diametrically different than Opole, at the latitude of Egypt. The land had to be cleared, and the grain brought from the homeland was not suitable for cultivation. In addition, the settlers were teased by rattlesnakes, which they themselves called spearheads. The drought that hit the area shortly after their arrival made hunger in their eyes.
However, they quickly showed that Poles can cope. To make bread, they learned to grind corn with hand grinders. Soon they started growing cotton and sugarcane and raising cattle.
They also had to change a lot in terms of costumes. Traditional Silesian felt hats were a symbol of their cultural alienation. However, the most confusing was the dresses of Silesian women.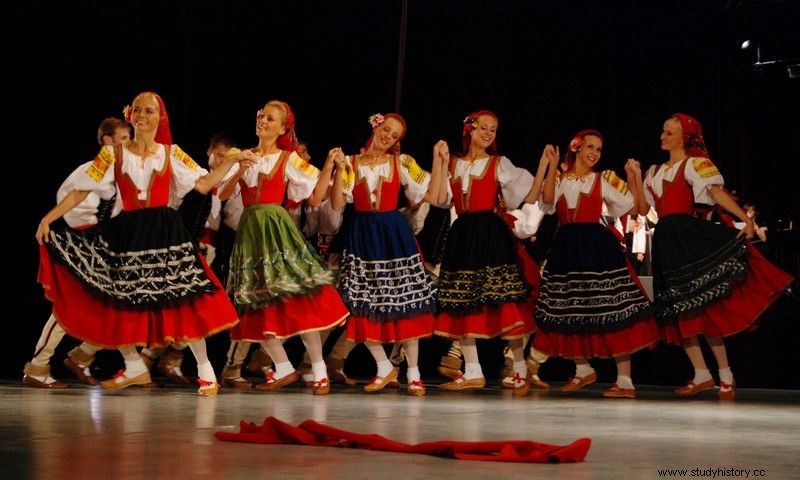 "Our country costumes are used by the local people to laugh and they are the cause of sin" ... in the photo the dancers of the "Śląsk" Song and Dance Ensemble in traditional folk costumes (photo:Lilly M, license CC BY-SA 3.0).
"Our country costumes are used by the local people to laugh and they are the cause of sin" - this is how Father Leopold wrote to his sister who remained in the country in a letter from 1855. The skirts of Silesian women were considered indecent by the locals, as they ended 5 to 10 cm above the ankle, revealing, in their opinion, far too much. As you can see, customs are changing a lot…
Silesians versus the rest of Texas
In the first years, Silesian Texans often struggled with Indian attacks. In 1855, the natives launched a night attack, in which Albert Heiduk from Opole sustained a gunshot wound. His wife in the dark - like Dr. Quinn - retrieved the tip with a goat, saving his life.
There were more problems. A parish priest from Podolia, Bakanowski in the late 1860s, complained that courts applied double standards, severely punishing Silesians for all sins, while indulging other nations. It was only when the Pannamarians armed 100 cavalrymen that they were no longer treated as second-class citizens.
This article was inspired by the book by Jan and Ewa Wróbel, "Historia Polski 2.0:A Pole can, and a Pole too ... or how much the world owes us" (Znak Horyzont 2015).
It is worth adding that the judge in Miss Maria was the only German living there for some time. He fester among the Silesians and tried to appropriate the church grounds. It was only after a long struggle that the locals managed to dismiss him from office and imprison a Pole on him.
Many Silesians took part in the Civil War, of course on the side of the South. One of the veterans, Piotr Kiołbasa, later moved to Chicago and became the first Polish deputy to the Illionois state parliament and a leading politician of the American Polish community. Interestingly, his father Stanisław was a deputy of the National Assembly in Berlin, even though he did not speak German. As you can see, the Kiołbas family had in their genes.
Separation achieved
The Texas Silesians stubbornly isolated themselves from other nations, keeping their native language and customs for a long time. At the beginning of the 20th century, it was assessed that the language they used was even closer to Polish than the one used by their fellow Prussians. They continued to "rule", that is, they talked in Silesian dialect near Opole.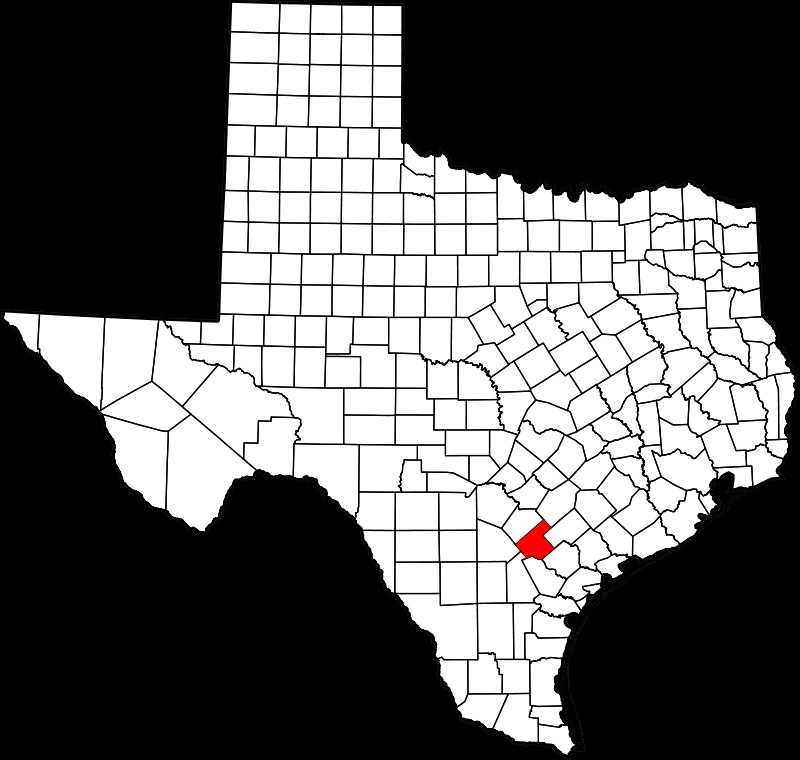 Karnes County, where Miss Maria lies. Main concentration of Silesian Texans (source:wikimedia commons public domain).
Today, their Polishness (and Silesianness) is still beyond doubt. Many points of sale in Texas County Karnes have Polish-sounding names, and the inn in Panna Maria is of course ... Moczygemba Place . It's hard to imagine a better name.
Not only Moczygemba
A dozen or so years after Father Leopold, another resident of the Opole region brought a large group of his kinsmen overseas. A student of the same gymnasium as Moczygemba, Edmund Sebastian Woś-Saporski, initiated the existence of the largest center of the Polish diaspora in Brazil, Curitiba. As Jan Wróbel wrote in "Historia Polski 2.0:A Pole can, A Pole can too ...":
Apparently, one letter was enough, in which Woś wrote that there would be a job for everyone. And after this letter, several dozen people left Silesia ... to Kosmos (...).
But this is a completely different story, which equally clearly shows that Poles can survive a lot. It's worth getting to know her!
Bibliography:
Andrzej Brożek, Silesians in Texas. Reports on the oldest Polish settlements in America, Polish Scientific Publishers PWN 1972.
Karol Jonca, Emigration from Opole Silesia to Texas (1853-1857), [in:] "Studia Śląskie", Volume LVII, Opole 1998, pp. 43-88.
Karol Jonca, Piotr Grzelak, Miss Maria - 150 years of Silesian settlement in Texas. From the ethnography of North America, Museum of Opole Silesia 2004.
Anna Musialik-Chmiel, American Silesians. Heritage, memory, identity, St. Jacek 2010.
Małgorzata Szejnert, We, the Texas owners. Reports from the PRL, SIW Znak 2013.
Silesian Texans. Emigration from Silesia to Texas in 1852-1859, comp. Janet Dawson Ebron et al., Ed. st. Krzyża 2004.
Silesian Texans II. Emigration from Silesia to Texas in 1853-1870, comp. Mary Ann Moczygemba Watson et al., Ed. and Printing House of St. Krzyża 2007.
Jan Wróbel, History of Poland 2.0:A Pole can, and a Pole too ... or how much the world owes us , Horizon 2015 sign.