It was not a job for every Polish woman. It required self-denial, intelligence, and money. But like no other it allowed me to be on a par with men.
I wrote about women's work before the war - and the persistent, widespread discrimination - in another article. However, it lacked a whole category of professions, to which, on the one hand, access was carefully defended, and on the other hand, which were taken by our great-grandmothers by storm. I am talking about medical classes:the work of nurses, dentists and even doctors.
Especially the last item on this list raised loud protests at the turn of the 19th and 20th centuries. In 1895, professor Ludwik Rydygier, one of the pioneers of Polish surgery, who even had a hospital of his own name in Krakow, wrote in the "Przegląd Lekarski" directly what he thought about women's meddling with medicine:women doctor " .
25% progress
In free Poland, the views of many medics did not soften at all, but women were not thrown at such huge obstacles at their feet.
Initially, only their peelings of "mild" specialties, such as dermatology, paediatrics or gynecology, were viewed favorably. Over time, these moral restrictions also began to disappear. According to calculations compiled by Dorota Jołkiewicz, in 1937 women constituted 25% of all graduates of medical faculties in Poland. This is just progress!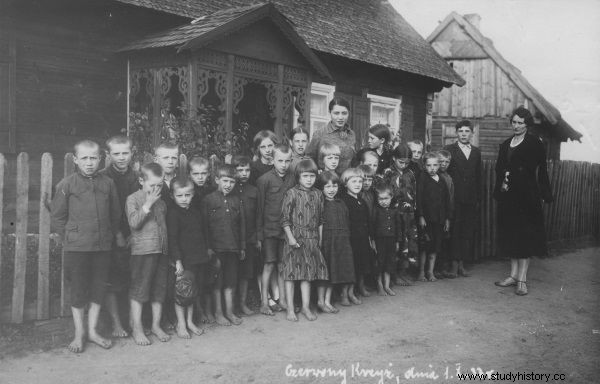 A teacher of a village school with her students in 1933.
Women with medical education had the advantage over many other women on the labor market that they could open internships even in their own homes. Such a career path allowed them, on the one hand, not to give up their profession, and on the other hand, confidently wielding the helm of domestic rule.
They took up jobs themselves and earned money, and at the same time became employers, because they could afford to hire a servant. As historian Marta Sikorska-Kowalska points out, they often decided to have a relationship with a colleague, which increased their prestige in the eyes of the community.
Happy elite
Medical practice allowed women financial independence and real emancipation. Dentists also earned good salaries for the conditions at the time.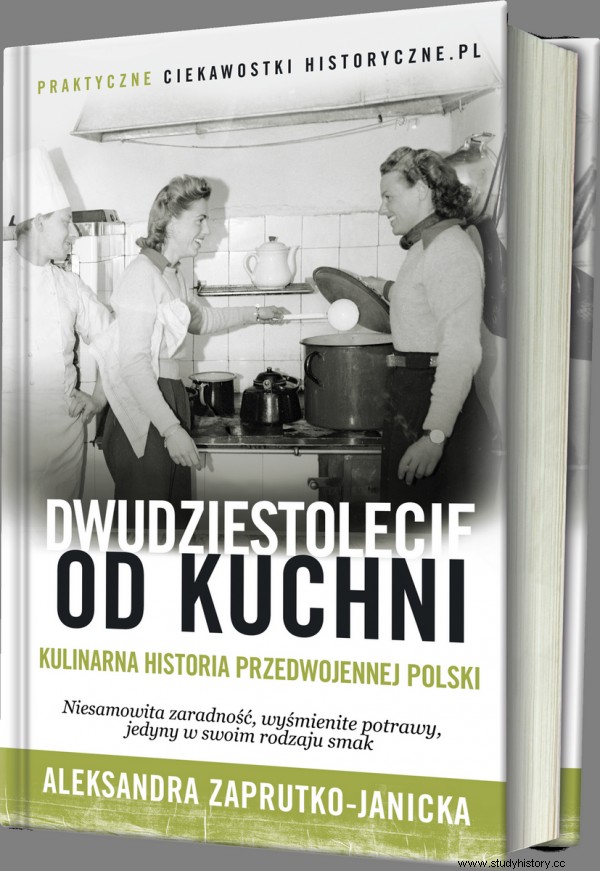 Incredible resourcefulness, delicious dishes, unique taste. Learn about the female history of pre-war Poland in the book "Twenty years from the kitchen" by Ola Zaprutko-Janicka.
Fenia Goldberg, the mother of the well-known journalist Irena Krzywicka, had a professional dental health care. Her first marriage was a marriage of people of related professions. She was a dentist and he was a doctor, both of them were active in a Jewish organization, for which they were sent to Siberia.
Fenia went "on the white bears", taking the dentist's chair with her. First, she helped to tighten the family's budget behind the Arctic Circle, and when she returned from exile, she continued to practice in Warsaw.
Goldbergowa did not waste money, and was convinced a left-wing socialist. At the same time, she ran the house and treated her teeth. Although she did not like her job, it provided her with a good income. As the only breadwinner of the family, she could afford to rent a flat with several rooms, support a maid, and send her only daughter first to a good school and then to university.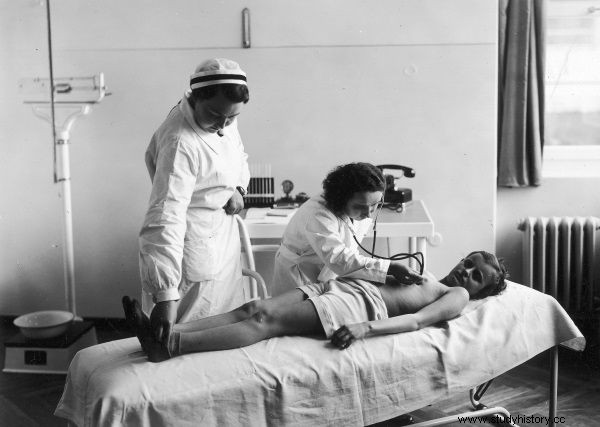 Spa doctor examining a small patient with the assistance of a nurse.
Hardly any woman, however, had similar possibilities. And access to the medical profession was reserved for those women who were able to fork out large sums absorbed by university education. The rest were left with a job in which they were neither appreciated or rewarded as well as men, nor even sure that they would keep it if the man applied for the same job.
***
Incredible resourcefulness, delicious dishes, unique taste. Get to know the female face of the Second Polish Republic. From the culinary side and more! Today buy your own copy our latest book: "Twenty years from the kitchen. Culinary history of pre-war Poland "by Aleksandra Zaprutko-Janicka. Order your copy at a discount on empik.com.
Sources:
The article is based on the sources and literature used by the author while working on the book "Twenty years from the kitchen. Culinary history of pre-war Poland " .