James Barry became famous as the first physician to successfully perform Caesarean section in Africa. When he left this world, he had only one wish - to be buried as he would give his last breath. Unfortunately, it was not honored, which sparked a scandal that shook the British Empire. It turned out that the doctor had been hiding a great secret for over 50 years. He was a woman.
James Barry was probably born in Cork, Ireland, in 1789 as Margaret Ann Bulky. She was the second child of the petty shopkeeper Jeremiah and Mary-Ann, sister of the painter and professor at the Royal Academy in London. In her youth, she probably fell victim to rape, as a result of which she became pregnant and gave birth to a daughter, Juliana. The girl was raised by Margaret's parents as their third child.
Margaret was considered an ambitious and intelligent young woman, unfortunately she lived in a time when teaching was the only career path available to her. The turn of the 18th and 19th centuries is still a period when the fair sex did not have much to say about their future . They were denied the possibility of studying and further professional development. Above all, they were to marry well, give birth to children and focus on running the house.
This applied to all ladies, regardless of their social status. Margaret, however, was determined to break with this tradition and try a different life at all costs. The chance for them appeared in 1806 with the death of her uncle - the aforementioned artist and lecturer, who was called ... James Barry.
In male disguise
The painter spent the last years of his life in poverty. He left little for his sister. Nevertheless, Mary-Ann's arrival in London with Margaret to settle the affairs of the deceased turned out to be a turning point for the latter. The 18-year-old girl drew the attention of her uncle's friends with her intelligence, including the Venezuelan general-in-exile Francis de Miranda, David Erskine, Count Buchan, and Dr. Edward Fryer.
They decided to take care of her further education and professional development, assuming her patronage. Together with a lawyer friend they also formed a conspiracy by deciding to send the girl to study medicine at the University of Edinburgh . However, in order to do this, Margaret not only had to acquire the appropriate knowledge (which was helped by Dr. Fryer), but also to change her identity. So it happened. On November 30, 1809, Margaret Bulky ceased to exist and was replaced by the Irish nephew of the professor, James Barry, who died three years earlier.
Margaret took the name and surname of her late uncle, the painter James Barry (his self-portrait in the picture)
Due to her delicate beauty, the future doctor had to do a lot of exercise to complete his studies on time. First of all, he changed the date of birth several times to match the age to his youthful appearance. These efforts did not save him from problems in college. His teenage appearance raised doubts among lecturers as to whether he should take final exams and receive a medical degree. The intervention of Count Buchan finally resolved the situation.
The talented Mr. Barry
Upon graduation (and despite continuing to question his age), James joined the military where he took up the position of assistant surgeon. In this way, he began a nearly 50-year medical career, which gave him a place among the most outstanding doctors of the 19th century. After completing his military training, he was sent back to Cape Town, where he spent 10 years and built his name. It was in South Africa that he became famous as the first physician to perform a successful cesarean section. Both mother and child survived the operation.
There, he started his campaign to combat poor sanitation and living conditions among soldiers stationed in Africa and the local, poor population. His actions and support allowed, among others to improve the water system in the city where he was called the doctor of all people (both rich and poor).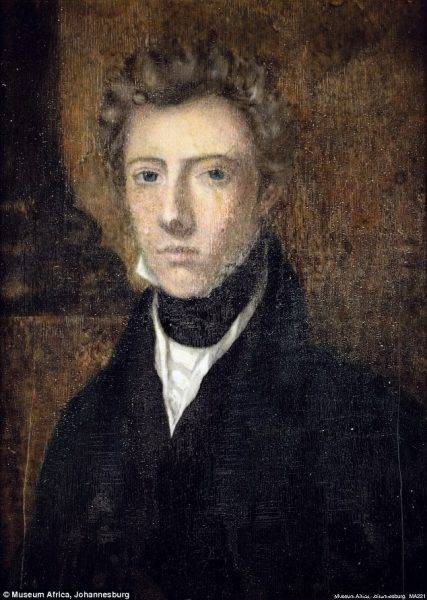 The delicate features and youthful appearance gave the doctor a hard time in disguise.
His stay in South Africa also resulted in the first major scandal in his life. In Cape Town, Barry met Lord Charles Somerset, Governor of the Cape Colony. He probably discovered the doctor's true identity and started an affair with him. The couple lived together under the guise of a friendly relationship. Unfortunately, this did not protect them from the rumors that eventually led to the outbreak of the homosexual scandal. A special commission was appointed to explain it, but it finally cleared them of all suspicions. The account itself withstood the test of time and distance, and ended with Somerset's death in 1831.
After 10 years of service in South Africa, James Barry was delegated to the next regions of the British Empire. During his military-medical career, he was stationed in Jamaica, Mauritius, St. Helena, Malta, the West Indies, and Canada. Wherever he appeared, he took care to improve the sanitary conditions, life and diet of soldiers and the local population. His reformist approach gained him supporters and enemies, but he was always protected from the latter by wealthy and influential patrons from England.
Privately, he was considered an eccentric with a quick-tempered and explosive character, who did not spare even the famous Florence Nightingale. He was also a teetotaler and a vegetarian, which surprised almost everyone in the 19th century . He also constantly climbed the ladder of military and medical promotions, eventually earning the rank of general inspector of hospitals, equivalent to a brigadier general. Unfortunately, constant travels to different climatic parts of the world affected his health and eventually forced him to retire on July 19, 1859.
Find out more:An exceptionally tough mother, or how the world became convinced of caesarean section
Discover the secret
Dr. James Barry spent the last years of his life in London, where he died on July 25, 1865 of dysentery. His last wish was to bury him in the clothes with which he died. Unfortunately, it has not been met.
The maid commissioned to prepare the body for burial was the first to discover the doctor's secret. James Barry turned out to be a woman whose body was pregnant. When the secret was made public, many of the doctor's acquaintances swore that they had suspected something for a long time, and even knew about the situation. James has always been scrupulous about his privacy - especially in situations that might reveal the truth about his gender.
However, even if these suspicions did exist, they did not affect the course of Barry's career. Anyway, James's doctor himself, who signed his death certificate, in an exchange of letters with George Graham from the General Register Office, said:"it's not my business" .
Dr. James Barry was buried at Kensal Green Cemetery in North West London. His tombstone shows the name under which he lived and worked for 56 years.
Bibliography
Pain, Histories:The military surgeon who hid his female history , www.newscientist.com, 05/03/2008 / accessed:17/01/2021.
Holland, The Extraordinary Life of Dr. James Barry , www.history.com, March 24, 2017 / accessed:January 17, 2021.
Moore, Dr James Barry:A Woman Ahead of Her Time review - an exquisite story of scandalous subterfuge , The Guardian, 10/11/2016.