He had a sadist-stepfather, dressed up in feminine trimmings and got married at a distance of 1,300 kilometers. In addition, with his own foster sister. We are discovering the forgotten youth of the Iraqi dictator.
Saddam Hussein was born in 1937. His childhood was not an easy one. Anyway, few dictators had. He lost his father even before he was born, and he spent the first years of his life in the shadow of his tyrant stepfather. Years later, he recalled: My mother remarried. She hit it wrong. Haj Irahim al-Hassan had no mercy on her. Certainly it is the fault of his peasant mentality .
No wonder Saddam couldn't stand it one day and ran away from home . He was taken in by his uncle, Khair Allah Talfah. In fact, he became his new adoptive father. In turn, Talfah's two daughters - Sajid and Ilham - became his sisters. Sadżida in particular has become close to Saddam. As Diane Ducret tells in the book "Women Dictators 2", they had fun together, they also took their first steps in school together .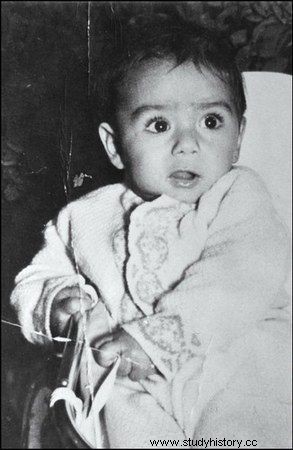 This adorable baby is none other than little Saddam. Unfortunately, he could not count on a happy childhood.
There was not enough money in the house, so a new family member had to help support his sisters and aunts. He sold cigarettes on the streets of Baghdad, rebuked customers to taxi drivers, and was a waiter for a while. As a frail teenager he had to fend off the advances of men who were infatuated with boys .
His uncle gradually became an unattainable role model for young Saddam. He has just released from the prison he was sent to for participating in a conspiracy to overthrow the British occupation authorities.
He was also the author of a booklet, the title of which tells everything about his views:"Three species that God unnecessarily created. Persians, Jews and flies ". Based on such reading, Saddam also grew up to be an Iraqi nationalist and supporter of the pan-Arab movement.
He tried to follow in the master's footsteps and become a soldier, but was not accepted into the Military Academy. So he chose plan "B" and instead of serving in the security forces, he began to fight these forces as part of a gang of robbers.
In 1959, he took part in the completely unsuccessful attempt on the prime minister of Iraq, Abd al-Karim Kasim. All participants in the conspiracy died or were captured. Only Saddam, who was on watch, escaped, though he too was hit in the ankle by a rifle bullet.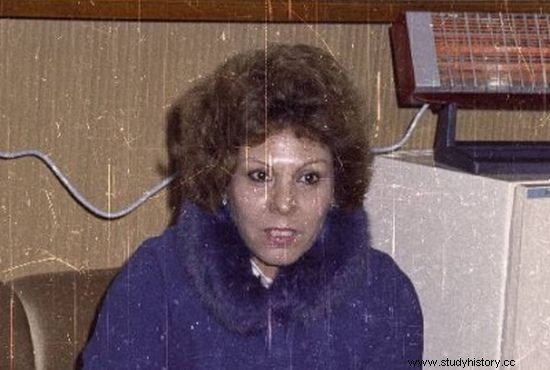 Sajid Talfah, wife of Saddam Hussein. Excerpt from the photo posted in "Women of Dictators 2".
He got out of Baghdad disguised as a woman and through the desert he made his way to Syria. From there he set off for Egypt - a safe haven for pan-Arab rebels. On the Nile, he developed a taste for Western life, enrolled in law studies, spent days in cafes and had rebellious discussions about socialism. After a few months, he also decided that it was time to get married. He was already 23 years old!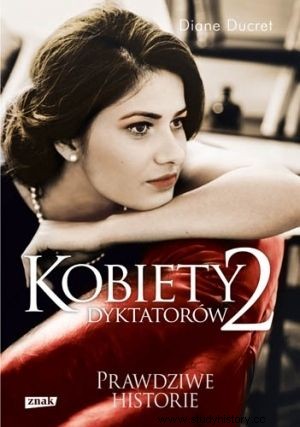 The curiosity is based on Diane Ducret's book "Women Dictators 2" (Znak 2013).
For a long time, Hussein had a crush on one of his foster sisters , Ilham. Under pressure from his uncle, however, he agreed to marry the younger Sajida. It wasn't about any affection, just a duty to the family. As an acquaintance of the later dictator recalled: He saw a sister in Sadżid. It was hard for him to think of her as a woman .
The bride had nothing to say, the men decided for her. Besides, she was not even invited to a wedding or a wedding reception, because these took place in Egypt, where Saddam was still staying. The groom also went on his honeymoon alone. It was a boat trip up the Nile to the pyramids. Meanwhile, Sajid was sitting at home looking at the wedding ring in the mail.
It wasn't until three consecutive years that Saddam returned to Iraq. He was allowed to do so by a coup d'état organized jointly by the BAAS party and the CIA. A lawyer educated in Cairo rushed to Baghdad as if on wings to finally consummate his marriage.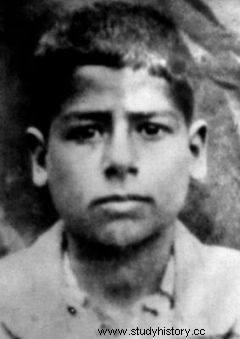 Saddam as a teenage boy. Photo from the late 1940s.
Once he did, he even ordered a late wedding photo. The bride has a brooch and earrings, light makeup and a natural short hairstyle. Saddam allows himself a slight smile. He shaved off his mustache exceptionally. He is in a suit and tie - Diane Ducret writes.
This is how the future dictator entered his adult life for good and began his great political career. Although there were still many perturbations ahead of him and several years of imprisonment, he was already starting to make plans for the future.
In 1967, escaped from prison (actually invited the guards to dinner at a restaurant and left unnoticed through the back door) . In 1968, he helped his aunt's husband, Hassan al-Bakr, gain power in Iraq. He became the minister of propaganda and education and vice-president. And after eleven years, he himself sat in the presidential chair.
Source:
Trivia is the essence of our website. Short materials devoted to interesting anecdotes, surprising details from the past, strange news from the old press. Reading that will take you no more than 3 minutes, based on single sources. This particular material is based on:
Diane Ducret, Women Dictators 2 , Znak Social Publishing Institute, Krakow 2013.