It is not known whether Roy Sullivan can speak of luck or bad luck. In his life, a man has been hit by lightning seven times.
First, a little math. A person's chances of being struck by lightning in the next storm are 1:10,000. Despite such a low probability, Roy Cleveland Sullivan, ranger of Virginia's Shenandoah National Park, was struck seven times by lightning in his 71-year life. Despite various post-accident complications, he got away with life every time.
Sullivan is a record holder in this respect, even making it to the famous Guinness Book of Records. Including Roy's name in it had to be thoroughly documented first. R. Taylor Hoskins, the curator of Shenandoah National Park, took care of this, and he carefully described each of the seven episodes of storms. In addition, the "lightning conductor man", as Sullivan was used to say, was examined by doctors who only confirmed his story.
Security guard, high risk profession
Roy was born on February 7, 1912 in Greene County. He came from a not very wealthy family, so from an early age he helped his father in the field, and it was during such work that he first came into close contact with the lightning that hit the scythe he was holding. Unfortunately, apart from Sullivan, no one else saw this situation, so it was quickly forgotten. Until…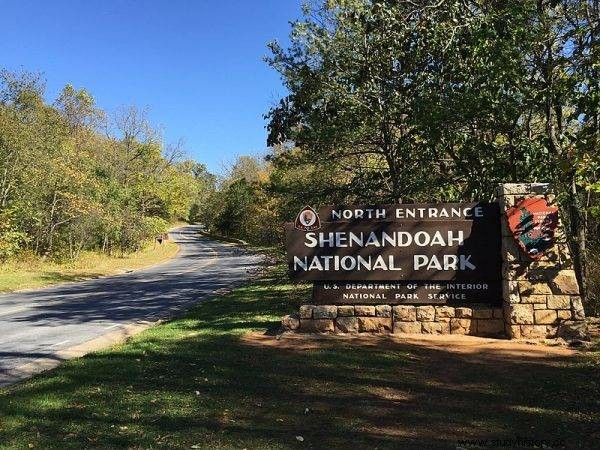 For many years, Roy was a ranger at Shenandoah National Park
In 1936, Roy began working as a ranger in the newly created Shenandoah National Park. Sullivan's seemingly boring job carried certain risks. Statistically speaking, the work of a park ranger made him much more vulnerable to storms than the average person. Thus, lightning strikes were a form of occupational risk. In addition, the state of Virginia has a relatively high lightning discharge rate, averaging between 35 and 45 storm days per year.
Seven hits that changed a life
In April 1942, Roy took refuge from the storm of the observation tower. The structure, which did not yet have a lightning rod, had already been hit several times, so Sullivan decided to abandon it. Ironically, while he was near the exit, he was struck by lightning. Effect? Severe burns all over the body, a broken large fingernail, a bloody and perforated shoe. But most importantly, the man survived.
27 years have passed. A ranger was driving a truck during a storm when a nearby tree literally lit up. Reflected lightning crossed the road just as Sullivan rode by. Unfortunately, he did not close the side windows of the car. Hit, he passed out, and most of his hair was burnt. The truck kept going, happily stopping at the edge of the cliff.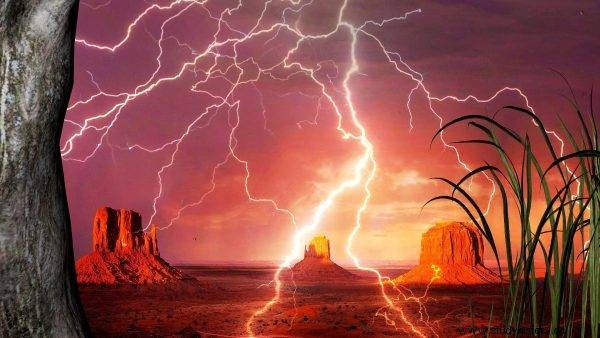 In time, Roy was terrified of storms and lightning
Subsequent blows happened much more often. In July 1970, he was electrocuted while staying in the front yard of his house. Apart from the injured shoulder, he had not suffered any major injuries. In the spring of 1972, he made his fourth lightning encounter. At work. His hair was burning again, but he managed to smother the fire. In this event was so important that since then Roy argued that he was haunted by doom, he was obsessed with storms, and at almost every step he was accompanied by a container of water.
In August 1973 the ranger was unlucky again. As he drove through the park, he noticed storm clouds gathering in the distance, so he turned and drove in the opposite direction. The clouds, however, somehow seemed to follow him. Just as Sullivan thought he had "lost" it, he got out of the car and ... heard the thunder again and felt it burn. He suffered body burns as a result of the hit.
The sixth time Roy was hit in June 1976 while patrolling the trail. This incident filled a cup of bitterness. Sullivana quit his job after 36 years of service and moved to Dooms, Virginia with his wife, Pat. He even went a step further and equipped several trees around his new home with lightning rods that extend seven feet into the ground. He thought that this solution would keep him safe. Unfortunately, he was wrong.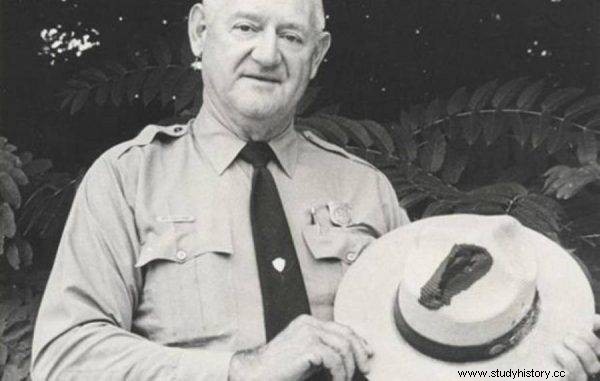 Roy shows a hat damaged by lightning
It was June 1976. Sullivan caught the trout and smelled the terrible stench of burning hair. It happened again! The lightning hit him on top of the head. He suffered burns to the chest and digestive tract all the way to the stomach, and he lost hearing in one ear. It was the final blow, although some sources say that Roy's wife was also struck by lightning when she hung her clothes in the yard with him. Even though Sullivan was standing next to her, he came out unscathed.
Record-holder loner and unfortunate
Almost all his life, the ranger endured loneliness and sadness. Everyone in the neighborhood knew what was happening to him and people avoided contact with him for fear of being electrocuted. Once, while he was walking with the chief ranger of the park, they heard a thunderstorm in the distance. It was enough for the boss to suddenly turn to Sullivan and say:
- See you later!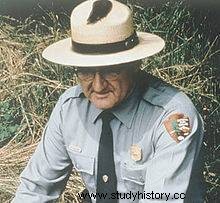 Roy Sullivan was a loner. Hardly anyone wanted to keep in touch with him
Fear of being electrocuted, mortality statistics, and a storm-conducive aura made Roy a recluse. Weird. It was all to blame for depression, which was triggered by a series of stormy accidents.
The old saying goes, what doesn't kill us makes us stronger. It has nothing to do with Sullivan. On the morning of September 28, 1983, he was found dead in bed. On arrival, the officers found a bullet wound in the abdomen. According to official reports, Roy committed suicide, although there are many voices that Pat's wife - tired of her husband's obsessive behavior - is behind his death.