Well, not many of you are familiar with the name "Swami Vivekananda". I'm sure you must have heard this quote:
"Arise! Awake! And do not stop until the goal is reached."

-Swami Vivekananda
Swami Vivekananda was an Indian philosopher, spiritual leader and guide for a number of students. He had high mastery and great knowledge of literature. Do not be surprised if I say that he was also a linguist with enormous knowledge. Although considered an Indian monk, he has given numerous lectures on Hindu philosophy throughout India, the United States, Europe and England. In memory of his birthday, which falls on January 12, India celebrates "National Youth Day" every year.
Doesn't it sound strange when I say that an Indian saint was heard in an international audience, even when his lectures were about spirituality? And that too, in the early 19th century!
This exciting life story of his is an example of how a thoughtful person can appear as a powerful leader with courage, charisma, calm and confidence. Let's start with childhood.
Early life for Swami Vivekananda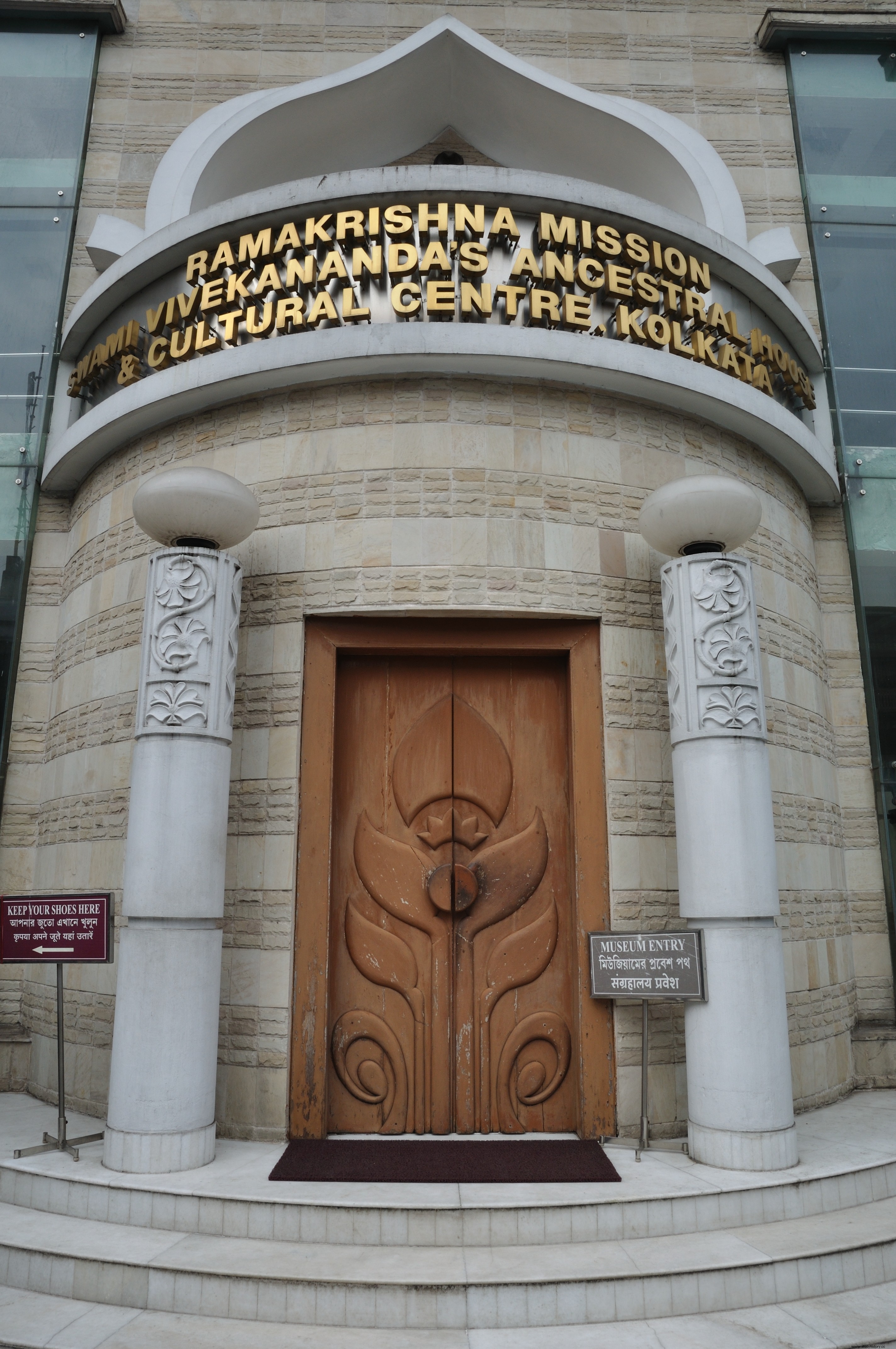 Birth and Family
Swami Vivekananda was born on January 12, 1863 into an aristocratic Bengali family in Calcutta, India. He was named as Narendanath Datta by his father, Vishwanath Datta, and his mother, Bhubaneswari Devi. His father was a lawyer in Calcutta High Court, the capital of British India. His grandfather was a Sanskrit and Persian scholar who became a monk at the age of 25. Born among nine siblings, he was a naughty and active child who was drawn to spirituality even more.
Education
Narendranath was a student at the Ishwar Chandra Vidyasagar School, called the Metropolitan Institute from 1871 to 1877. He was an avid student and loved his mother tongue. It seems that he once said at his school:"I will not learn the language of the white master". He also stayed away from learning English for a few months, but eventually learned it due to coercion. Then the family moved to Raipur in 1877, and they returned in 1979 when he was admitted to Presidency College in Calcutta. He was also the only student to clear the entrance exam with first division grades. He took an MA in philosophy at this college.
His interests in subjects ranged from philosophy to history and much more. His great interest in Hinduism, Vedas, Hindu scriptures, Upanishads, Bhagavd Gita, Ramayana, Mahabarata and other Puranas was evident from his speeches. But that did not stop him from pointing out the flaws in Hindu customs that were partial. As an avid reader with exotic memory powers, he surprised many eminent people with these astonishing skills. His quick reading is something many people appreciate.
For example, in one of his speeches he had quoted a few pages from the book "Pickwick papers", the first novel by Charles Dickens. In another incident, while in Germany with his friend, Professor of Philosophy Dr. Paul Deussen, Narendra greedily read some poetry. So he could not answer Paul when he spoke to him. But then he came back to Paul and apologized for being too attracted to reading. But the professor was not convinced, so he quoted verses from the book and interpreted the meaning, which astonished the professor.
Spiritual connection before meeting his guru
In 1881, Narendra was part of the "Brahmo Samaj", a society started in 1828 to promote Brahmoism which was essential for Hindu reforms at that time in British India. This was primarily founded by Raja Rammohan Roy and Debendranath Tagore. It began in the Bengali Renaissance and grew to become more influential throughout the country.
Keshub Chandra Sen, was a Hindu philosopher who sought to immerse Christian theology in the Hindu framework. He strongly believed in Unitarianism and was a member of Brahmo samaj and was a close acquaintance of Narendra. He influenced Narendra on the idea of ​​an "accessible, non-repulsive, every-man type of spirituality".
Meets his guru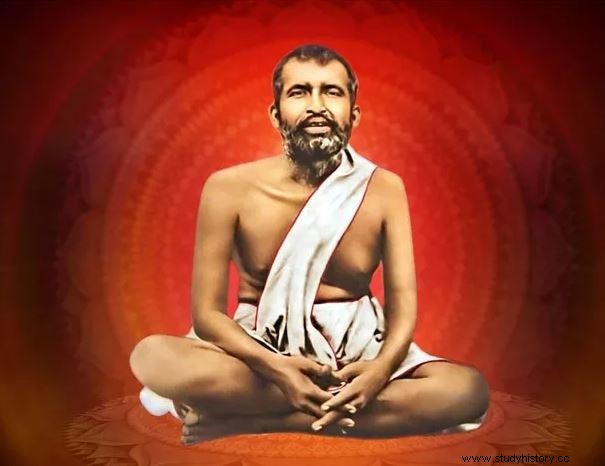 Swami Vivekanada was a disciple of Shri Ramakrishna Paramahamsa, a Hindu spiritual leader. There are two interesting events that eventually led him to meet his guru.
First, he was persuaded by his relative Dr. Ramchandra Dutta to meet Ramakrishna. When Dutt grew up in Narendra's house and observed him grow up asking questions about God, existence, renunciation, he once said to Narendra:"Brother, if your only goal in life is to strengthen our religion, do not get involved. "Bramho Samaj or others. You go to Dakshineshwari and meet Shri Ramkrishna."
Second, in the English literature class of Professor William Hastie at the General Assembly Institution, he taught William Wordsworth's poem "The Excursion". In this class he tried to explain the meaning of the word "trance" and suggested that his students meet Ramakrishna in Dhakshineshwar to understand what it really means.
Face-to-face meeting
In November 1881, Narendra finally met Ramakrishna face to face for the first time. When Ramakrishan was invited to give a talk at Surendranath Mitra's home, Ramachandra Dutt accompanied Narendra. Surendra was also next door to Narendra. During this lecture, Ramakrishna asked young Narendra to sing. Impressed by this, he had invited Narendra to Dhakshineshwar.
After this, in late 1881 or early 1882, Narendra went to Dakshineshwar and met Ramakrishna, who actually drove him to the path of spirituality even more. As a person who strives for logic, reasoning and rational questions, Narendra was not ready to agree with Ramakrishna on many aspects. But his convictions drew him more to his eventual Guru, whom he later fully accepted as his Guru.
Ramakrishna's personality, charisma, response and patience were the main reasons why Narendra was attracted to him and often visited Ramakrishna afterwards. For example, when Narendra asked "Have you seen God?", He did not get a satisfactory answer from anyone. Debendraneth Tagore replied "My boy, you have Yogi's eyes." Then he got the answer from his guru - "Yes, I see him as I see you, only in an infinitely more intense sense."
Hearing such enlightening answers from him and patient guidance, even when he disagreed with Ramakrishna's opinions, made him a devoted follower of Ramakrishna himself.
Following the path of his guru
Ramakrishna loved the student Narendra and always used to have him by his side. One day he wrote, "Narendra will perform the task of enlightening the masses." While Narendra hesitantly replied, "I can not do all this." Ramakrishna said, "What? Will it not be possible? Will your legs do this task?"
In 1885, Ramakrishna was diagnosed with throat cancer and was transferred to Calcutta, then to Cossipore. Narendra, along with other disciples, took care of their guru while Narendra continued his spiritual education. On August 16, 1886, Shri Ramakrishna Paramahamsa died and attained Mahasamadhi in Cossipore.
After his guru passed away, there was a growing debt for rent, and therefore Narendra and other disciples were forced to find an alternative shelter. While few gave up and went to become Grihastha or a family man, Narendra pursued his mission and converted an old house in Baranagar into a monastery / mat. The rent for this place was very low and they raised it with "Holy begging" (madhukari).
After spending most of her time in meditation and religious austerity, Narendra indulged in spiritual life. In December 1886, when he was invited by the mother of Baburam along with other disciples to the village of Antput. On Christmas Eve in 1886, Narendra and other monastic vows to follow and live like their master.
The Rise of Swami Vivekananda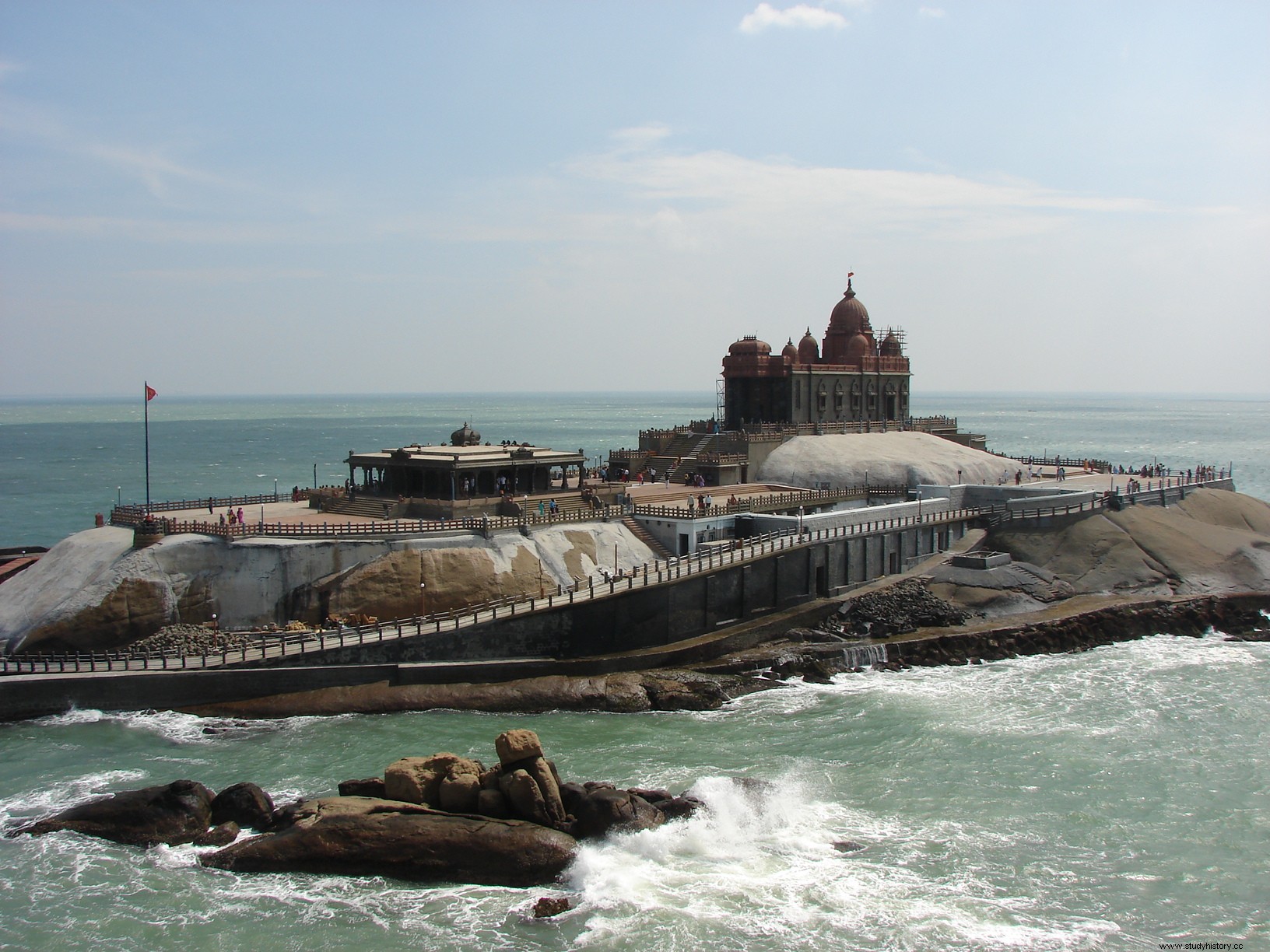 In 1888 he left Baraganar Math and began the journey of spiritual exploration and teaching throughout India. He posted as "Parivrajaka", that is, a monastery wanderer. His pilgrimage spans states from north to south. It was during this period that he was given the monastic name "Vivekananda", as suggested by Ajith Singh. This means "happiness with discerning wisdom", from the Sanskrit derivatives, "vivek" and "ananda".
During his extensive travels through the length and breadth of the country, he realized two things:
People are seriously affected by poverty and something needs to be done to promote them.
Religion is the backbone of the country and any attempt at reform may not succeed in this country.
He treated people of any religion or social status equally, he survived by biksha / alms and carried only kamandalu / water pot, staff and his two favorite books:"The Bhagavad Gita" and "The Imitation of Christ". After many years of travel, in December 1892, he sat on a rock in Kanyakumari, the southernmost tip of the country, for meditation. He realized that renunciation and service were two ideals on which any nation-building or upliftment could be made. Therefore, he understood that isolated progress can not happen in certain parts of the world.
For India to develop and prosper, the world must be lifted. The idea and knowledge of Hinduism and its deep meaning of divinity in every person must be preached to the whole world. Later, the place where he sat and meditated became a memorial.
Prominent contributions from Swami Vivekananda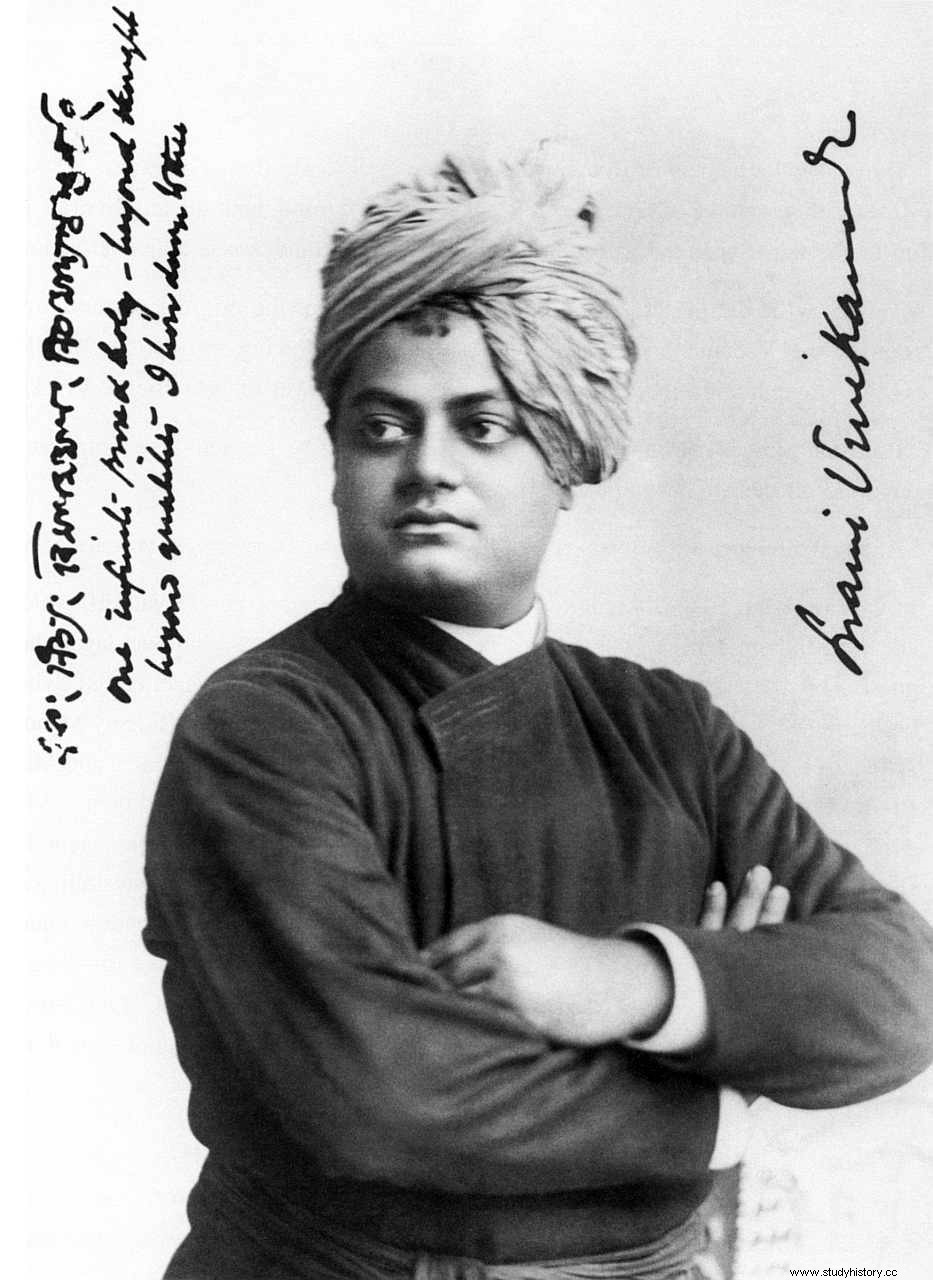 After Swami Vivekananda's pilgrimage across India, he decided to participate in the "World Parliament of Religions" to be held in Chicago.
First Journey to the West
To meet his worldly mission to preach humanity, peace, Hinduism, spirituality and other values, he wanted to attend the meeting. His disciples like Raja (the king) in Ramnad, Raja from Khetri were supportive, and a few others in Madras (now known as Chennai) began to raise funds for the trip. With this he set foot on a ship to the United States from the shores of Bombay on May 31, 1893. The ship sailed through China and Japan, and reached Vancouver, from where he left for Chicago in July.
Swami Vivekandanda addressed her first international audience on September 11, 1893 at the Art Institute of Chicago. Unbeknownst to him, this chapter of his life was going to be an effective turning point, not for him but for the world, he began his speech with these words - "Sisters and Brothers of America!". Immediately, Vivekandanda received a two-minute standing ovation from the entire seven thousand audience there. As he continued, he addressed the nation's youth and greeted them on behalf of - "the oldest monastic order in the world, the Vedic sannyasin order, a religion that has taught the world both tolerance and universal acceptance."
He also quoted a couple of passages from "Shiva Mahima Stotram". It was a short speech, but extremely influential, that Parliament President John Henry Barrows said, "India, the mother of religions, was represented by Swami Vivekananda, the orange monk who wielded the most amazing influence over his auditors."
The acclaimed success story he became
After this historic break, Swami Vivekananda became a buzzword in America, and the press referred to him as the "cyclonic monk from India". The New York Herald wrote, "Vivekananda is undoubtedly the greatest figure in Parliament for religions. After hearing him, we feel how foolish it is to send missionaries to this learned nation." With widespread attention, he attracted more people with his wisdom and ideology. He gave about five more lectures to Parliament in the same month.
After the end of Parliament he became the most sought after personality, marking the beginning of his first journey in the West from 1893 to 1896. He traveled across the East Coast and Midwestern America and London in Europe to spread the knowledge of the spiritual wisdom of ancient India, Vedanta and Hindu philosophy.
Return to India
From London, along with other disciples, he sailed from Naples to India on December 30, 1896. He reached Colombo on January 15, 1897. At the request of the locals, he lectured in Colobo, Ceylon, Pamban. He then traveled across Tamil Nadu and eventually reached Madras. From here he continued to Calcutta, where he established Shri Ramakrishna Matt and Ramakrishna Mission on May 1, 1897.
The motto of this organization is to spread the teachings of Shri Ramakrishna Paramahamsa and the values ​​of the ancient teachings of the Upanishads to help in one's spiritual liberation and for the welfare of the world.
Second Journey to the West
June 20, 1899 Swami Vivekananda went to London and reached there July 31, 1899. He taught in New York, California and was part of the "Congress of the History of religions" held in Paris in 1900. During this period , he found the "Vedanta Society" in San Francisco and New York. He then reached Belur Math in December 1900.
Swami Vivekananda's Death
For the next two years, he actively coordinated the work of Ramakrishna Math and communities in the United States and England. Due to declining health, he could not be part of the "Religious Congress" in 1901 in Japan. He suffered from diabetes, insomnia and asthma.
Swami Vivekananda was a vital and famous personality that was often visited by politicians and royalty. On July 4, 1902, he died while meditating in his room after a very normal and ordinary day. He achieved mahasamadhi in Belur mathematics and was cremated on the banks of the Ganga, facing his Guru Ramakrishna who was cremated sixteen years ago.
Interesting highlights from Swami Vivekananda's life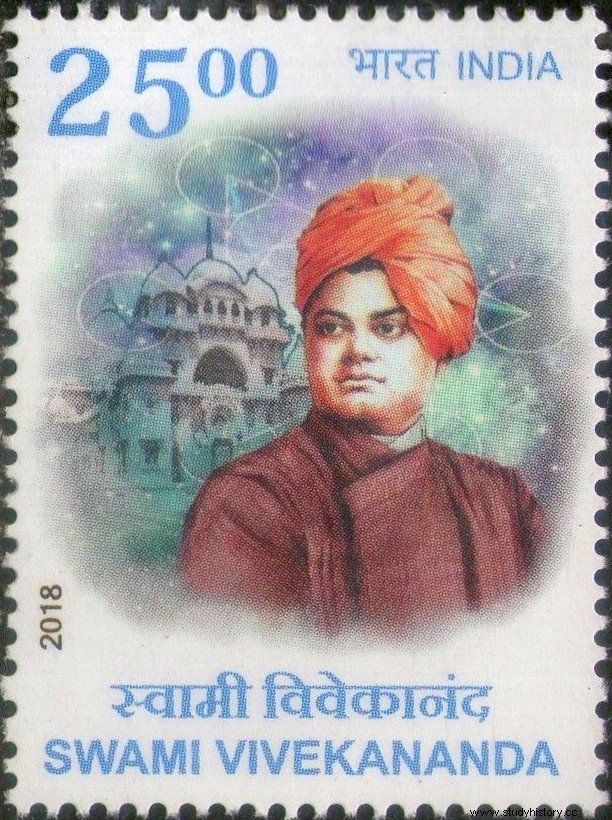 In a rare incident, an American woman expressed the desire to marry Swami Vivekananda. When asked why, she said she had admired Swami's intellect and wanted a child like him who was also wise. To her Swami Vivekananda replied - "I understand your wish. It will take a long time to get married and bring a child into this world and then know if he is intelligent or not. There is no guarantee that this will happen. Instead, I can give you a suggestion to fulfill your wish immediately. You accept me as your child. In this way you will become my mother and thus your desire to have a wise child like me will be fulfilled. "
The first speech of Swami in the United States opened doors for peace and humanity, and was heard through the voice of an Indian monk. He touched the audience with his charismatic words and good speaking skills, and he received a standing ovation.
Because of his achievements and honorable thought of universal upliftment, which only tried to make a better human race and not convert anyone from one religion or belief to another, the Indian government launched around eight stamps in his name.
the conclusion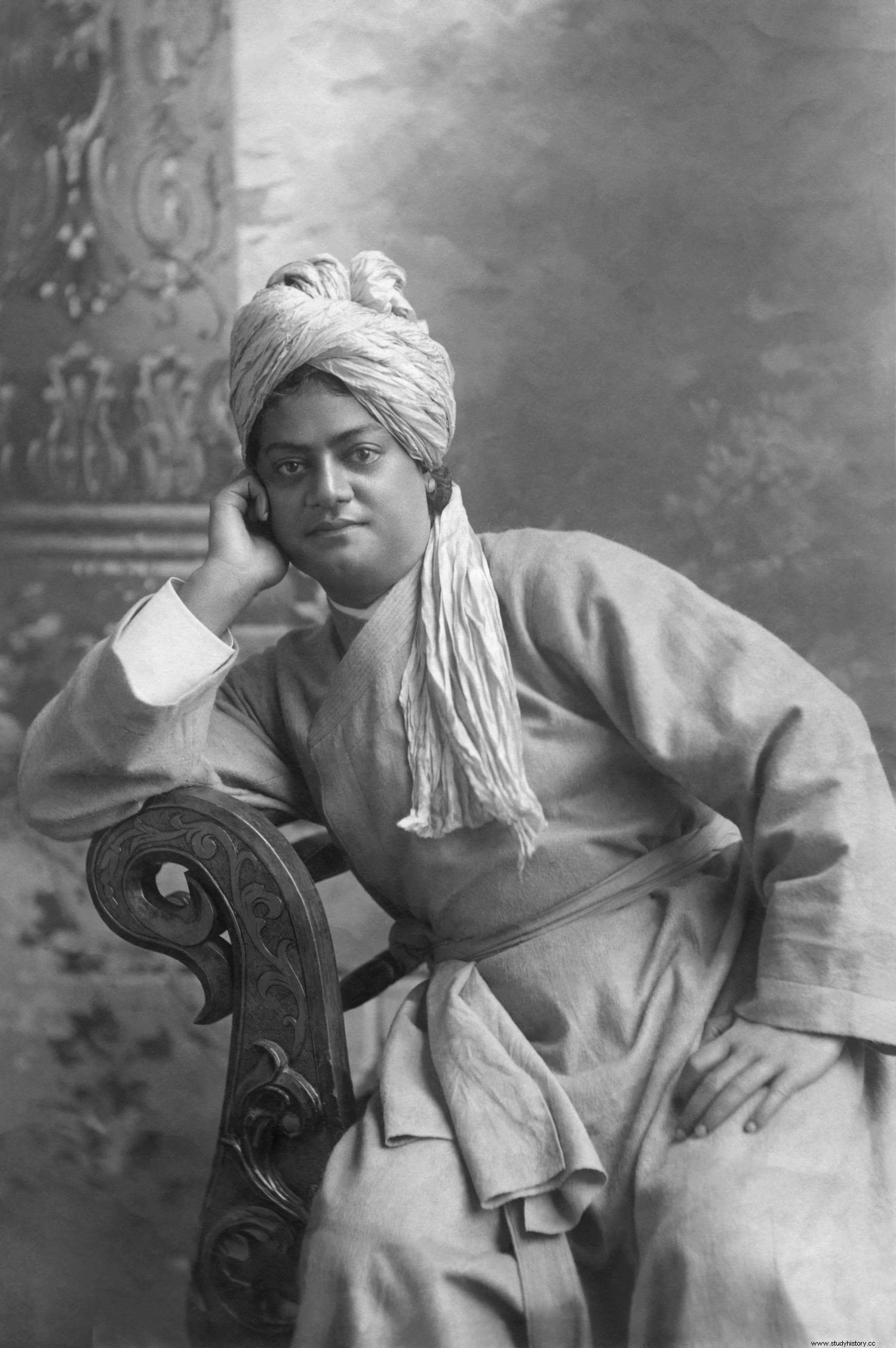 Swami Vivekananda is an idol and an inspiration for the world's youth. He has played a key role in introducing Hinduism, Vedic culture, the values ​​of ancient Indian tradition such as yoga and meditation to the West. He was a person who practiced what he preached. A man of dignity and wisdom. He is the founder of Ramakrishna Mutt, which is still a successful institution determined to achieve the goal and vision of Swami Vivekananda.
He has been an integral part of various Hindu reform movements in British India since the spread of Christianity. He was also interested in bringing about the idea of ​​nationalism under colonialism, as he believed that the nation as a whole must be educated and enlightened. Being a rebel as well as a spiritual leader is a rare combination. However, they sealed the deal with him. Expanding the idea of ​​worldly happiness, he continued to spread this idea of ​​welfare development.
Swami Vivekananda, who was an influencer and a strong speaker who was able to capture the audience with his eloquent speech, had a great command of language. Therefore, he published about five books during his lifetime. His works were also collected and published later after his death.
Some informative quotes
As a concluding remark and an example of how powerful a speaker he is, here is a saying from Swami Vivekanda about self-love.
If I love myself despite my endless mistakes, how can I hate someone at the sight of a few mistakes?

Swami vivekananda (source)
Although the above is about compassion and embrace, there is another quote that is strong and motivating.
"Take an idea. Make one idea your life - think about it, dream about it, live on that idea. Let your brain, muscles, nerves, all parts of your body be full of that idea, and just let every other idea be at peace. This is the way to success. "

- Swami Vivekananda
---
Although his teachings and philosophy are a rich sea of ​​knowledge, the two quotes above are just a piece of stardust from the mighty sky with unlimited inheritance.