He is characterized - and not unjustly - as the greatest American singer of the 20th century, but also a symbolic figure of American culture. Frank Sinatra passed away today, in 1998, leaving behind a rich legacy, which includes 1,300 songs and appearances in more than 50 films.
He was awarded the Presidential Medal of Freedom by Ronald Reagan in 1985 and the Congressional Gold Medal in 1997, and has been awarded a total of eleven Grammy Awards, including Lifetime Achievement.
As an actor, he won an Academy Award for Best Supporting Actor for As Long as There Are Men (1953), and was nominated for Best Actor for his performance in The Man with the Golden Hand (1955).
At the height of his career he had the reputation that "every woman wants to have him, every man wants to be him". And when they talked about women, they even meant those of the Mafia.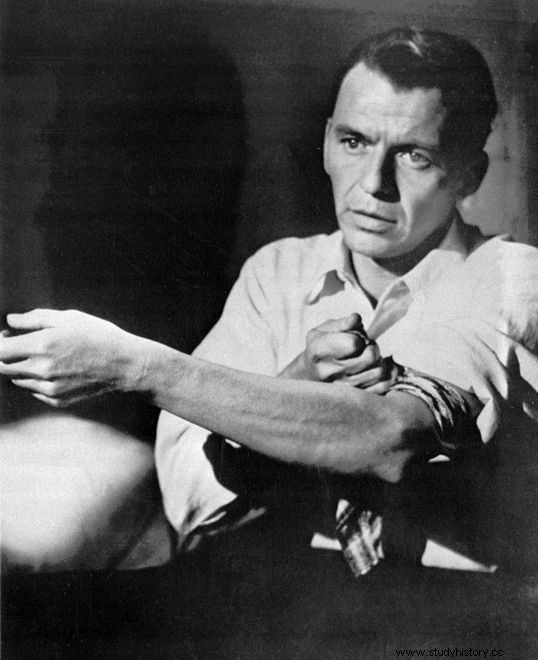 Throughout his life, he was also a target of the FBI. Immediately after the war, the FBI was interested in the singer's relations with the Mafia, while the "dark" relations are also recorded in the book of his daughter, Tina, which was published in 2000.
According to history.com, the agency tracked him for about 40 years and his file is thousands of pages long on his movements, statements and contacts.
Records made public after his death in 1998 documented evidence from his long career that testified that he lived a life his own "way".
Sinatra attracted the attention of the FBI after allegations that he paid a doctor $40,000 to declare him medically unfit to serve in World War II.
The FBI deemed his health exemption legitimate, but rumors plagued his career in the late 1940s.
Sinatra was also famous for his tumultuous personal life while his career was overshadowed by rumors of connections with mafia and organized crime figures such as Al Capone. He is even believed to be the man who introduced Chicago mob boss Sam Giancana to John F. Kennedy to support his campaign in 1960. To curry favor with Kennedy, he played at Giancana's club, according to with the testimony of his daughter, Tina.
Sinatra introduced Kennedy to Judith Campbell Exner, Giancana's partner, who acted as an informal liaison between the two parties.
He was called to testify in the House of Representatives on July 18, 1972 about his connections with the Mafia but it was never possible to connect him to any event. Due to his Italian origin, he allegedly maintained a particularly close relationship with Cosa Nostra, while an uncle of his was a member of the gang.
Known were his connections to Lucky Luciano, Bugsy Siegel, Willie Moretti and Al Capone's cousins, the Fischetti brothers, as documented in declassified FBI files. The gifts he had received from the Fischetti brothers were countless.
The talented comedian Jerry Lewis who belonged to Sinatra's circle had said that Sinatra was moving black money for the benefit of the Mafia. Sinatra denied the rumors, replying that he was carrying artistic equipment and that it was impossible to transport $2 million outside the US, although author and journalist Norman Mailer quickly shot down his argument, saying that the case Sinatra was carrying contained more than 2 million.
Sinatra was close to Joe Fischetti who controlled all the clubs in the US. She also went with him to Havana with the rumors of orgies with call girls going down in history.
Ol' blue eyes is back
The acquaintances of Cuba accompanied him during his years in Las Vegas, because he always had a way to bounce back. The first "downfall" had come around his 30s, when his shine occasionally faded as younger and more talented artists came to the fore. He had failed to get the TV career he wanted and is said to have attempted suicide in 1951. But it was in 1953 that he scored the role of his life in As Long as There Are Men, which also won him an Oscar for Best Supporting Actor, and so he made a comeback .
"A good solution for all of us"
Rumor has it that the boss of Columbia Studios didn't want Sinatra, but relented after a phone call from notorious gangster Johnny Roselli, who "convinced" him that Sinatra was a good solution for all of them.
FBI Director J. Edgar Hoover had described Sinatra as having a "hood complex" and it was clear that he enjoyed the dark glamor of working with gangsters and criminals to stay in the limelight, with his ever-charming voice. He also testified that Sinatra had offered to act as a "confidential informant" for the agency, which the FBI refused, according to Hoover. His goal was to "clear" his name.
Over the decades, it seems that whenever the Mafia asked him for support in any way, Sinatra offered, and the Mafia relied heavily on his brilliance to establish Las Vegas as the capital of gambling and entertainment. After all, Sinatra was appearing in two Mafia hotels, receiving 2% of the total profits.
FBI records also record the kidnapping of his son, Frank Sinatra, Jr., in 1963. The singer cooperated with the agency, paid the amount demanded of him by the perpetrators, and eventually they were arrested. Furthermore, he himself knew that the FBI was constantly watching him, so he requested the files that were recorded about his activity in 1979 and 1980. The documents had been handed over to him, without bringing anything incriminating against him. His file reached 2,403 pages.
When Robert Kennedy, as Attorney General, launched a manhunt against them, the Mafiosi threatened Sinatra, while according to what his daughter writes, Giancana himself refused his execution.
After all, in his public presence, he made sure to make anti-racist statements and fervently support the "institutions of democracy".
He was married four times in his life. In 1939, Nancy Barbato (she was the cousin of one of the high officials of the Moretti criminal organization), in 1951, the legendary Ava Gardner, in 1966, Mia Farrow and in 1976, Barbara Marx. He had three children, Nancy, Frankie Jr. and Tina Sinatra.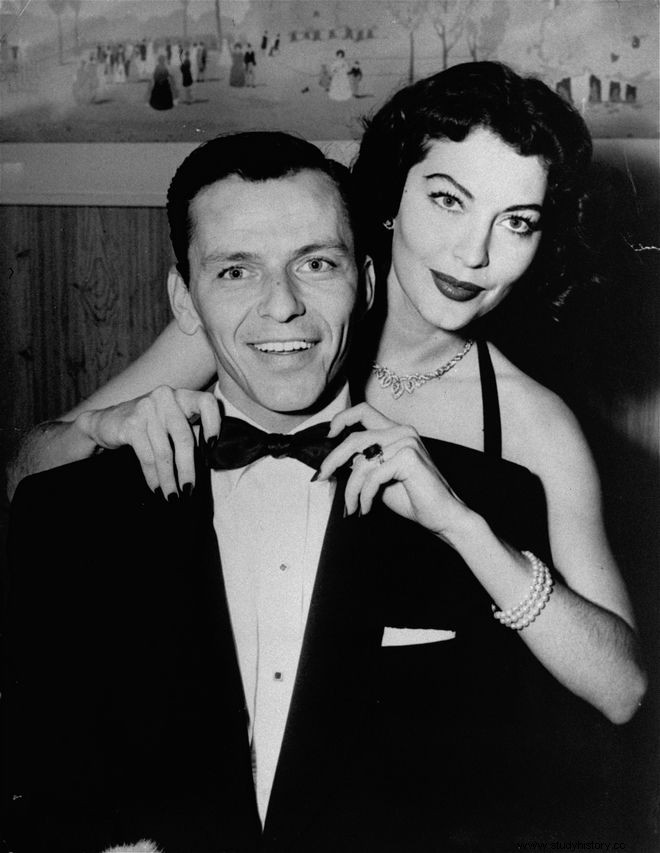 He died on May 14, 1998, after suffering an acute myocardial infarction. He was buried at Desert Memorial Park in California.
A pack of cigarettes, a lighter, a bottle of Jack Daniels and ten dimes were placed in his casket.
Follow News247.gr on Google News and be the first to know all the news