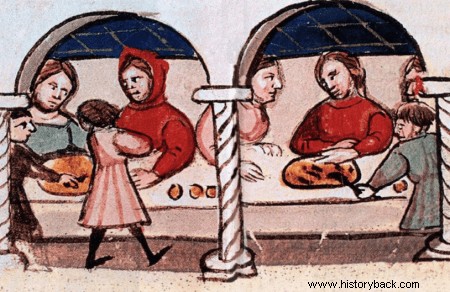 A medieval dinner
Also this year, like the past one, for the whole Christmas period I will propose on Pills of History a series of ancient Christmas recipes , a topic that, apparently, the users of the site like a lot and always has great success.
Let's start with the garlic cake recipe , which I report faithfully from sguardosulmedioevo.org.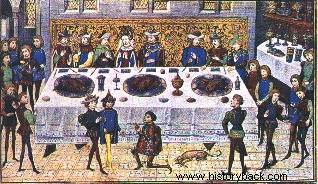 A medieval banquet. The cake d'agli was a typical medieval Christmas dish

Ingredients: pasta brisée, 250 g of flour, 125 g. of butter, salt and water in proportion.

For the filling: 5 garlic heads, 200 g. of fresh or salted bacon, 300 g of fresh pecorino and well drained and squeezed raveggiolo cheese, 3 eggs, 80 g. of raisins, 1 ten stigmas of saffron, if the bacon is not salty or not enough, a mixture of spices in powder, 1 teaspoon each of:cloves, nutmeg, cinnamon, ginger, pepper. the pasta a few hours before or even the previous evening, and keep it in a cool place. Peel the garlic and cook it in boiling water for ¼ of an hour. Drain and soak in cold water. Crush the cooked garlic cloves and add to them the cheese, the minced lard, the spices, the saffron, the eggs and the washed raisins.Work until a smooth dough.Roll out a sheet of dough and line a baking tray.Pour the filling, cover a second sheet, closing well the edges Bake in a hot oven (200 °) for 45-60 minutes ( Article taken from http://www.sguardosulmedioevo.org).