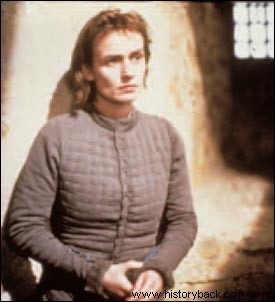 Joan of Arc in prison (from a film)
On the five months of imprisonment that Joan of Arc he lived in a cell of the castle of Rouen from the very beginning of the trial that finally led to the stake, we have received several testimonies, all agree in reporting severe and often too harsh conditions.
In truth, the young woman had tried to escape several times and this prompted the British to increase and strengthen precautions.
To prevent her from escaping, the girl was put a chain on her feet and during the night she was literally tied to her bed, while three guards monitored her constantly until dawn.
The jailers are not described as good people:they were rough and heavy people, with brisk manners, who did not scruple to torment them with jokes and jokes in bad taste.
These men probably also attempted to abuse Giovanna , since she herself, when asked why she had started dressing in men's clothes again, she had replied that she, when she wore women's clothes, she had been forced to undergo harassment and attempted rape by the guards.
The Maid of Orleans is in prison she spent most of her time alone, with her only one and we can imagine the unpleasant company of her tormentors; every now and then her judges came to her, as well as some spies intent on stealing information and secrets from her.
The 30 May 1431 the captivity ended:Giovanna was led to the gallows.