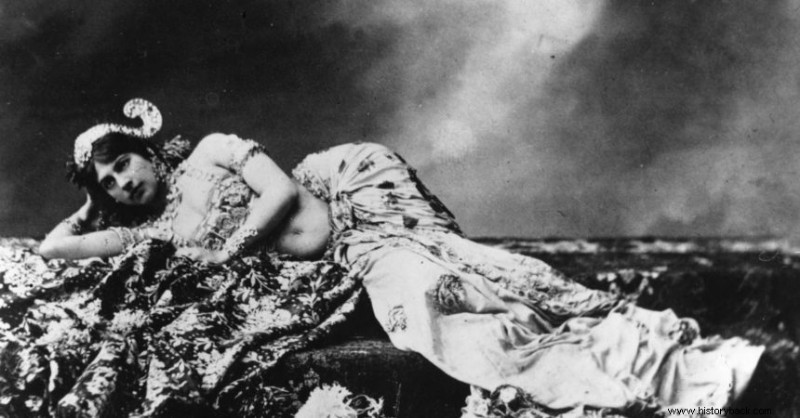 Mata Hari

She was born in the Netherlands in 1876 and she was called Margaretha Geertruida Zelle , but to the world she is and will always remain Mata Hari , "day's eye" in the Malay language, the spy most famous and sexy in contemporary history.

In 1895, at the age of 19, Margaretha married a much older officer, Rudolf MacLeod, she with whom she had two children, but tired and bored by the kind of life she led and feeling trapped in an unhappy marriage, in 1900 she divorced and moved to Paris .

And here began the myth: with the stage name Mata Hari , the girl began her career as a dancer she performing in public places in particular and evocative dances between oriental style and art nouveau , playing with her natural seductive abilities, she capable of enchanting the male audience, who apparently went into raptures watching her interpret the dance of the seven veils half-naked.

The success was resounding and the whole of Europe welcomed the tours with enthusiasm of the young artist.

She who in the meantime, between one show and another, she had become an assiduous frequenter of living rooms and bedrooms in the main cities of the Old Continent, as well as an intimate acquaintance of many authoritative senior army officers.

The outbreak of the Great War inevitably upset the lives of many people, and that of Mata Hari was no exception:lover of luxury and skilled seductress, she was the ideal candidate to steal the most hidden secrets of the upper military spheres, and did not miss the opportunity, which indeed seized on the fly, to enter into dangerous double-agent maneuvers in the pay of Germans and French.

However, her role was discovered and she had no more escape; in 1917 , after a summary trial in Paris, the woman was sentenced to death she for high treason, she accused of having provided important military information to a German head of the embassy in Madrid.

The day of the execution was set for October 15th: Mata Hari died screaming her innocence, and as the chronicles of her report, kissing the soldiers charged with killing her.