History, as we think we know it, has become a legend :that of Marguerite de Provence who, by marrying the young King of France Louis IX in 1234, also married his mother Blanche de Castille …She turns out to be a tyrannical stepmother , jealous and petty, preventing the spouses from living their love, using all the stratagems to detach Louis from Marguerite, the one who dares to steal the love of her son from him.
A legend that deserves to be nuanced. This competition between the two queens actually takes the form of a complex relationship, where family love, personal feelings and political considerations are intertwined...
The Young Queen
Remember that Blanche de Castille , granddaughter of the famous Eleanor of Aquitaine, married in 1200 Prince Louis, son and heir of the King of France Philippe-Auguste. She ascended the throne with her husband in 1223. Three years later, her husband died suddenly. Blanche becomes regent of the kingdom, for his son the young Louis IX.
Power falls to her without her having ever coveted it:subject to the pettiness of the barons who rebel against her authority, she surrounds herself with a team of followers to put down the rebellions and manages to strengthen the monarchical authority. Firm in its actions, discovering unsuspected political abilities and choosing her supporters well, Blanche brought order to France.
The marriage of his son is a necessity. Perfectly aware of the importance of the choice of the future bride for the future of the monarchy, she decides only after a long mature reflection . The Count of Provence Raymond-Béranger and his wife Béatrice de Savoie have no sons to succeed them but four daughters , all very beautiful and coveted:the future Queen of France will be Marguerite, the eldest.
The young girl (a 13-year-old child in reality), married Louis IX in 1234:this marriage fell under the centralizing policy of Blanche de Castille, who hopes to eventually attach the independent county of Provence to France.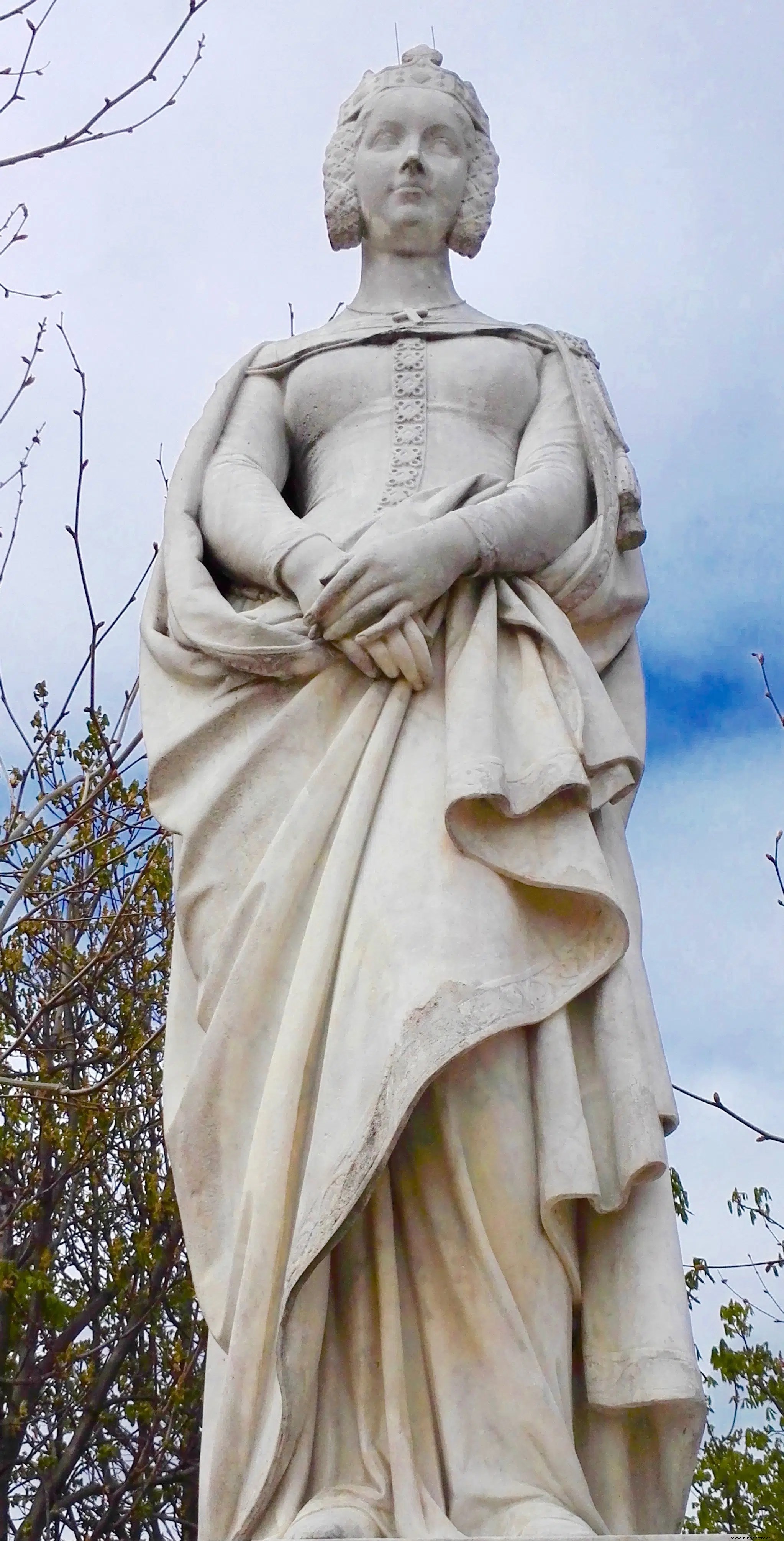 But now, this highly political marriage turns into a marriage of love. The future Saint Louis and Marguerite immediately fall in love one another. A union that will not, however, be cloudless... From the start, cohabitation was difficult between Blanche and Marguerite.
Blanche wanted this union; she prepared it and she was delighted (...) But the fact suddenly imposed itself on her:at the Court of France, there are now two queens; and, there is no doubt that it is a secret wound to her, the one that has just arrived is for all "the Young Queen"
The Castilian is no longer the "Queen Banche", but the "Queen Mother", a 46-year-old woman. The young Marguerite, legitimate sovereign, has taken her place . A regeneration of the monarchical couple that turns into literary and social rivalry for both women.
Let's not forget that Blanche (granddaughter of the famous Eleanor of Aquitaine who in her time encouraged courtly literature and the troubadours), was praised by poets upon her accession to the throne. Now the Young Queen in turn protects the poets and becomes the subject of their songs. We praise the charms of Marguerite as we praised those of Blanche a few years earlier! Terrible reminder of the passage of time...
The Queen Mother, who was aging and beginning to miss her once-celebrated "Castilian" beauty, could not see without sadness this young queen so pretty, so lively, to attract the poets of the new generation to her and delight her with their praises.
Originally from this brilliant Court of Provence, Marguerite, sensitive to the artistic movement, continued the work of Blanche and it is she who will really raise Paris to the rank of center of literary life in France at the end of the reign of Saint-Louis.
A difficult intimacy
Jean de Joinville, contemporary biographer of Louis IX, affirms that Blanche could not bear that "the king was in the company of his wife during the day and that it was enough for him to go to sleep with her at night »
To escape the tyranny of the Queen Mother, the couple took refuge in the Château de Pontoise (although the prerogative of Blanche), which favors secret encounters:a spiral staircase directly connects the king's office to the queen's apartment. Joinville tells us that the couple meets on this staircase to "chat (not only, no doubt…)
A tactic which exempts Louis IX from borrowing the corridors where circulate all the subservients of his mother, where Blanche de Castille rode in person. The servants in charge of guarding the door strike it with their staff to alert their master of the Queen Mother's approach. The young couple thus benefits from many accomplices.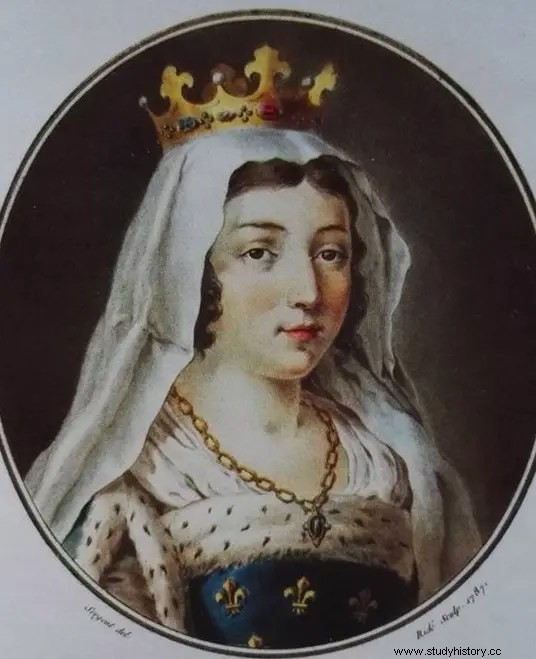 One might think this story came straight from the imagination of Joinville. This is not the case:particularly regular stays in Pontoise show that the royal couple favored the residence to all others.
The record of court movements confirms frequent royal stays in Pontoise from 1241. Previously, the king and his people rarely came there.
The Pontoise spiral staircase is a escape Blanche's "untimely intrusions" into the king's workroom or into Marguerite's private apartments. This attitude of Blanche, who seems to refuse to allow her son to spend time with his wife, is not, however, solely due to the jealousy of a mother in the face of a younger woman who monopolizes the love of her son. Blanche is an abusive mother, yes, but an intelligent woman. She knows very well that she cannot prevent Louis and Marguerite from loving each other! What concerns her is not the marriage of her son strictly speaking, but much more desires for political independence awakened in him a newly acquired confidence.
Blanche de Castille wants to preserve the government team
Intelligent like his mother, Louis IX seeks to switch power gradually in his hands. His stays in Pontoise were also an opportunity for him to build a core of followers , future servants of the state who will be devoted to him and not to his mother.
This change of political team, Blanche perceives it of course. This constitution of a counter-power , as a woman of head and character who has taken a liking to the exercise of power, she has very difficult to accept it . What will become of all these advisers who supported her during difficult times? These men who devoted themselves to her and to the kingdom, she is attached to them.
Marguerite does not realize that she represents a political danger for the team in place. Blanche is afraid to see this young wife whom she considers a little scatterbrained (it is not the case) divert her son from his governmental duties, from power as she conceives it, the one that has imposed itself on her, " one who does not suffer from mediocrity, delay, amusement or excuse .
This is why Blanche struggles to continue to control her son , and even interferes in his private life so that no information escapes him. It partially fails:the new team is well formed around Louis IX, without it being completely removed from power. It was to his mother that the king entrusted the Regency when he went on a crusade. If he hadn't decided to take his wife with him, would he have entrusted her to Marguerite? We can doubt it. Louis will always love his wife deeply, but willnever trust her in politics as he had been able to do with his mother.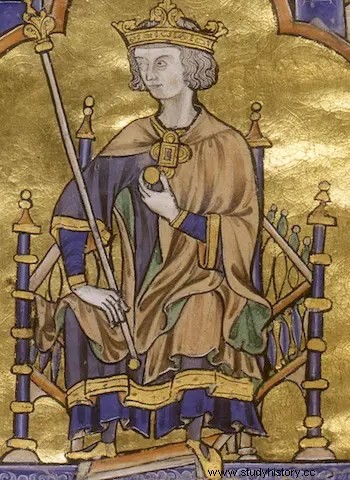 The passion for power can lead Blanche to very uncharitable behavior. Joinville gives a second testimony of the interference of the Queen Mother in the relations of the royal couple, in which the behavior of Blanche is hard to understand even if it is the result of a good intention:to teach the king to put politics before his personal feelings.
While Marguerite has just given birth and is in great danger of death (she was one of the first women to be freed using a tool resembling today's forceps), Blanche de Castille appears and takes her son by the hand:"Come, because you don't 'have nothing to do here ". Seeing that her mother-in-law is pushing her husband away, Marguerite cannot hold back a cry from her heart:"Alas! So you won't let me see my lord whether I'm dead or alive! She then faints, she is believed to be dead:Louis hurriedly retraces his steps and decides to stay with her .
The king's reaction clearly shows the evolution of Louis IX's behavior , who lets her behavior be dictated less and less by her mother.
Marguerite's progressive victory
Marguerite, upon her arrival at the Court of France, learned to compose with this mother-in-law endowed with a strong character , who clings to power, to prevent her husband from having to take sides with one or the other of the two women he loves the most in the world. But if she does not attack Blanche head-on, she does not bend her back, far from it. Gently, it imposes itself , and takes its rightful place. A step towards taking full and complete possession of his position, facilitated by the arrival of children , and especially of male children.
Indeed, it is truly the birth of the couple's first children, after a long wait (six years), which begins to tip the balance of power between Blanche and Marguerite:from the birth of little Blanche in 1240, the young mother gained legitimacy . Then came Isabelle in 1242, then Louis in 1244:by giving an heir to the kingdom, Marguerite fulfilled her contract and nothing more prevents her from being treated henceforth as a wife and a queen. The births, moreover, will follow one another until 1260. Louis gains in confidence , now that he has sons to succeed him.
In short, Blanche de Castille is less and less necessary. Since Louis IX got married and, above all, since he became a father, his importance within the kingdom has only decreased .
In 1242, Louis made the decision to remove Blanche from the Court. Secretly, he continues to seek her advice, but the symbolic of this move is powerful:it is a victory for Marguerite.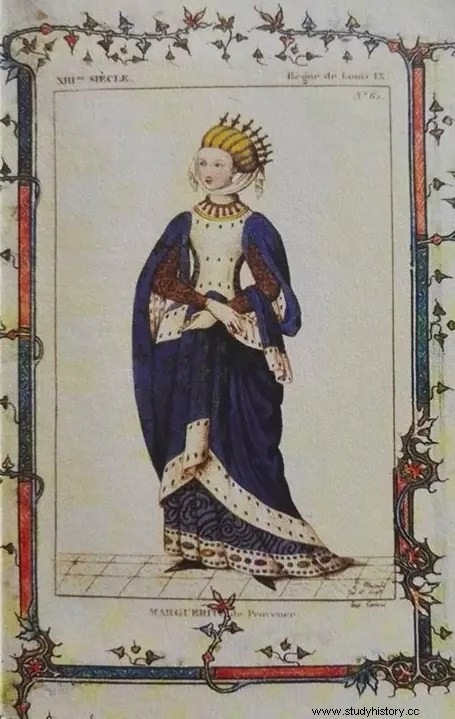 In 1244 (year of birth of the couple's first son), the king made his first major political decision :take the Cross, against the advice of everyone, and especially his mother!
It was actually in 1244, following an illness that was nearly fatal to him, that the king, considering that his recovery was a miracle, made a vow to meet. He decides to take Marguerite with him. Louis IX will never see his mother again since he left on a crusade in June 1248, and Blanche died in November 1252, 18 months before his return.
Marguerite mourns the death of her mother-in-law. Let's see no hypocrisy :she never loved this woman who was a source of permanent anxiety. But she commune with her husband, devastated by grief. She knows how powerful was the love Louis IX had for his mother. If Marguerite then feels, no doubt, an immense relief , she will never dispute that this difficult mother-in-law was on the other hand a very good mother, and a capable sovereign.
Her eminent political and administrative qualities, she always put them at the service of the kingdom and her son. If Louis IX is now able to govern alone, it is thanks to Blanche who prepared him particularly well to exercise the royal function . She paid the price:her son removed her from power as soon as he felt, thanks to his new role as father and husband, confident enough to do without her services. But wasn't that in the order of things?