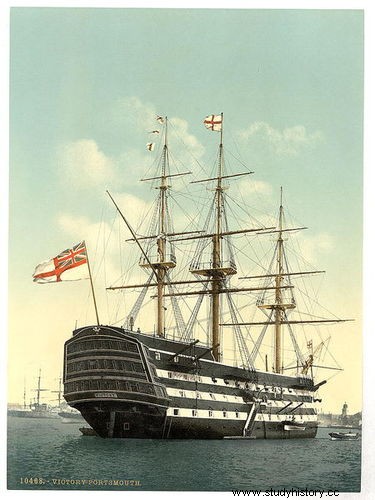 Served in:Royal Navy Flag
Launched:1765
Armed:1778
Technical characteristics
Type:Ship of the line
Length:56.70 m
Master beam:15.80 m
Draught:7.44 m
Tonnage:3556 tonnes
Propulsion:Sail
Military characteristics
Armament:30 x 32-pound guns
28 x 24-pound guns
30 x 12-pound guns
14 x 6-pound guns
2 x 68-pound carronades
6 x 18-pounder carronades
Other features
Home port:Chatham
HMS Victory was a 100-gun, first-class ship of the line, built between 1759 and 1765 before finally being commissioned in 1778.
He served in the American Revolutionary War, the French Revolution and the Napoleonic Wars.
She was the flagship of Augustus Keppel, 1st Viscount Keppel during the Battle of Ouessant in 1778, that of John Jervis during the Battle of Cape St. Vincent in 1797 and finally that of Horatio Nelson during the Battle of Trafalgar.
After 1824 she was retired from active service and put into some form of refit in 1922 at Portsmouth. It continues to be the flagship of the Second Sea Lord. It is preserved as a museum ship.