Japanese feminist author and activist of the Meiji era, Fukuda Hideko (1865 – 1927) created a magazine to defend women's rights and was committed to equality and social justice.
Political aspirations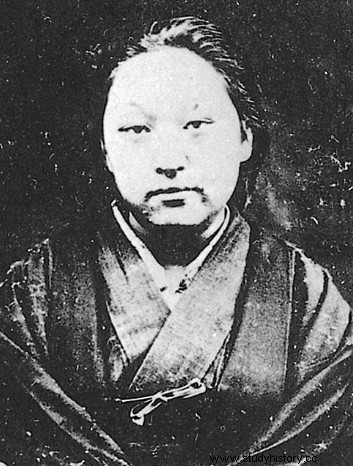 Daughter of Kageyama Umeko, teacher, and Kageyama Katashi, samurai, Fukuda Hideko was born on October 5, 1865 under the name of Kageyama Hideko. She grew up at the beginning of the Meiji era, a period of profound political, social and cultural transformation in Japan, which marked the transition from a feudal society to a Western-style industrial system.
Hideko's mother regularly takes her with her to the school where she teaches. Growing up, the little girl develops a certain rebellious spirit, in particular refusing to conform to gender roles. Thereafter, she herself will describe her childhood as that of a "tomboy". Lively and intelligent, Hideko was initiated at a young age into Japanese, Chinese and Western political thought. Her friend Kobayashi Kusuo lends her a biography of Joan of Arc, in whom Hideko sees a model she aspires to imitate.
The Movement for Freedom and People's Rights
In 1882, when she was 17 years old, Fukuda Hideko attended a speech by Kishida Toshiko, a feminist barely two years her senior; Former lady-in-waiting to Empress Shōken, Toshiko gave up her position to devote herself to her fight for women's rights and against the patriarchal family system in Japan. The speech inspires Hideko and decides her to join the Movement for Freedom and People's Rights, which campaigns for democracy and equality.
In 1883, Hideko and her mother founded a private school exclusively for girls, especially the children of working mothers. Mother and daughter both taught there, for only one year:in 1884, the government, which was concerned about the growing popularity of the Movement for Freedom and the Rights of the People, and the aspirations for freedom of women, ordered the closure from school. Determined despite everything to change things, Hideko moves to Tokyo.
"The Osaka Incident"
In Tokyo, Fukuda Hideko meets Oi Kentaro, a member of the Liberal Party (Jiyūtō) of Japan, an offshoot of the Freedom and People's Rights Movement. The group then seeks to cancel the Tientsin Agreement [English], signed in 1885 between China and Japan and relating to the influence of the two countries in Korea. He supports reformist and revolutionary movements in Korea, hoping to initiate profound changes in Japan as well.
Hideko helps raise funds for the Korean revolutionary movement. Japan is going through a period of depression and the collection proves to be complicated, to the point that members of the group decide to resort to the group. Despite difficulties and internal dissension, the group assembles money and weapons – including guns and bombs – and travels to Nagasaki and then departs for Korea. But the police investigated robberies in the Osaka area and, before their departure for Korea, around 130 members of the movement were arrested and charged with illegal possession of weapons and incitement to revolt.
Hideko – who later said he regretted his involvement in the incident – ​​was among 130 members arrested, and his trial is widely publicized. In the press, she is presented as "the Japanese Joan of Arc". Sentenced to eighteen months in prison, she was released after ten months and her release was greeted with enthusiasm.
Half of my life
Subsequently, Fukuda Hideko and Oi Kentaro have a relationship from which a son will be born, but which will not last. Left alone with her toddler, Hideko is joined by her family who move to Tokyo to support her. Helped by her family, she opened a vocational school for women, but the successive deaths of her father, her aunt and her brother prevented her from keeping it afloat. In 1892, Hideko married Fukuda Yusaku, with whom she had three sons. Ill, he died in 1900, and Hideko found herself a widow and alone with four children.
The following year, Hideko created, with philanthropic support, a new technology school for women. The objective is to teach poor women professional and commercial skills to enable them to access economic emancipation. She meets Sakai Toshihiko, writer and socialist, who campaigns against war and for gender equality and who introduces her to socialism. Together with others, Toshihiko creates the socialist newspaper Heimin Shimbun , in which Hideko collaborates and in which she supports feminist positions.
In 1904, Hideko published his autobiography Warawa no Hanseigai ("Half of my life"), which was a great success. In Japan, it is the first autobiography published by a woman, and it is a very important testimony to the political life of her time.
Seikai Fujin
In 1907, Fukuda Hideko and his companion, Ishikawa Sanshiro, founded the monthly Seikai Fujin (women of the world) which is aimed at women and focuses in particular on defending their rights. According to Hideko, the goal is to "find the talent and vocation of women and inspire them to join a reform movement based on their natural talent" . Alongside articles on topics like sewing and poetry, Seikai Fujin promotes the emancipation of women, their right to vote or denounces the ban on women attending political meetings. Through the monthly, Hideko supports the inhabitants of the village of Yanaka, expropriated from their homes and their land to build a reservoir; it raises funds and provides financial aid to the villagers.
Gradually, the Japanese government attacked socialist groups seeking to reform the country. Heimin Shimbun Newspaper is closed and Sakai Toshihiko imprisoned. Hideko's newspaper also bore the brunt of this wave of repression, initially through fines and censorship. When Ishikawa Sanshiro was also arrested, Hideko had no choice, in 1909, but to close Seikai Fujin .
The question of women
Following these events, Fukuda Hideko fell into destitution, contracted an illness and experienced difficult times. Despite everything, she continues to write and publishes her article "the solution to the question of women" in the feminist literary journal Seito (to which Itô Noé will also contribute). The article looks at women's rights as well as questions of class and the capitalist system; for Hideko, gender inequalities and class inequalities are intrinsically linked. "With the liberation of women, the liberation of men must also be accomplished" , she believes. The article is so audacious that it causes intense debate within the editorial staff of the journal, and that the issue in which it is published is entirely banned.
Fukuda Hideko died in May 1927, at the age of 62. One hundred years after her birth, a group of activists celebrate her considerable role in the Japanese women's movement by erecting a memorial in Okoyama.