Often compared to Rosa Parks, Viola Desmond (1914 – 1965) spoke out against racial segregation by refusing to leave an area reserved for whites in a cinema.
The Desmond School of Beauty Culture
NOT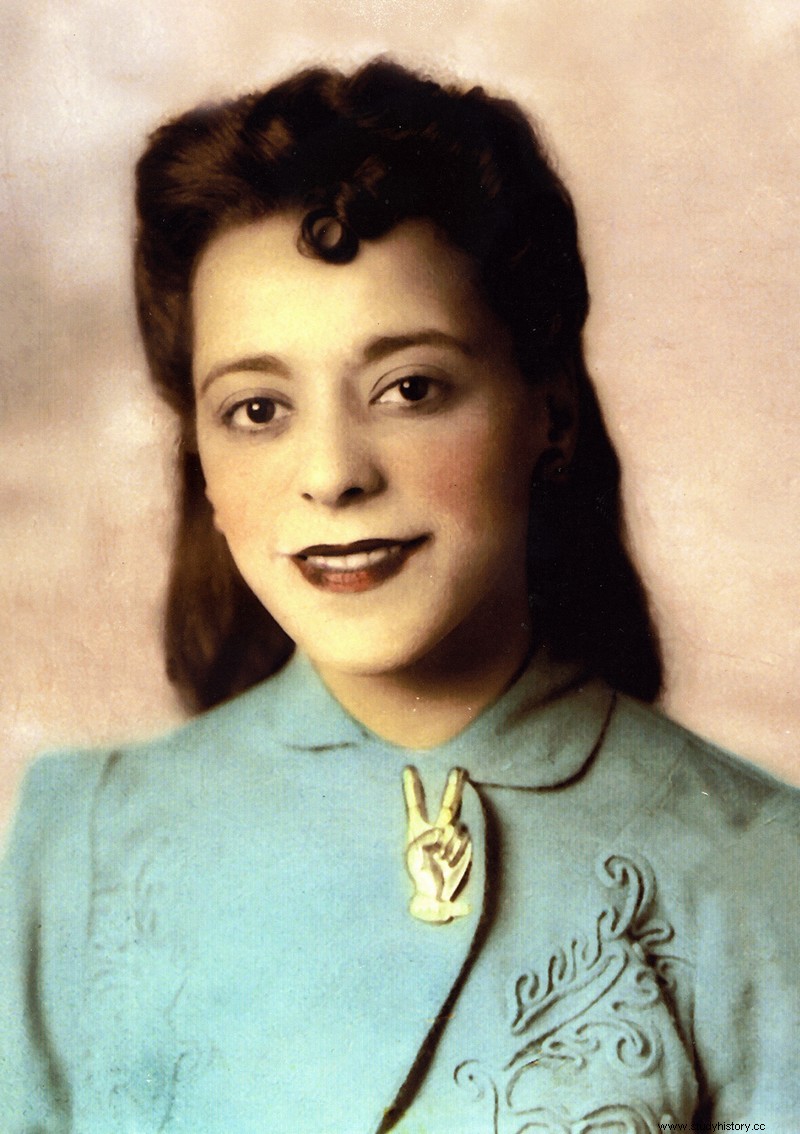 born July 6, 1914 in Halifax, Nova Scotia, Canada, Viola Irene Davis was one of the fifteen children of Gwendolin Irene Davis and James Albert Davis. She grew up with her brothers and sisters, in a family that was active and involved in the city's black community.
Growing up, Viola notices that there are no beauty and care products intended for black hair and skin, and decides to address this lack. In Halifax, the training of beauticians is closed to her because of her skin color, and she moves to train in Montreal, Atlantic City and in a beauty school of Madam C.J. Walker in New York.
Her training complete, Viola returns to Halifax to open her own beauty salon, "Vi's Studio of Beauty Culture"; thereafter, she would join her husband, Jack Desmond, in a joint hair and barber shop. At the same time, she created the Desmond School of Beauty Culture , so that women in the black community of Halifax and surrounding areas don't have to travel as far as her to receive proper training in beauty and grooming. Beyond the skills acquired, the fifteen women trained each year come out of the Desmond School able to open their own businesses and create jobs for other members of the community.
Viola is not satisfied with her beauty salon and the school in which she teaches; she launches her own line of beauty products, Vi's Beauty Products, which she sells herself. In all of her affairs, she is successful.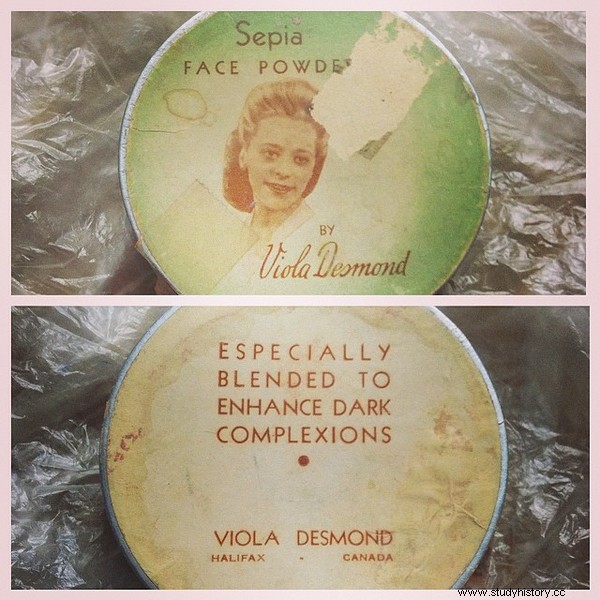 The Roseland Film Theater
In 1946, Viola Desmond traveled to Sydney, Nova Scotia to sell her beauty products. As she drives through the small town of New Glasgow, her car breaks down and she is told that repairs will take hours. To pass the time, Viola decides to go see The Double Enigma at The Roseland Film Theater and ask for a ticket to the floor. As she settles in, a cinema employee tells her that her ticket does not allow her to sit in this area. Thinking a mistake, Viola returns to the cashier to exchange her ticket; he is told that it is against movie theater policy to sell a ticket to the floor to a black person. Viola returns to her seat, refusing to sit on the balcony in the black-only area. She was then forced out of the cinema, violently arrested and imprisoned for the night. At no time is he informed of his right to a lawyer or legal advice.
In the morning, Viola is brought to justice and accused of fraud, in the name of the difference of a penny between the price of tickets to the balcony and to the floor. Although she had said to herself, the night before, ready to pay the difference, the judge condemned her to a substantial fine for the time of 26 dollars. Deprived of a lawyer or any legal advice throughout the trial, shocked by her night in the cell, Viola pays the fine and returns to Halifax.
The trial
When his wife returns, Jack advises her to forget about this affair. Supported by the pastor of her Baptist church, William Pearly Oliver, and his wife Pearline, Viola Desmond does not hear it that way and decides to appeal to justice. His story is relayed in the press by the journalist and black activist Carrie Best who has just founded The Clarion , the first newspaper owned and published by a black woman in Nova Scotia.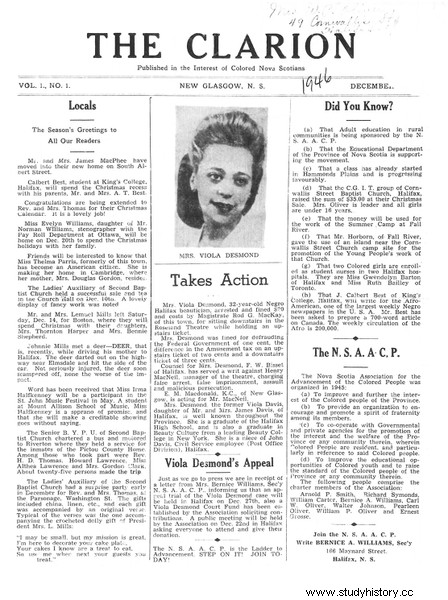 With the help of her church, Viola hires a lawyer, Frederick William Bissett. Rather than appealing the court decision, he chose to file a complaint against the Roseland Theatre, and to focus the legal action on the issue of fraud rather than discrimination and racism. The lawsuit is a failure, and Bissett refuses to be paid his fees, which he pays to the Nova Scotia Association for the Advancement of Colored People (NSAACP). After the failure of his trial, the Desmond couple's relationship deteriorates. Viola eventually decides to close her beauty salon and move to Montreal to continue her business there. Subsequently, she moved to New York, where she died of a gastrointestinal hemorrhage on February 7, 1965, at the age of 50.
The Legacy of Viola Desmond
Viola Desmond's trial was one of the most famous cases of racial discrimination in Canada, nine years before Rosa Parks' arrest to which she is often compared. The effect of his action is difficult to measure, but it marked a mobilization and resistance against racism which, in 1954, was to lead to the end of segregation in Nova Scotia. Fifteen years after the trial, William Pearly Oliver will say:
"…this meant something to our people. Neither before or since has there been such an aggressive effort to obtain rights. The people rose as one and with one voice. This positive stand enhanced the prestige of the Negro community throughout the Province. It is my conviction that much of the positive action that has since taken place stemmed from this …"

(It meant something to us. Never before, or since, has there been such an effort to get our rights. The people stood up to speak with one voice. This positive action reinforced prestige of the black community throughout the province. I am convinced that much of the positive action that has taken place since has stemmed from that."
In 2010, Mayann Francis, Lieutenant Governor of Nova Scotia, granted Viola Desmond a posthumous pardon; a public statement by the Nova Scotia government acknowledged that she had been the victim of an injustice and that she should never have been convicted.
In 2016, the Bank of Canada announced that Viola Desmond would appear on Canadian $10 bills.