American marine biologist, environmentalist and writer, Rachel Carson (1907 – 1964) was one of the first voices to warn of the dangers of excessive use of pesticides and DDT in particular.
An avid reader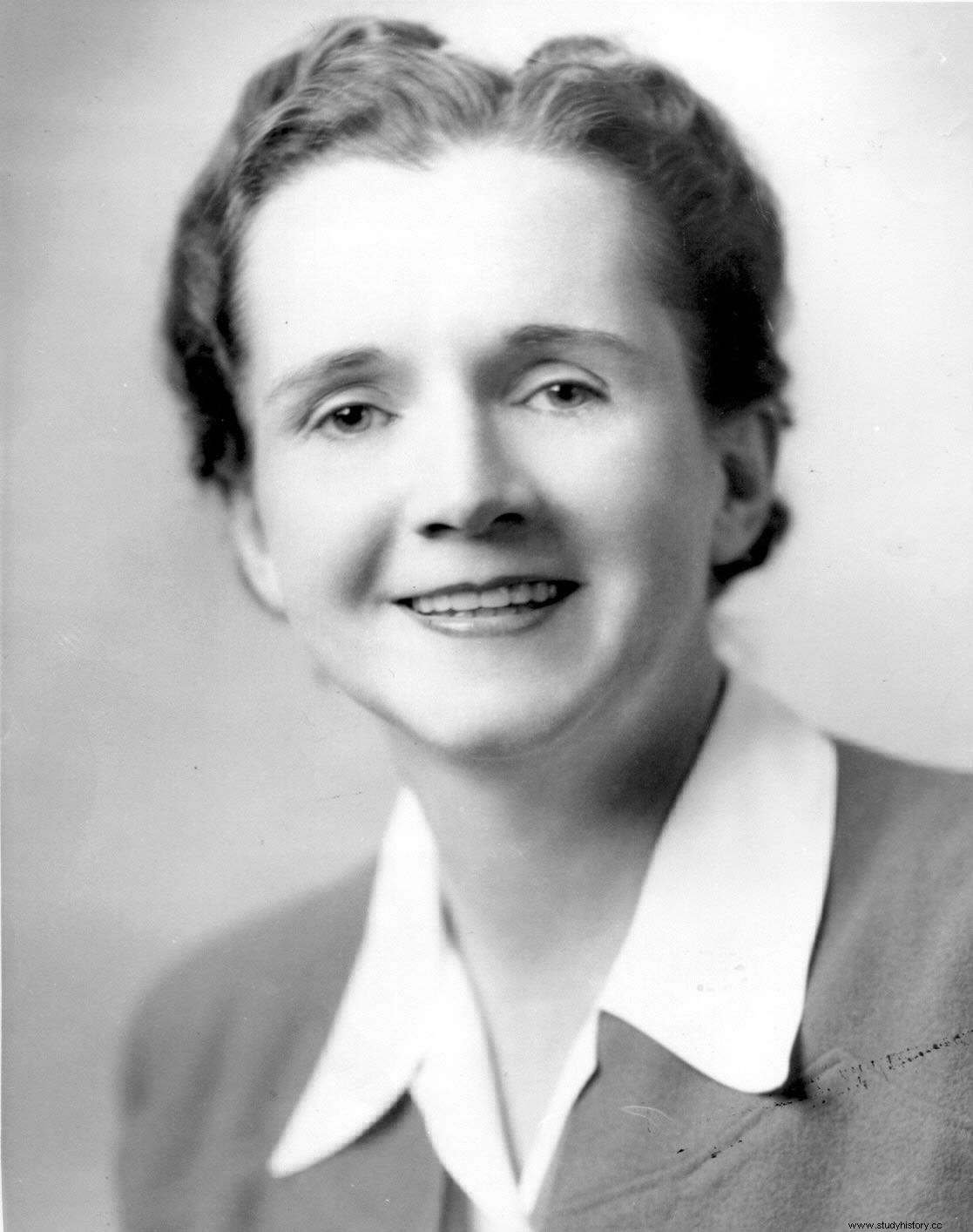 Daughter of Maria Frazier and Robert Warden Carson, an insurance salesman, Rachel Louise Carson was born on May 27, 1907 on the family farm near Springdale, Pennsylvania, in the northeastern United States. A curious little girl with a passion for nature, she often uses her free time to explore and observe the surroundings of the farm, especially fields and forests.
Rachel is also a reader, notably devouring the works of Beatrix Potter, Herman Melville and Robert Louis Stevenson. From the age of eight, she began to write her own stories, often featuring animals; at age ten, one of his short stories was published in the St. Nicholas Magazine .
After attending Parnassus High School, Rachel enrolls in Pennsylvania College for Women (University of Pennsylvania for women), now Chatham University. Torn between her love of literature and her curiosity for science, she first studied English before turning to biology. Graduated in 1928, she then pursued studies in zoology and genetics at Johns-Hopkins University in Baltimore, while working part-time to finance her education. She graduated in 1932, at the age of 25.
The United States Bureau of Fisheries
Rachel Carson then hopes to continue her studies with a doctorate, but her family's difficult financial situation forces her to leave university and work as a teacher. In parallel, she writes texts for the United States Bureau of Fisheries , which launches a popular science radio program for the general public, Romance Under the Waters . His research for the show also results in articles about marine life being published in local newspapers. Writings which, like the show, have a certain success.
In 1936, Rachel passed the civil service exam and became the second woman hired by the Bureau of Fisheries , as assistant marine biologist. His new work includes a scientific part, with the analysis of data on fish populations, and a part always focused on scientific mediation with the writing of brochures and articles for the main article. Despite the fact that she now has a stable job, her financial situation remains complicated; the death of his father in 1935 and then of his older sister in 1937 left him with the sole responsibility of caring for his mother and two nieces.
This sea that surrounds us
In 1941, after years of writing based on a draft brochure for the Bureau of Fisheries , Rachel Carson publishes with Simon &Schuster her first book, Under the Sea-Wind (Under the sea wind), which describes the behavior and life of marine animals and fish, according to their point of view. Although it sold poorly, the book received excellent reviews. His articles, on the other hand, are enjoying some success.
In 1945, Rachel first became interested in dichlorodiphenyltrichloroethane (DDT), a chemical widely used as a pesticide since World War II. At this time, however, the subject did not catch the attention of the editors and the scientist worked on other writing projects. In 1949, she became the editor of Bureau of Fisheries publications. became US Fish and Wildlife Service .
The following year, Rachel published The Sea Around Us , This sea that surrounds us , a sequel to his first book that looks at how ocean life works. The book meets, this time, an immense success, public and critical:remained in the list of the best sales of New York Times for 86 weeks, it receives the National Book Award and the John Burroughs Medal. The rights are bought from her for the production of a documentary, an experience that, dissatisfied with the final product, she will not repeat. His first book is republished and ends up selling. Finally financially secure, Rachel left her job in 1952 to devote herself to writing.
Environmental defender
In 1955, Rachel Carson published the third volume of her trilogy devoted to the sea, The Edge of the Sea , which looks at coastal ecosystems, particularly those on the East Coast of the United States. In 1957, one of Rachel's two nieces died, leaving behind a five-year-old orphan. The scientist adopts the boy and moves to Maryland to care for him and his mother.
Among other projects, writing or programs for television, the science writer is increasingly interested in ecology. She joins environmental protection groups, thinks about an editorial project and gets involved in initiatives aimed at countering threats against nature. Quickly, Rachel focuses her attention on projects involving the massive use of pesticides, particularly in the context of the fight against fire ants.
Silent Spring and DDT
To control fire ants, the Department of Agriculture's eradication program involved massive aerial spraying of DDT and other pesticides on public and private land. A standoff then begins with landowners on Long Island and elsewhere who refuse the spreading, and launch legal proceedings to put an end to it.
Rachel Carson was then hired by the National Audubon Society, an environmental organization, to investigate the spreading methods and their effects on the environment. Rachel documents herself intensively, collects studies of scientists, conducts interviews, meets with medical researchers, uses her connections with scientists to obtain confidential information. In 1959, she published an article in The Washington Post linking massive use of pesticides and reduction of the bird population.
The following year, Rachel advances on her research and the writing of a book, but she is diagnosed with breast cancer which requires an operation. Other health problems delayed his work, and it was in 1962 that Silent Spring appeared. , a book that accuses pesticides, and in particular DDT, of having harmful effects on biodiversity and health; she thus points out the negative impact of human beings on their environment. Without calling for a ban on DDT, it calls for responsible use of pesticides and an organic approach.
Despite opposition and pressure, the book appears as expected. It meets with opposition, but Rachel has sought expert advice on all of its chapters and most of the academic community, as well as the general public, supports her. Controversy comes to the fore. The following year, Rachel testified before the Science Advisory Committee of President Kennedy, then before a subcommittee of the Senate. She gives speeches, appears on television, although her health is rapidly deteriorating and requires her to rest.
Posterity
In 1964, Rachel Carson, weakened by cancer and radiotherapy, contracted a respiratory virus. She died in April, aged 56. His work, and in particular Silent Spring , have a considerable influence on environmental protection movements and associations.
In the United States, an Environmental Protection Agency was created in 1970. In 1972, DDT was gradually banned.