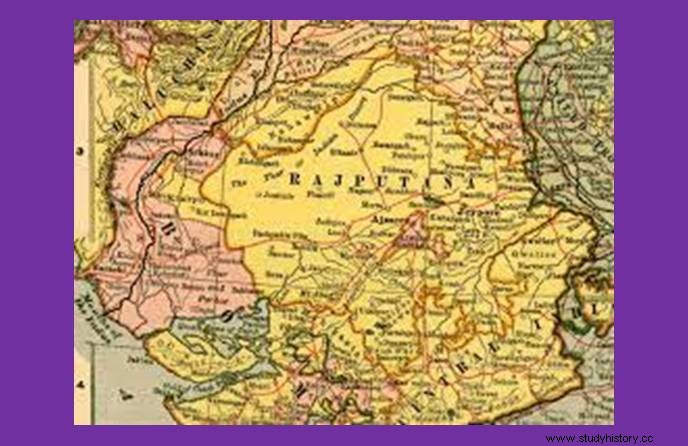 It has been described in the legends of Jodhpur that Maharana Kumbha launched a campaign against Jodha as soon as the pressure on the side of Malwa and Gujarat subsided. He came to Marwar with a large army and stayed in Pali. From here Jodha also went to fight but he did not have enough horses. Due to this, Jodha made 20,000 Rathor soldiers seated in 5,000 bullock carts and proceeded towards Pali with them. Maharana Kumbha, on hearing the voices of Rao Jodha, fled without fighting along with his army. It is written in some legends that when Kumbha heard that Jodha was bringing his soldiers in bullock carts, he discussed with his chieftains that the Rathores were coming on bullock carts instead of horses because they did not want to return alive from the battle field. Therefore, in fighting them, the soldiers of Mewar would be horrified. So Kumbha took his army and left for Mewar.
Invasion of Chittor
It is also written in many legends that Jodha attacked Mewar and burnt the doors of Chittor fort and upon reaching the palace where Rao Ranmal was killed, Jodha bowed down to Ranmal. Jodha's contemporary poet Gadan Pasait has written in his work Guna Jodhayana-
Ballo Prabat Lunghiyo Chade Pasteur Horses.
Jay Dina Wound, Kot Chitrod Kimade.
Bol Dhol Boliyo, Chyar Shramane Ut Suniya.
Kumbhner Nariyan Grabha Peta Hoon Chhaniya.
Chitod Tane Chundahara Kimane Parajaliye.
Johar Jay Jodhe Kiyo, Rao Rinmal Maliye.
kidnapping of Seth Padchand
After this Jodha plundered the villages of Mewar and reached Lake Pichola. Ramchand Dhadhi has written in his composition Nisani – 'Jodhe Jangam Aapra Pichole Paya'. In this regard, an ancient script is said - 'Padmchand Seth Layo Pak Dah Mewadan Urdayu.' On reaching Khairwa, this Seth got freedom from bondage by giving a lot of money to Jodha. With this money the fort of Jodhpur was built and in the memory of Seth, Padmasar pond was built at the foot of the fort.
exaggeration of celebrities
The truth cannot be reached by the overcast of the exaggerated descriptions that have come to the fore. Celebrities have described the valor of the king of their respective side, without examining the facts and circumstances. How is it possible that Kumbha who was fighting against Gujarat and Malwa and whose kingdom was spread far and wide, that Kumbha ran away without even fighting the Jodha who did not even have enough cavalry and who had his army in bullock carts? Had brought it. According to some legends, Jodha attacked Chittor and burnt the gates of the fort, after which Maharana attacked Jodha.
What is Truth?
It is possible that Jodha may at some point suddenly reach Chittor and burn the gates of the fort. It is also possible that in the event of Kumbha not being present in Chittor, Jodha may enter Chittor fort and reach Ranmal's palace as well, but it is not possible that the Mewari army, which came under the leadership of Kumbha for the purpose of fighting, got frightened and fought without fighting. Run away It is more likely that when Jodha started raiding the border of Mewar, Maharana Kumbha attacked Jodha, but Maharana neither wanted to increase enmity with Marwar, nor did he want to snatch the kingdom back from Jodha, nor did he want to defeat himself. wanted to take the stigma. Therefore it is possible that Kumbha adopted the path of treaty instead of war. It is also quite possible that Kumbha has adopted the policy of treaty to honor the promise given to her grandmother Hansabai, but on the battlefield, Kumbha's far-reaching politics is clearly visible behind Kumbha adopting the path of treaty instead of war.
Political Objectives of Aquarius
Kumbha was a mature politician. After the disintegration of Delhi Sultanate, small and big Muslim nobles had established their kingdoms all around including Gujarat, Malwa, Delhi, Nagaur, Sambhar, Ajmer and they were expanding their kingdoms by destroying the Hindu states located on their borders. . Kumbha wanted that the Ganga-Yamuna plains and the entire area adjoining them should be brought under the indigenous government system. That is why he was campaigning for the establishment of a huge Hindu kingdom by annihilating the Muslim kingdoms in the whole of northern India. In such a situation he could see no good in destroying the Hindu kingdom of Mandore. The continuous raids from Jodha's side and regular invasions of Malwa and Gujarat had made Kumbha feel that it was only in Mewar's advantage in making a pact with Jodha. This was the reason that Maharana did not give special resistance to Jodha near Pali and both sides agreed to make a treaty.
Determination of boundaries of Mewar and Marwar
Maharana Kumbha sent his son Uday Singh (Uda) and Napa Sankhla to Jodha's camp. The terms of the treaty were finalized after much discussion between the two sides. After taking over Mandore, Jodha was continuously looting the Mewar state. Therefore, in this treaty between the states of Mewar and Marwar, the boundary of Aon-Baon near Sojat was fixed. The land in which tarvad (anum-anum) vegetation was there, it remained in Mewar and the land where acacia was grown remained in Marwar. That is, the entire mountainous region was placed in Mewar and the entire desert region was placed in Marwar. It was a practical and rational decision.
Marriage of Jodha's Princess
On the occasion of the Treaty of Marwar and Mewar, Jodha married his daughter Shringar Devi with Raimal, the second son of Kumbha, so that this friendship could be made permanent. The Rajputs had a tradition of such marriages to end the enmity. Shringar Devi founded the V.S.A. in Ghosundi village, about 12 miles north of Chittor. A stepwell was built in 1561 (1504 AD), in whose Sanskrit prashasti, there is a detailed account of Shringar Devi being the daughter of Jodha and getting married with Raimal. Neither the eminent person of Marwar nor the eminent person of Mewar has mentioned this princess of Jodha. If the inscription of Ghosundi had not been found, then the history of this Mahayasi princess would have gone in the background forever. The inscription of Shringar Devi is proof that this princess was very intelligent, talented and influential. Therefore, it is certain that by staying in the palaces of Mewar, he would have kept the flame of friendship between Mewar and Marwar lit for a long time.
Marwar-Mewar Friendship Result
The Marwar-Mewar friendship had far-reaching consequences. After this treaty, Mewar made conquests towards the south of his kingdom and Marwar towards the north of his kingdom. Both the states got remarkable success in these campaigns. The conquest of Marwar kingdom came to a halt at the border of Hisar. After this treaty, the Maharana of Mewar, who was already considered invincible, now became respectable to other rulers of Rajputana as well. His place was considered to be the first among all the kings of Rajputana.
Jodha's Coronation
After signing a treaty with Kumbha, Jodha became the universal king. Now he could rule with complete confidence. From Sojat, Jodha sent an army to take action against the Sindhal Rathores and himself proceeded towards Mandore. Jodha's army snatched 30 villages of Pali pargana from Sindhul. Jodha reached Mandore and got his coronation done in 1458 AD according to the scriptural method. On this occasion, prizes, donations and gifts were given to all those people who supported Jodha in the calamity. On this occasion a pond named Jodhelav was built near Mandore.