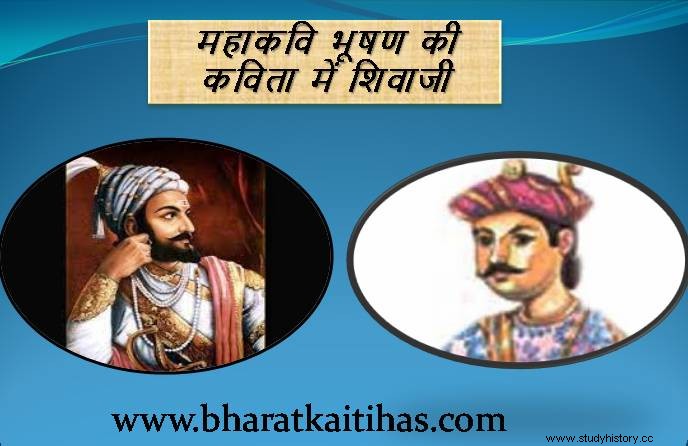 Shivaji's contemporary poet Bhushan (AD.1613-1715) was famous throughout India. He wrote two volumes of poetry named 'Shiva Bhushan' and 'Shiva Bavani' by making Maharaja Chhatrasal the hero of Chhatrasal decade and Chhatrapati Shivaji as the hero. Many kings of India wanted to see Kavi Bhushan in their court but they preferred to stay in Shivaji's court. Maharaja Chhatrasal himself had shouldered the palanquin of poet Bhushan. Shivaji also kept Bhushan satisfied with charity and respect. Describing the glory of Shivaji, Bhushan has written-
Shivaji Pratap
(1)
Sahi tanai sarja tav dwar praticchan daan ki dundubhi baajai.
Bhushan Bhichhuk too much to Bheeran, Bhojhu te more fun as
Gun Rajan to Rajan! To whom? Sahin main na itti chhabi chhajaye.
Toso tuhi sivraj birajay on aaju garib newaz mahi.
(2)
Thy fast Sarja! Samath Dinkar is asleep,
Dinkar sohai tere tej ke nikar sue
Bhausila bhual! Tero Jas Himkar So Hai,
Himkar sohai tere jas ke akar so.
Bhushan Bhanat Tero Hyo Ratnakar So,
Ratnakar sohai tere hiye sukh kar sleep.
Sahi's son Siv Sahi Dani! Your tax
Surtaru so hai, sur taru tere kar so.
(3)
Indra at Jimmy Jambh, at Badab Suambh,
Raghukul reigns on the throne of Ravana.
On Paon Baribah, on Sambhu Ratinah,
Ram is Dwijraj on Jaun Sahasrabah.
Claim on Drumstick, Cheetah Deer,
On Bhushan Vitund, as is Mrigraj.
On tej tam ans, on kanh jimmi kans,
Still on Malicchh Bans, there is Ser Sivraj.
(4)
Garuda's claim is always on the group of serpents,
Claim Nagjuh to Singh Sirtaj.
Dawa Purhut on the total of Pahraran,
Pachchin's goal is always claimed by the eagle.
Bhushan Akhand Navkhand-Mahimandal Main
Tama claim to Ravikiran society.
Let's answer in Purab Pachha Des Dachchin.
Where the padasahi claims there to Sivraj.
(5)
Saji Chaturanga Veer Rang Mein Turang Chadhi,
Sarja Sivaji Jung Jeetan Chala Hai.
Bhushan Bhanat Naad Bihad Nagaran Ke
River-river items are under the Gaborone.
Al-Phail Khal-Bheel, Gal-Gal in Khalak
Gajan's stall, the cell is weak
Tara So Tarni Dhuri Dhara Main Lagat, Jimmy
Mercury on Thara, Paravar is like this.
(6)
Shocked rash woke up again and again
Delhi is angry.
Bilkhi Badan Bilkhat Bijaipur-Pati
Firat is the woman of Firangin.
Thar-Thar trembling Qutubsahi Golconda,
Hari Habas Bhub Bhir Bhakarti Hai.
Listen to King Sivaraj's Nagaran,
Kete Patsahan's chest is cracking.
(7)
Bane Hohrane Ghaharane Ghanta Ghajan Ke
Rao-Rane Des-Des Ke Nahi Nahi Nahiye.
Lag Bhahrane Village Nagar Parane Listen
Bajat Nisane Sivraj Ju Naresh K.
Inciting elephants, Kumbh Kunjar's
Bhaun Ke Bhajane Ali Chhote Braid Case Ke
The interests of the party cracked down.
Kera kaise paat biharane fun cess ke.
(8)
Inside the High Ghor Temple,
Lives inside the high towering temple.
Enjoy the root of the tuber, enjoy the root of the tuber,
If she eats three berries, she eats three berries.
Bhushan loose limb, Bhushan loose limb,
They make the business move.
Bhushan Bhan Sivraj Bir Tere Traas,
The city is set up by them.
(9)
Indra Herat Firat Gaj-Indra Aru,
Indra to Anuj Herai Dugdhandis
Bhushan Bhant makes Sursarita laugh
Bidhi Herai Hans to Chakor Rajneesh.
Sahi-Tanai Sivraj, Karni Kari Hai Tai Ju,
Happens to wonder Dev Kotiyou thirty-three.
Paavat Na Here Tere Jas Main Hirane Nij
Giris to Giri, Girja to Giris.
Karwal Yash Description
(10)
Tilak Rakhi to Hindu Hindu,
Asmriti Purana Rakhe Veda Bidhi I listened.
Rakhi Rajputi, capital of Rakhi Rajan,
Dhara I Dharam Rakyo, Rakyo Gun-Guni I am.
Bhushan Sukvi Jeeti Hadd by Marhattan,
Then I listened to Des-Des Kirti Bakhani.
Saviraj Samseer Teri, Saprit of Sahi,
Delhi Dal Dabi Kai Diwal Rakhi Duniya Main.
(11)
Kamini Kant Son Jamini Chand Son Damini Pavas Megh Ghatson.
Kirti Dan Son, Surti Gyan Son, Preeti Badi Sanman Maha Son.
'Bhushan' Bhushan Son Taruni, Nalini Nav Pushan Dev Prabha Son.
Obviously Charihu and Jahan, Lasai Hinduvan Khuman Siwa so.
Battle Description
(12)
Do not change, the party is proud,
Don't be Ghatahu, Dal Sivaji Hankari K.
Damini Damak Nahin, Khul Khagg Biran Ke,
Bir-head imprint Lakh Teeja Aswari Ke.
See-abandon the harem building of the Mughals,
Ujki ujki uthai baht bayari ke.
Delhi has forgotten where it is,
Bajat nagare je stares garhdhari k.