There were a lot of inconveniences to serving in the U-boat. Dirt, stuffiness and claustrophobic crowding constantly accompanied the sailors. Submarines could not complain about the food. Their food rations were among the best in the German armed forces. Provided you don't mind the ubiquitous diesel aftertaste, of course.
The Kriegsmarine command made a balanced nutrition of the U-boat crews a priority. The scurvy decimating for centuries of sailors was perfectly remembered. Therefore, the provisioning services tried to diversify the menu of the submitters as much as possible. It was not easy, because ... the designers of ships did not think about the palates of the crew members at all. They considered the conditions and space where provisions were to be stored, as well as places where meals were prepared, to be completely irrelevant matters. It forced the crew to constantly improvise.
The pantry in the toilet and the bread in the hammock
On the VIIC U-boats - which throughout the war was the backbone of the German submarine fleet - the galley (ship's galley) was located in the aft part of the ship. The cook, called the kuku, had at his disposal a two-plate electric cooker with a small oven, a tiny fridge, a pantry and an enameled sink.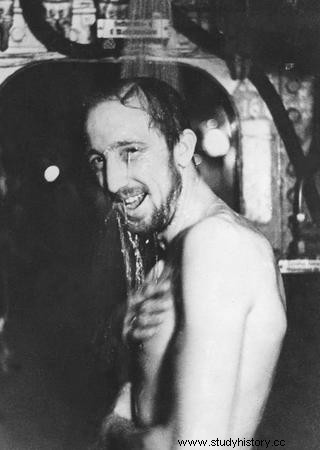 As you can see, the German submarine is very pleased. Maybe because she's taking a shower? Or maybe because she's about to take a good drink?
Designers reserved space for food magazines, but they were so small that they were mainly used to store durable food. The rest of the provisions were packed literally wherever they could. As Lawrence Paterson explains in "Everyday Life on a German Submarine":
Smoked hams, thick sausages, other meat products were placed between the torpedo tubes and under the ceiling of the headquarters. […] The bread was hung in nets and hammocks under the ceiling of the torpedo room and the electric power plant. Fresh meat, vegetables and fruit as well as cream were stored in the refrigerator and a pantry placed underneath it.
It even happened that on many U-boats in the first weeks of the voyage, pantries also served as the stern toilet opposite the galley .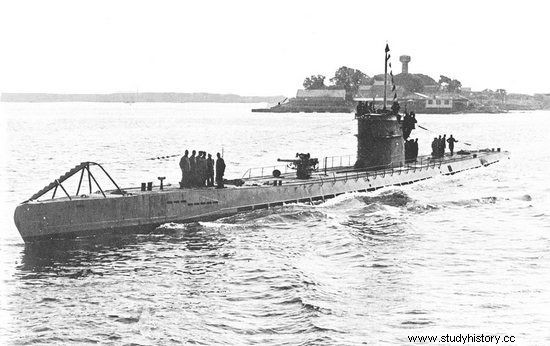 Ocean IXC U-boats took 12.5 tons of food and drink on board on a three-month combat patrol. The sailors had to do a lot of exercise to get it all stuffed into the ship.
The situation was no better on the ocean-going IXC ships, with a crew of up to 56 people. To understand the scale of the problems with storing supplies, it is enough to say that the ship going on a three-month parole took 12,583 kilograms of food and drink on board . It should be emphasized that the provisions were very varied and consisted of:
224 kg of raw and cooked meat (recommended storage:cold store),
108 kg of sausages,
2,180.5 kg of canned meat,
151.5 kg of smoked and salted fish,
1750 kg of potatoes (recommended storage location:fore and aft and boxes at the headquarters),
1,555 kg of other vegetables and vegetables (recommended storage:bow compartment and cold store),
416 kg (13 crates) of lemons (recommended storage:fore compartment),
300 kg of fresh fruit,
270 kg (10 boxes) of fresh eggs (recommended storage:bow compartment),
456 kg of fresh bread (recommended storage:fore, aft and electric engine room),
660 kg of canned bread,
50 kg of butter,
50 kg of fresh cheese,
65 kg of canned cheese,
60 kg of natural and substitute coffee,
3 kg of tea
784 kg (8 cases) of powdered milk.

Treats with the addition of diesel fuel
As we can see, a really rich assortment that allows the pony to show off. So what did the submarines eat during the combat patrol? Breakfast was usually cocoa or chocolate, milk soup with crisps, sweet rusks with butter, jam, honey or eggs. As for lunch and dinner, take as an example the list of meals served during the six-week cruise on U 518: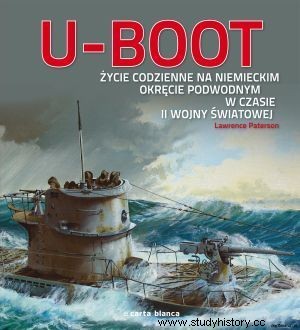 This article is based on Lawrence Paterson's book, U-Boot. Everyday life on a German submarine during World War II ", Carta Blanca, 2011
Day 1:
Lunch:soup, boiled potatoes, liver, fresh fruit.
Dinner:black pudding, cold cuts, bread, butter, coffee.
Day 7:
Lunch:fried sausage, potatoes, sauce, cabbage, fresh fruit.
Dinner:herring salad, boiled Jagdwurst (pork and beef sausage), bread, butter, coffee.
Day 14:
Lunch:soup, spinach with eggs, potatoes, pickled fruit salad.
Dinner:ham, radishes, bread, butter, canned rosehip juice .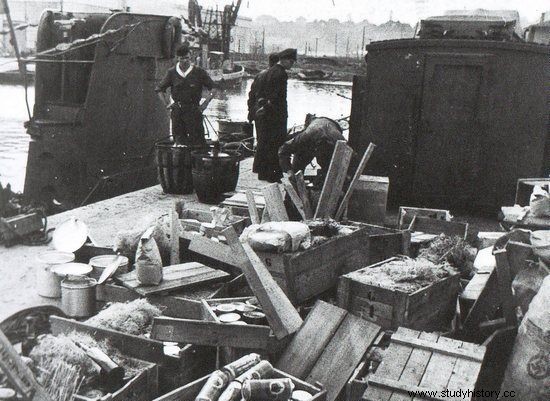 After the supplies were delivered, all the crates had to be opened and their contents spread loosely in the nooks and crannies of the ship, using every centimeter of space. Photo and caption from Lawrence Paterson's book, U-Boot. Everyday life on a German submarine… ".
Day 21:
Lunch:soup, cooked ham and noodles, sauce, pudding with juice.
Dinner:broth with noodles, cold cuts, bread, butter, canned apple juice.
Day 28:
Lunch:potato salad, scrambled eggs, canned fruit compote.
Dinner:ham pasta, tomato sauce, canned rosehip juice.
Day 35:
Lunch:soup, meat and onion, potatoes, sauce, vegetables, pudding with juice.
Dinner:ham, hard-boiled eggs, bread, butter, cocoa .
Day 42:
Dinner:bean stew with beef and pork.
Dinner:"bigos in wine" (meaning:what else gets a cuckoo's arm on the last day of the cruise) .
It must be admitted that in the initial stage of the patrol, the sailors actually had nothing to complain about. With time, however, the meals became more and more monotonous and mainly focused on eating from cans. The main problem, however, was the bread.
As "Teddy" Suhren, who served on U 564, recalled, he was growing moldy. After a few weeks the loaf looked like a fluffy white rabbit, so much mold had grown on it. However, the submarines had no choice but to eat it.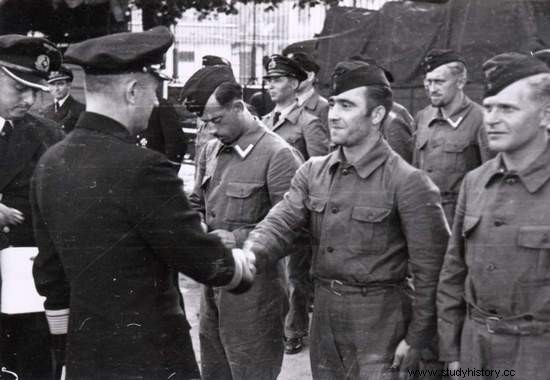 After returning from the patrol, the U-boat crew could count not only on congratulations from Admiral Dönitz, but also on food that other German soldiers could only dream of.
Anyway, they considered themselves lucky in culinary matters. No wonder. They knew that after returning to the port, they would be waiting for delicacies that other German soldiers could only dream of.
Even in the era of the most severe shortages, the Kriegsmarine Command cared for its underwater hunters, who were so effective in taking their toll on the allied convoys. Maybe their successes were partly due to… full stomachs?
Source:
Lawrence Paterson, U-Boot. Everyday life on a German submarine during World War II , Carta Blanca, 2011.