Olympe de Gouges proclaimed that "a woman is born and remains free and equal in rights to man", and Théroigne de Méricourt called for "breaking the chains". The French Revolution gave a voice to women.
The Enlightenment order was not favorable to the woman. Her most important role was marriage, even if she dared to have some emancipatory ideas (such as education), she should give up on them for the sake of social happiness - dedication to society as a wife. And so, for example, Louis de Jaucourt, one of the Encyclopedists, wrote that "Although in fact both husband and wife pursue the same interests in their community, it is important that power belongs to one of these people -" positive law of nations civilized, European laws and customs give this power unanimously and decisively to the man, because he is stronger both physically and intellectually, and also contributes more to the common good in the human and religious dimension (...) "
Our freedom has been strengthened!
It is therefore hardly surprising that the outbreak of the French Revolution became an opportunity for women - after all, everyone was supposed to be equal. They not only tried to take an active part in state policy, but also fought for their rights. They took part in marches and protests, debated in clubs or wrote pamphlets. Representatives of all states were present in the revolutionary turmoil ..
It was the women who went to Versailles in October 1789, as a result of which the royal couple left the palace. At the forefront of the march were salesmen and customers from Hala Targowe, and the pretext for the march was the problem with the availability of goods and the increase in prices. Tomasz Koniecobocki, author of the work Citizens. Women in public space in France at the turn of the 18th and 19th centuries notes that in this way women have legitimized their presence in public space. One of the observers wrote about the women's march:
We can now proudly say that here our freedom has been strengthened. (...) And it was women who got it for us! What immortal glory they have covered themselves with. How calmly, with what courage, in numbers of nearly ten thousand, they set off to demand from the proud worshipers of feudalism an explanation of their recent act, which for some turned out to be the last
This manifestation of the female presence was present over the following years. In March 1792, Pauline Leon stood before the National Assembly asking for access to weapons for women who wanted to be able to defend themselves. In 1790, Etta Palm-Aelders founded the Brotherly Association of Both Genders - the first political club in which women could be actively involved. Three years later, the Society of Revolutionary Republican Citizens is founded on the initiative of Pauline Léon and Claire Lacombe.
Olympe de Gouges:"A woman is born and she remains free and equal in rights to a Man"
"Since a woman can legally hang on the gallows, she should also have the right to stand on the podium" - this is perhaps the most famous phrase associated with Olympe de Gouges. She claimed that her father was a writer and nobleman Jean-Jacques Lefranc de Pompignan - but he himself did not admit it. Therefore, all her life Olympe fought, inter alia, for the rights of illegitimate children.
After the death of her husband (whom she did not love anyway), she moved to Paris with her little son, Olympe. She managed to open her own social room there. She created plays - including Zamor et Mirza, ou l'heureux Nauffrage, in which she openly criticized slavery in the colonies . It was played for the first time in December 1789 and caused quite a scandal almost immediately.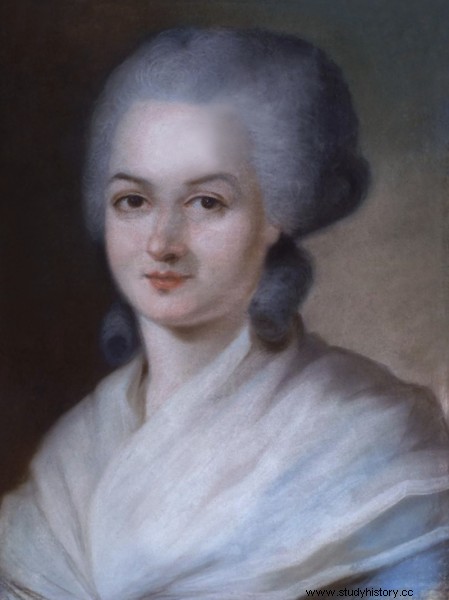 Olympe de Gouges
But it is not art that we associate with Olympe - her most famous work is the Declaration of the Rights of a Woman and a Citizen which she announced in 1791. Interestingly, the declaration touched upon various spheres of women's status - not only in terms of politics and law, but also in terms of customs. Olympe claimed, inter alia, that every woman has the right to name the father of her child, also postulated for civil marriages and granted women the right to dispose of their own property. The whole thing was dedicated to Marie Antoinette, because de Gouges wanted her to lead the "women's revolution".
While she supported the revolution, she openly criticized Robespierre. She was sentenced to death on charges of inciting actions against the Jacobins - on November 3, 1793, she was guillotined.
Théroigne de Méricourt:"French women know their rights"
Simple riding gear and a wide-brimmed hat - that was her trademark. Dresses with frills or ornaments reminded Théroigne de Méricourt of her life before 1789 - she was an actress and courtesan at the time.
With the outbreak of the Revolution, she saw an opportunity for women to "break their chains." She participated in the meetings of the National Assembly, and her fame quickly reached the royalists who - wanting to humiliate her - resorted to the vilest rumors. She was called "the patriot's whore" and it was written that "any representative of the National Assembly can rightly claim to be the father of her child."
In the spring of 1790, she was arrested and transferred to Austria, where she spent two years in prison. Upon her return to Paris, she was greeted as a heroine. At that time, she became involved in, among others an action promoting women's access to weapons so that in the event of fights they can defend themselves. During one of the meetings she said:
Let's arm ourselves! Both nature and legislation give us the right to do so; let us show men that we are not inferior to them either in virtue or in courage; let us show Europe that French women know their rights and that they are worthy of the lights of the eighteenth century
De Méricourt knew that revolutionary ideas could only survive if one united front was formed against France's enemies. Opposing the fighting inside the parliament, she hung posters in Paris with the proclamation "Up to 48 sections". She proposed the creation of a committee of six female citizens in each of them to act as mediators.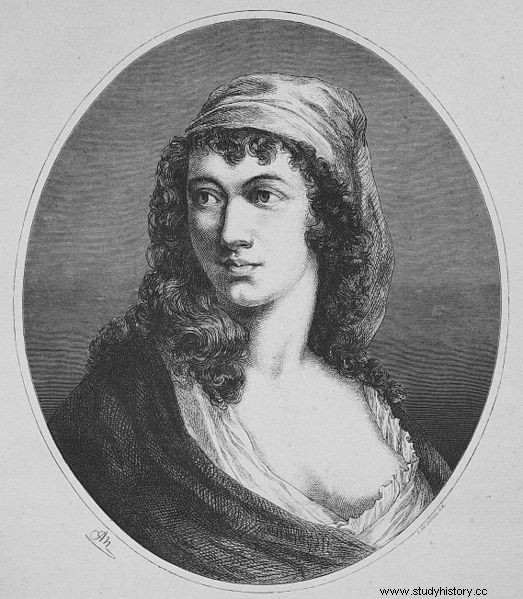 Théroigne de Méricourt
As Koniecobocki points out:
The idea was never realized, of course, because who would then allow a woman to tell him to keep quiet ...?
The women themselves were also against her - in 1973 female citizens allied with the radical Jacobins attacked her, stripped her naked and beat her . Apparently, this event was the source of her mental illness, which she soon developed. She died in 1817. Her character inspired, among others Charles Baudelaire to write Sisin's poem from The Flowers of Evil.
Manon Roland:"I'm so bored as a woman"
When the Revolution broke out, Jean-Marie Roland and his wife also decided to come to Paris. Marie-Jeanne-Philipon Roland de la Platière - known as Manon Roland - was then her husband's secretary, though this role was certainly not in line with her ambitions. Especially that in 1776 she wrote:
To tell the truth, I am bored as a woman; I would need a different soul, a different sex, or a different time. I should have been born Spartan or Roman or at least French. (...) My spirit and heart from all sides are exposed to the traps of [public] opinion, the shackles of superstition, and I waste all my strength in the vain attempts to break the shackles that bind me. Oh freedom! deity of strong minds, source of virtues, you are just an empty phrase for me
After arriving in Paris, Manon Roland and her husband are involved in the activities of Gironde. Describes:
Here we live ten years in one day:events and passions mix and follow each other with amazing speed; never before have such great matters engrossed the minds.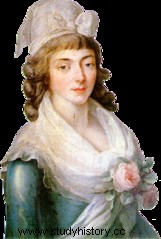 Manon Roland
In 1792, Jean-Marie Roland is elected Minister of the Interior. Although Madame Roland herself has never admitted how much she actually influenced her husband's political views, was considered one of the most important figures in the circle of gyrondists . However, it is a paradox that she herself did not encourage women to get involved in politics and did not invite them to political meetings.
Roland was arrested the day before her friends from Gironde. During the interrogations, she declared that she had hardly any interest in public affairs - after all, she was only a woman, and political involvement was not a woman's responsibility. She defended herself against admitting that she helped her husband and ran a political salon - she explained, but sometimes she invited her spouse's guests to the common table. In the fall of 1973, she was charged with treason and sentenced to death. On the news of his wife's execution, Jean-Marie Roland, who was hiding in Rouen, committed suicide.
Charlotte Corday:"I have a right to be curious"
Charlotte Corday met the Girondist views in Caen in 1793. At that time, she lived with her aunt after the liquidation of the nunnery in which she had previously studied. She quickly concluded that it was this movement that would "save France" - especially since she was also close to the vision of a moderate approach to the revolution. She was horrified by the radical ideas of the Jacobins and believed that Marat was to blame for the misfortunes of the provincial people.
Confident of her convictions, Corday decided to travel to Paris. On July 13, 1792, under the guise of denouncing the Girondists, she entered Marat's apartment and there, while he was in the bath - she dealt only one, but fatal, blow to him.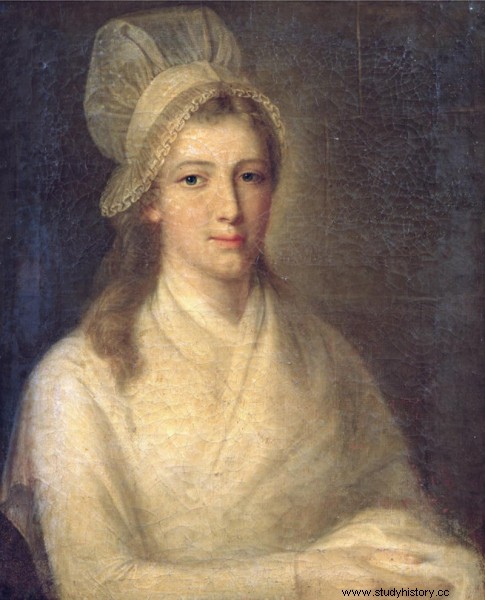 Charlotte Corday
The murder of Marat was a shock - even more shocking was the fact that a woman did it. Attempts were made to prove that she was mentally ill, and Charlotte herself wrote in a letter from prison:"Everyone is very dissatisfied that just a woman sent [Marat] to the other world."
During the trial, she defended herself by saying that Marat was not a human but a "wild beast" and that by killing one man she saved a thousand other lives. She was sentenced to death for murder and high treason. Apparently, when she climbed the scaffold, she said:"Let me have a look, I have never seen a guillotine. So I have a right to be curious. "
Etta Palm-Aelders:"The authorities of husband and wife should be equal and independent"
Most likely, she is the first woman who managed to speak at the forum of a political club in revolutionary France. She then criticized the behavior of the assembled men who booed Charles-Louis Rousseau's lecture. Etta then addressed the buzzing crowd:
We listened calmly to the previous speakers - why bother the one who speaks well about women now? I am asking on behalf of the citizens present here that he be allowed to finish his speech.
Etta Palm-Aelders was from Groningen, the Netherlands, and came to Paris in 1774. She ran a salon where politicians often visited. In her speeches, she drew attention to superstitions "based on unfair rights" and the secondary status of women in society. She was glad when the law on the equal distribution of inheritance among all children (and not only male descendants) was introduced. It was quite a progress on the topic of equality.
She encouraged women in the provinces to become involved in politics, join the ranks of clubs and establish long-distance contacts. She especially focused on the problem of education - according to her, it deepened social differences and believed that it was women who should be entrusted with the care of the general education of future generations of citizens and female citizens.
She wanted women to be able to decide for themselves about the matters of their relatives. She protested while the Congregation was working on the new criminal law - according to one of the articles, betrayal of a husband faced a woman with two years in prison, while a man cheating on his wife ... did not commit a crime.
She then wrote a Complaint of French women to the congregation in which she wrote, inter alia, about the fact that "The powers of husband and wife should be equal and independent." Ultimately, the controversial provision was not included in the code.
Accusations (moreover - justified) of espionage cast a shadow on her career. She died in The Hague in 1799.
Silent Heroines
It is worth remembering that the struggle for access to education, political representation or disposing of one's own property was not only the front of the French women. Similar views were represented, for example, by Mary Wollstonecraft, who in 1792 wrote A Cry for Women's Rights . Anyway, Wollstonecraft herself witnessed the French revolution - at the end of 1792 she left for Paris, where she met, among others, Théroigne de Méricourt, and the Marquis de Condorcet asked her to support the Convention in its work on universal education.
The quiet heroes of this revolution were women from the lower social strata. As Tomasz Koniecobocki points out:"they went out into the streets and fought against the speculators, against the high prices, against the unfair distribution of wealth, and finally - against the authorities that were supposed to be responsible for this state of affairs."