It was January 8, 1947 when David Bowie came to Earth and specifically to Brixton, having the same birthday as Elvis Presley. On the same day in 2016, his 25th and final album, the masterpiece Blackstar, was released, just two 24 hours before his world-shaking death on January 10.
Blackstar was the ultimate swan song of a man battling his disease, making it, just as he battled his demons throughout his massive career. On the occasion of the completion of four years since the death of "Ziggy Stardust", let's remember the landmark moments of a course that abolished the concept of "time" through the timelessness of its compositions and emblematic contrasts.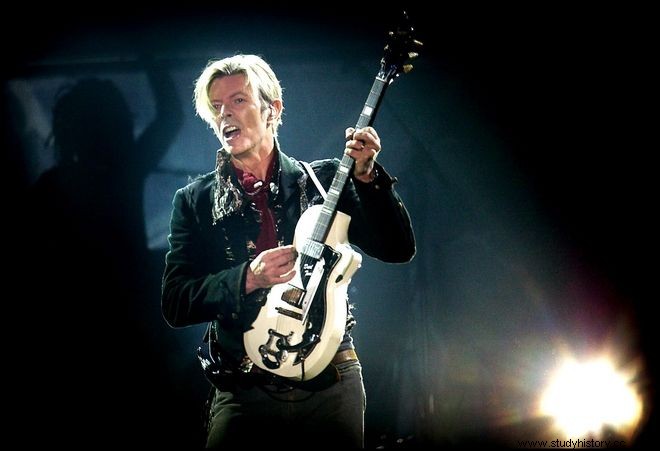 It all started when David Robert Jones decided to change his name to Bowie so he wouldn't be confused with Davy Jones of the Monkees.
But why did he choose Bowie? But why did he refer to the "Jim Bowie knife", a double-edged sword that symbolized his two-sided personality. Along with Peter Frampton he started playing Buddy Holly tracks at school, while the first instrument he learned at the age of 12 was the saxophone. Through the saxophone he came into contact with pieces by John Coltrane and Charles Mingus. Five years later, in 1964, the then 17-year-old Bowie appeared on the BBC's "Tonight" show with his band, The Society for the Prevention of Cruelty to Long-haired Men. In the same year he released his first track, "Liza Jane", with the scheme "The King Bees", which was not a success. The following year he would change his name and adopt the first of his multiple "natures".
Looking for his identity, Bowie had also taken part in a competition held in 1968 by Reprise. At the time, young composers of the time were invited to submit English lyrics, for the label to choose the final version of "My Way", along with Sinatra himself. The English lyrics would be written over Comme D'Habitude by Frenchman Claude Francois, which became "My Way" in English. Sinatra eventually chose Paul Anka's lyrics. The young Bowie's lyrics were "cut", but part of them appeared on 1971's Life On Mars. The track was called "Even a fool learns to love".
Bowie finally went his own way and the countdown to success came with the release of Space Oddity on July 11, 1969, just five days before Apollo 11's moon landing. Perfect timing that is, something that " almost forced' the BBC to use the track to 'dress up' the moon landing footage. The first acclaim finally came in 1973 with Aladdin Sane which reached number 1 in the UK charts with tracks such as The Jean Genie and Drive-in Saturday.
With 1975's Young Americans, he managed to win over the American audience, while Fame featured John Lennon on backing vocals.
His two-sided personality was not only developed in his music, in which he was constantly mutating, but also in his sexuality, since he was one of the first stars to openly declare his bisexuality since 1972. His multi-layered nature had led him with impeccable precision and in other artistic expressions, through acting (he appeared in 28 films in total) and painting.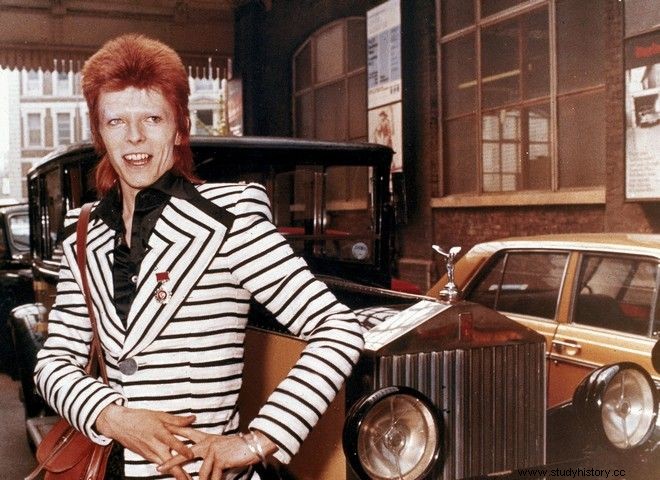 The personas he had created were his "vehicle" backdrop. Ziggy Stardust, Major Tom, Aladdin Sane, the controversial Thin White Duke. Bowie's multiple alter egos "covered" him to make him feel more comfortable in front of the public, but he identified with Ziggy to the absolute degree and settled permanently in New York.
His main source of inspiration was his brother Terry who committed suicide after years of hospitalization in mental institutions. Trying to understand his brother's psyche, he delved into himself, understood the "dark side" of the human mind, the fragility of existence, and transferred these experiences to his music. Bowie's "dark side" was also expressed during the "White Duke" years, in 1975 and 1976, during which he said in interviews that he regretted statements he had made about totalitarian regimes. In any case, the existence of the Briton was directly intertwined with the provocation of his youth but also the perpetual theatricality of conveying messages. The "White Duke" was an amoralist, a "psychopathic aristocrat", an egotistical performer, as his creator himself described him, who made sure to always appear to be playing the multiple sides of himself, or the society in which he lived.
During his formative years he supported many young artists, either in production or by playing with them on stage (one of his most important productions was on Lou Reed's Transformer with Mick Ronson). He boldly expressed this support in his historic interview in 1983, that is, in the one in which he "dropped" her on MTV for not playing black music, at a time when young African-American artists were emerging from the ghettos and stereotypical stigmatization, conquering the music scenes .
Bowie himself had chosen his 12 favorite tracks, for the iSelect collection:
1. "Life On Mars?" (Hunky Dory)
2. "Sweet Thing/Candidate/Sweet Thing" (Diamond Dogs)
3. "The Bewley Brothers" (Hunky Dory)
4. "Lady Grinning Soul" (Aladdin Sane)
5. "Win" (Young Americans)
6. "Some Are"
7. "Teenage Wildlife" (Scary Monsters)
8. "Repetition" (Lodger)
9. "Fantastic Voyage" (Lodger)
10. "Loving The Alien" (Tonight)
11. "Time Will Crawl (MM Remix)" (new remix)
12. "Hang On To Yourself [live]" (Live Santa Monica '72)
The greatest moment of his career that the public never saw live is undoubtedly the duet with Freddie Mercury on "Under Pressure". Bowie performed the track in front of an audience with the great Annie Lennox at a tribute to the Queen frontman in 1992.
A few days after that performance at Wembley, he married Iman.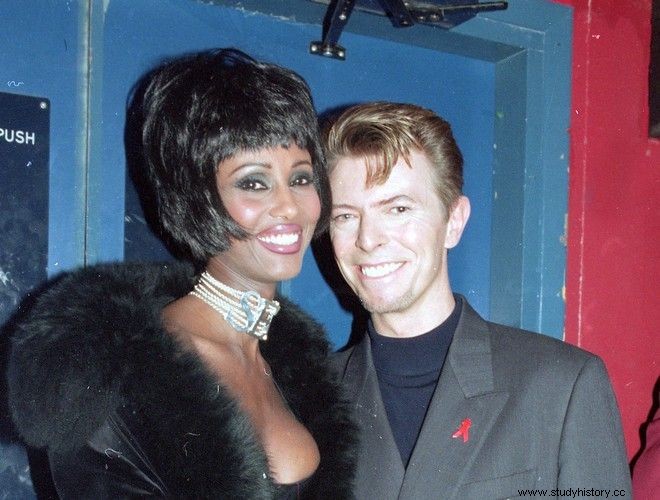 On the other hand, his greatest on stage collaboration was with David Gilmour for Comfortably Numb at the Royal Albert Hall in 2006.
The concert he gave in Berlin in June 1987 is of course also historic. When he played "Heroes," a piece that tells the story of two lovers living in West Berlin and the other in East Berlin, hundreds of East Germans stormed the buffer zone, chanting against the Wall. The demonstration was collapsed by the East German police, just as the Wall collapsed two years later under the weight of popular anger.
In 2003 Bowie gave an interview to Vanity Fair talking about his favorite records. In fact, he had revealed that he owned 2,500 albums, of which he was asked to single out 25. The variety of his music echoes exactly what David Bowie was and stood for. Artistically versatile, uncompromising, aesthetically immovable, pioneering, radical, outside the norm and sealed. From the era of glam-rock to the electronic experimentation of Berlin with Iggy Pop and Brian Eno.
The list he had presented was the following and we quote it as a gift or as a musical guide for traveling through the space paths of the man who "fell" to Earth.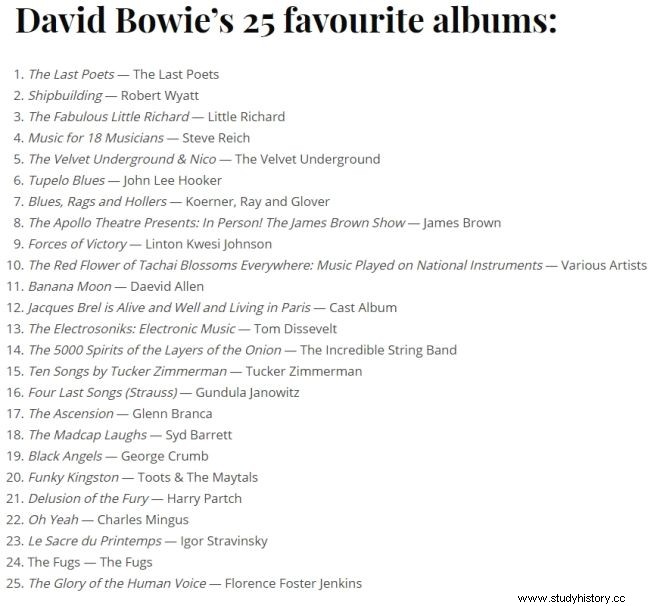 Last year, writer and friend William Boyd wrote to the Guardian about the tragic news of his death, recalling their relationship, starting with the first time she met him. Among other things, Boyd was referring to an incident where Bowie appeared holding a Greek newspaper.
"The decade when our relationship had become more sparse ended in New York, just before he turned 60. I was waiting for him at a party at the Tribeca Hotel. As I arrived, I saw him get out of a taxi and pays the driver. I hailed him, surprised that he was using this mode of transport. I asked him if he had any trouble getting around the city by means of transport. 'Not at all,' he replied, 'I take great pleasure in using them. taxis and the metro. I'm just holding one of those', he said, showing me a Greek newspaper. People think 'That's David Bowie, really?'... but then they see the paper and say... 'uh... it is not possible, it is probably a Greek, who looks like him".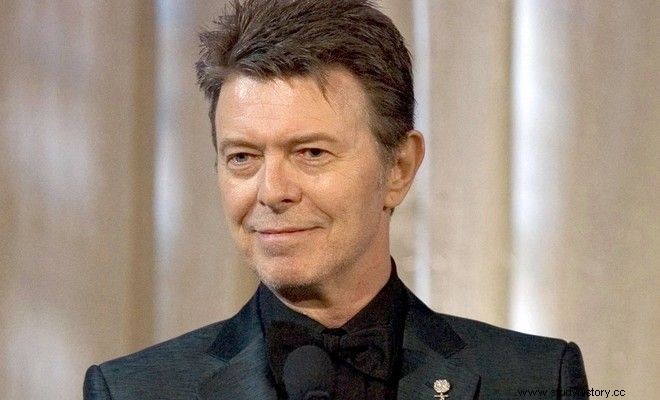 "I thought it was a great idea. So simple, so effective and at the same time, so cool and stylish. A move, totally typical of the man. So we can add another category to the long list of what Bowie did and will we remember them for their style. He was not only an unforgettable composer, producer, musician and performer, but also an actor, an artist, a writer, an economic observer and as it turns out - unsurprisingly - a master of disguise."
An unknown story, instead of an epilogue
Many are the stories that have been written about Bowie. The most famous one is that he did not drink tea because of an accident he had at the age of five when he was burnt. However, the one of greatest interest is the one recovered by director Michael Dignum who had collaborated with the artist. The incident he testified in 2016 after his death is from the filming of the video for "Miracle Goodnight" (1993).
As Dignum recalled, in a conversation he had with his teenage crush on the sidelines of filming, he asked him what he considered the most important moment in his career. "David," he told him, "you know when I was young I had style, it's easy to get lost in fame. It all changes you. So I remember being on the set of 'Ashes to ashes' (where he appears as a futuristic clown in a dystopian beach taken from his dreams, or rather from his nightmares)".
"So we were on a beach filming the scenes with a big 'crane' camera. In this video I'm dressed as a clown. I was listening to the playback and when the music started I started singing and walking, however at that moment, an old man with his dog, they got between me and the camera. I remember sitting by the camera, in my suit, waiting for the old man to pass the shot. As he walked slowly, the director asked him if he knew me. Then the old man He looked me up and down and replied, "Of course I know him! He's a "lechrite" (cunt called him) dressed as a clown". This was a historic moment for me, it really put me in my place, and yes, I was just a "lechrite" in a clown costume. I think about this incident all the time in life my".
Read the News from Greece and the world, with the reliability and validity of News247.gr