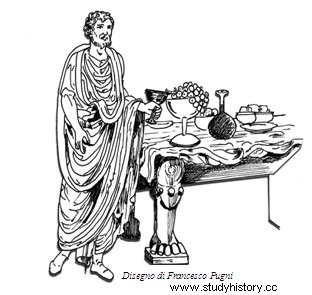 How about surprising your guests on these festive days with cream Etruscan-Roman , a good and ancient dessert?
The recipe which I report below was handed down to us by Apicius, the first great cook in history.
It is a cream called tyropatinam, probably of Etruscan origin, but also very successful among the Romans.
It is easy to make and has a very pleasant taste.
To prepare it, fill a pan with milk, add a lot of honey and boil, then add the eggs and mix everything slowly over low heat.
Once it has become creamy, to make it even more velvety, the mixture must be filtered through a white cloth into another pot and then brought back to the boil so that it regains consistency.
The Etruscan-Roman cream is ready:serve it cold and sprinkled with ground black pepper.