An entire suburb of Roman Vienne extending over 7,000 square meters was unearthed during a preventive archeology operation carried out on the banks of the Rhône since April 2017. Preserved by multiple fires, the buildings discovered by archaeologists present an incredible state of preservation.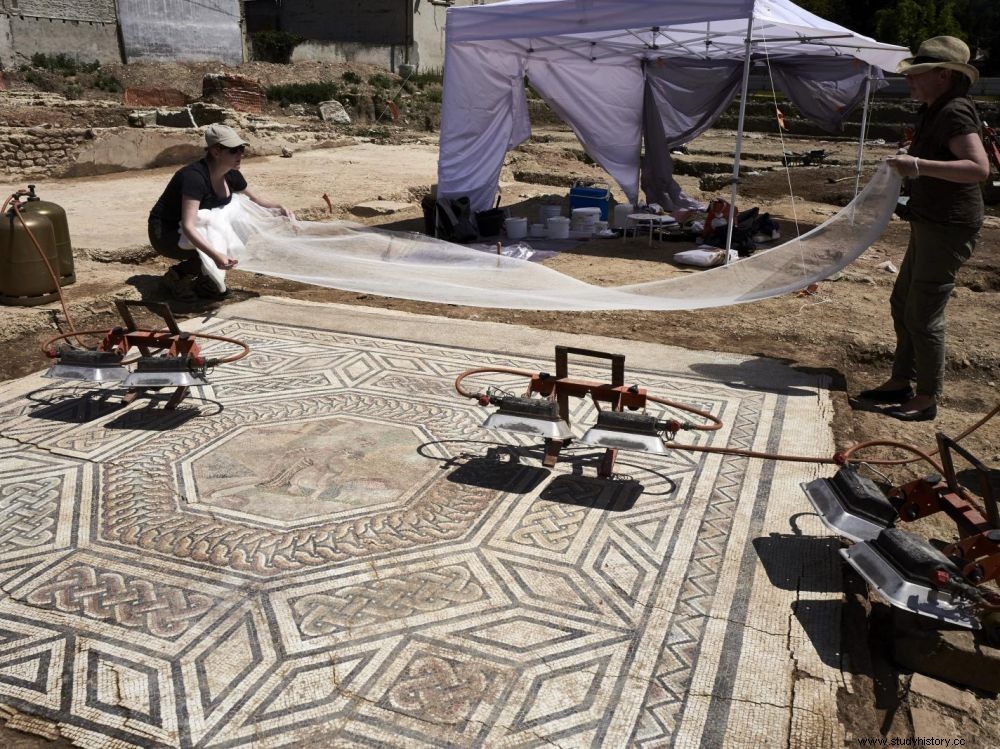 The succession of fires at the time of the Roman Vienne allowed the astonishing conservation of a suburb of 7000 square meters on the banks of the Rhône. Its remains were unearthed during a preventive archeology operation.
"Exceptional site ", "A little Viennese Pompeii ", there is no shortage of qualifiers to describe the incredible discovery of Roman remains unearthed since April 2017 on the banks of the Rhône by around twenty specialists. A find revealed during an archeology operation carried out in anticipation of the construction of he buildings in Sainte-Colombe (Rhône), on the right bank of the river. And the 7000 square meters of luxurious residences and ancient public spaces unearthed in the urban environment are surprising both in their diversity and their incredible condition. "It was successive fires that kept all the elements in place when the inhabitants fled the disaster e", enthuses Benjamin Clément, scientific manager of the operation.
"It was the A7 motorway of antiquity! " - Benjamin Clement
The remains are found on both banks of the river and in two departments:Isère, where present-day Vienne is located, and that of the Rhône, with Sainte-Colombe, the archaeological site of Saint-Romain-en-Gal and its Gallo-Roman museum. A highly strategic place, Roman Vienne was located at a traffic crossroads between the Rhône and the Narbonnaise, a route that went from Lyon (capital of the Gauls) to Arles. "It was the A7 motorway of antiquity! ", smiles Mr. Clément. Vienne, which stretched in antiquity on both sides of the Rhône, is home to a rich Gallo-Roman heritage, including the ancient theater or the temple of Augustus and Livia.
An almost intact mosaic soon to be presented to the public
Among the vestiges preserved by the flames:a mosaic preserved in its almost entirety. Thalie, the muse of comedy appears bare buttocks, kidnapped by a lustful Pan. The work should be restored at the workshop of the Gallo-Roman museum of Saint-Romain-en-Gal for a temporary exhibition in 2019. Initially scheduled to end in mid-September 2017, the excavation will finally be extended until 'on December 15 after its classification as "exceptional discovery " by the Ministry of Culture. The opportunity for archaeologists to excavate a workshop area and access the older levels of the site.