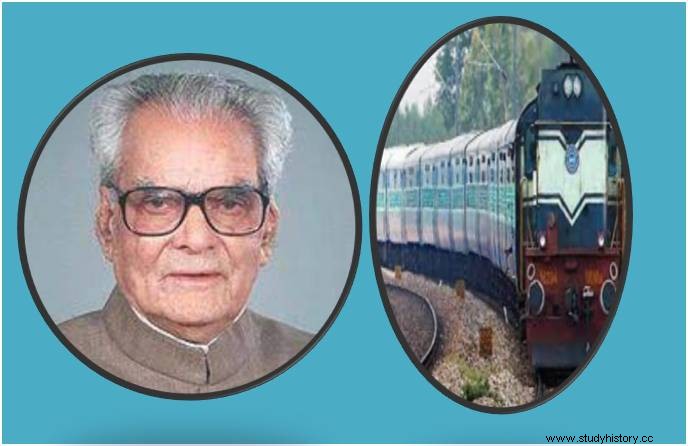 Bhairon Singh was well aware of the power of the vast mineral deposits of Rajasthan. That's why they often used to say that the central government should give us rail, our state is capable of fulfilling the demand of cement and marble across the country.
Abolition of octroi
During the tenure of his third government, Bhairon Singh Shekhawat abolished octroi to end the corruption in collecting octroi at the municipal gates.
Historic increase in the size of the Ninth Five Year Plan
The size of the Ninth Five Year Plan (1997 to 2000) approved for Rajasthan increased by about two and a half times as compared to the Eighth Five Year Plan. This was a historic achievement. While the size of the Eighth Five Year Plan was Rs 11,500 crore, the size of the Ninth Five Year Plan was Rs 27,400 crore.
creation of two districts
During this tenure, the Bhairon Singh Shekhawat government formed two new districts in Rajasthan. Sri Ganganagar and Hanumangarh districts were made by dividing Sri Ganganagar district and Sawai Madhopur and Karauli districts were made by dividing Sawai Madhopur district. Thus the number of districts in the state became 32.
Unprecedented success to literacy campaign
This third government of Bhairon Singh Shekhawat launched an intensive literacy campaign in the state which got unprecedented success. The literacy rate of the state was found to be 38 percent in the 1991 census, which increased to 61 percent in the year 2001 due to this campaign. Thus illiterate Rajasthan turned into literate Rajasthan.
Leader of Opposition for the third time
The third government of Bhairon Singh Shekhawat completed its term, but after that the BJP was defeated in the elections held for the eleventh assembly in 1998. It got only 33 seats while Congress came to power with a thumping majority by winning 150 seats. For this Legislative Assembly, Bhairon Singh Shekhawat contested from Bali seat, in which he was victorious and became the Leader of the Opposition for the third time.
Victory to the post of Vice President
In the year 2002, Bhairon Singh Shekhawat contested for the post of Vice President of India. He defeated his rival Mr. Sushil Kumar Shinde in a straight contest. Bhairon Singh Shekhawat became the 11th Vice President of India on 19 August 2002.
Keep reading for life
Bhairon Singh Shekhawat was educated till High School but the urge to learn, learn and read remained in him throughout his life. He used to make his own assumptions on a subject by getting his assistants to prepare notes on various subjects and study them only.
Three times Doctor of Literature
Andhra University, Mohanlal Sukhadia University and Mahatma Gandhi Kashi Vidyapeeth Varanasi conferred the degrees of Doctor of Literature on Bhairon Singh Shekhawat. Asiatic Society Mumbai gave him an Honorary Fellowship. Yerevan State Medical University Armenia awarded him the title of Doctor of Medicine and Gold Medal.
lost the presidential election
The term of President Dr. APJ Abdul Kalam completed in July 2007. Bhairon Singh Shekhawat decided to contest the presidential election. He stood as an independent candidate. All the constituent parties of NDA supported him. In front of him stood the Governor of Rajasthan, Pratibha Devisingh Patil. He was supported by the constituent parties of the UPA and the Left parties. Pratibha Devisingh Patil was victorious in this election. Bhairon Singh Shekhawat resigned from the post of Vice President on 21 July 2007. After this he withdrew from active politics forever. By this time he was 84 years old.
Cancer Shocked
At the age of 84, Bhairon Singh Shekhawat suffered from cancer. He was treated in various hospitals of India but he could not recover completely.
Be fearless from caste and society
Roopkanwar Sati took place on 4 September 1987. At that time the Chief Minister of the state was Shri Haridev Joshi. Bhairon Singh was on a trip to England in those days. He issued a statement from London and demanded that the culprits of the Sati incident be punished. A large section of Rajput society had already expressed commitment against such a move.
Bhairon Singh fearlessly followed his principles. He was never afraid of the displeasure of caste and society. When the Congress government brought a law against the practice of Sati, Bhairon Singh stood in support of it. When Shekhawat returned from London, he was called a traitor, but he boldly went to public meetings and rejected everyone with his arguments.
Ram Niwas used to meet Mirdha's face
Bhairon Singh Shekhawat's face was similar to that of senior Congress leader Ram Niwas Mirdha. Any man on seeing Ram Niwas Mirdha could have mistaken him to be Shekhawat and any man on seeing Shekhawat could misunderstand him as Ram Niwas. Bhairon Singh arrived in the marriage of the daughter of Ram Niwas Mirdha wearing a safa. The heads of both were also almost the same. On this Ram Niwas Mirdha told Bhairon Singh Shekhawat that you welcome the guests, I am going to the mandap. On this, Shekhawat along with the family members of Mirdha stood in front of them. Many people mistook him for the envelopes and were caught. When Mirdha came out of the mandap, he was surprised to see how the guests were getting confused thinking Shekhawat was Mirdha. Shekhawat laughing and introducing himself to the people said that I am Ram Niwas Mirdha and this is Bhairon Singh Shekhawat.
eat shoes , make a wreath
In 1996, Bhairon Singh sent two of his ministers Rajendrasinh Rathod and Rohitashwa Sharma to Hyderabad to get information about the management. At the same time, the then Chief Minister of Andhra Pradesh N. T. Rama Rao passed away. On this, Bhairon Singh instructed both the ministers to come on behalf of the government by offering flowers on the body of Rama Rao. When both the ministers of the Rajasthan government went to offer flowers, people started throwing slippers at them and started shouting slogans of go back. Due to this, the ministers of the Rajasthan government could not reach the body of Rama Rao. When he told this to Bhairon Singh, Bhairon Singh instructed him that no matter how many shoes and slippers he had to eat, he should come only after offering flowers. Both the ministers again went to the place where the body of Ram Rao was kept for the visitors. This time he was successful in his work. Later he came to know that people called Rajendra Singh Rathod as N. Chandrababu Naidu was mistaking T. Rama Rao, who had overthrown his father-in-law's government a few days back.