Lice, sweat, the smell of unwashed bodies ... For many Polish women, the dirt of war was the essence of humiliation. And the fight for one's own dignity and to maintain at least the appearance of hygiene took an extremely dramatic turn.
The memories of those who survived World War II, if they do not relate strictly to military actions, death, disability, deportations and separation from loved ones, revolve around the subject of food supplies and housing. Where they slept, what were they dressed in, how they protected themselves from the cold, what they ate, how they got provisions ...
Where is he wrong? Often the answer is evasive and comes down to the statement: "it was hard with that".
How was our situation different from that of men? - thinks the nurse "Sławka" in the book by Anna Herbich "Girls from the Uprising" . Of course, our biggest pain was personal hygiene . Actually, its lack.
Long hair full of lice
It was always done in the same way:the girls, before going to the bunker, violently searched for professional hairdressers, of whom there were several in the camp, and had them groomed nicely. Then they went ... - Karolina Lanckorońska wrote about Polish women preparing for execution in the Ravensbrück camp.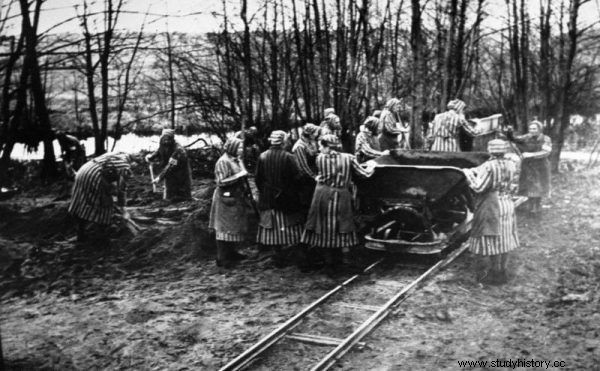 Ravensbrück prisoners. Before their execution, Polish women imprisoned in the camp asked their female friends to comb their hair and pin them up (source:Bundesarchiv, license:CC BY-SA 3.0 de).
For many women, a neat appearance was the last relic of normalcy that sustained their morale in difficult times of war. There were also ladies with long hair. Taking care of them was a real challenge. Teresa Polak, a Warsaw nurse (then Śliwińska) recalls: My braid was stiff with dirt , from dust, but the hair against my skin, when my mother washed me for the first time, a rag (we did not have towels) was walking, I was so lousy.
Lice were a common problem. Krystyna Zwolińska-Malicka says: Each of us had lice. We sat there in the evenings when the air raids ended and we brushed our hair and such "pears" fell.
And yet the women were determined to maintain at least the appearance of hygiene under all conditions. Krystyna Królikiewicz-Harasimowicz recalls her stay in the Durchgangslager transit camp: I could wash my head with powder two or three times, my hair fell out afterwards, because it was more like a dishwashing detergent, not for washing the head.
Girl's troubles
Bandages, dressings, clean cloths or cotton wool were scarce goods, often obtained at enormous cost, intended for the sick and injured. So how did the women handle the "difficult days"?
For many of them the problem resolved on its own - stress and malnutrition stopped menstruation. Danuta Stefanowicz, a nurse and liaison officer of the Gray Ranks, recalls: In the camp, women need sanitary facilities, for one reason or another. I will tell you, most of them did not need, everything stopped. Yes, that's amazing, but that's how it was.
But for others, the period was associated with great difficulties. It [was] horrible, because I wanted to wash myself decently and deal with this girl's troubles in general [to deal with] […] we had to look for a bathroom with water in it. So it wasn't easy. It has been thought about, you have thought about it even more than food - tells Genowefa Flak.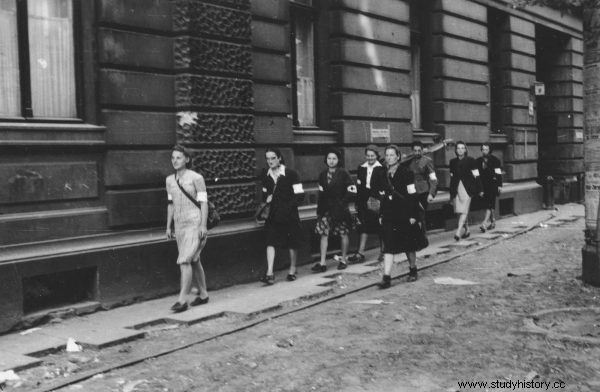 In many women, stress and malnutrition have caused menstruation to stop. Others had to cope somehow ... Pictured:a sanitary patrol of the Home Army Military Women's Service (source:public domain).
Those of the women who were at large had more room for maneuver. It was worse with those imprisoned in prisons and camps. Hanna Kumuniecka-Hełmińska recalls:
And the paper with which the packages were sent was carefully collected so that it could be used for hygienic purposes . You know, women know, the old lady didn't have menstruation anymore, but we had menstruation, it was a horror. You washed in cold water with ice more than once, twice a day […] .
Washing was different …
The issue of personal hygiene for women in occupied Poland obviously differed depending on the place, as well as previous habits and social position. It must be remembered that even before the war, daily washing was not a fixed point of the day for all our compatriots.
But with the advent of the war, the situation worsened significantly, especially in the cities. As the liaison officer Zofia Łazor recalls, during the Warsaw Uprising, hygiene issues were by necessity relegated to the background. [… ] we didn't wash - he says. As long as there was still a fountain in Krasiński Park, we washed there for a while, girls in the evening, boys in the morning. After coming to the Old Town, I took a bath once.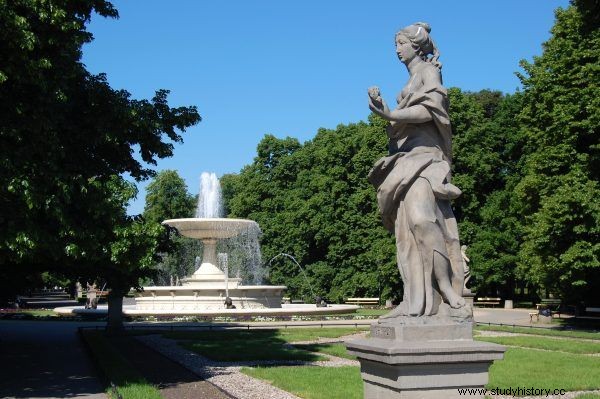 During the Warsaw Uprising, people get confused in public fountains, for example. In the photo:Saski Garden (author:Marcin Białek, license:GFDL).
Water is worth its weight in gold
Hygiene problems began in Warsaw long before the uprising. Zofia Nałkowska wrote in her diaries in the winter of 1940: You can wash and bathe only at night, because the gas pressure in the bottom is too low, the tap water runs cold . Two years later, also in winter, the writer clearly stated:
Any hygiene ambition is an illusion . You can't bathe anymore, even at night, the gas barely flashes, cold water flows from the hot tap. […] Stripping each piece of skin is a victory over yourself, it is heroism. You live in constant shivers.
But during the Warsaw Uprising, access to water was a luxury in itself. Cecylia Górska, a nurse from the "Iwo-Ostoja" battalion, recalls:
[...] at least the last two weeks we had no water anymore, so it was half a liter of water per person per day, and we had to wash, drink and prepare something to eat . I think we washed every second or third day and we poured the water off and then we washed one after another.
Common use of precious water is also remembered by civilians. Ulryka Korczyńska says:
It was me, it was my mother, it was my father's aunt, my mother's sister, there are already four women. […] First, the face was washed, then the lower part of the body was washed, then the floor was wiped - with this one water - and then it was used for the toilet. When it happened in the yard, on the ground, the legs were black with fleas […] .
Before the outbreak of the uprising, the Polish authorities called for supplies, so for some time full bathtubs and various tanks served the inhabitants. Later there was accumulated water in the cellars and pumps and wells in the yards.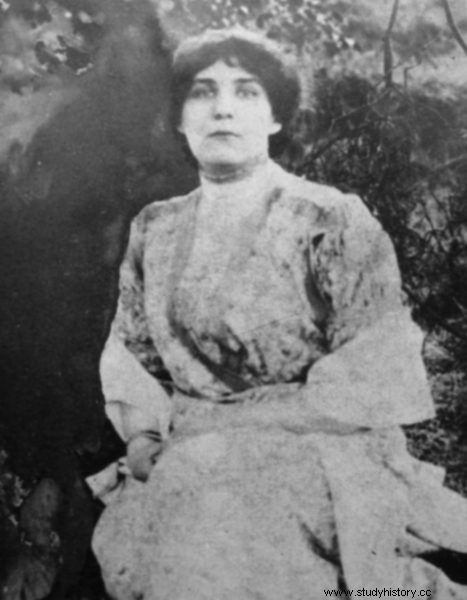 Women, like the writer Zofia Nałkowska, who were accustomed to a certain standard of living, were forced to change their hygiene habits (source:public domain).
But getting water was associated with death danger . Varsovians' tails with buckets and buckets were an excellent target for the Nazis.
Where is Suzina Street, there used to be a "Rainbow" cinema, there was a well there, there were queues, but there were lines that stood day and night for water. Unfortunately, the Germans realized very quickly, they started shooting at these people. A lot of people from our yard died - Iwona Bernadzka, another participant of the uprising, reports.
Sand instead of soap
The realities of occupied Warsaw are well reflected in the "announcement", which was allegedly published by the governor general, and was posted on the streets of the capital in the fall of 1943, full of black humor. It included, inter alia, the following entries:
[...] Polish people are not allowed to dress in European style. The remnants of the remaining clothing will be used for war production. Poles must dress according to the Central African Negro fashion. […] Polish people are forbidden […] Wash with soap replaced by an allocation of 50 grams of sand per person per month.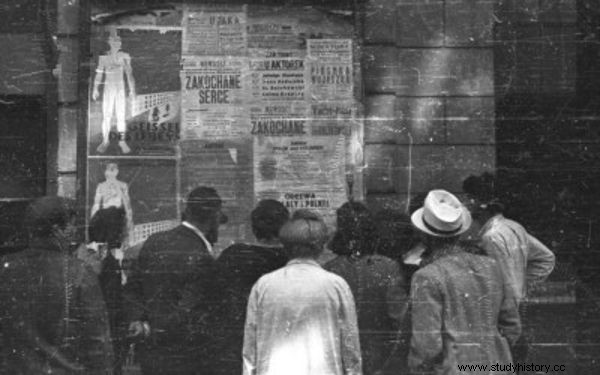 In the fall of 1943, alleged "Regulations on the legal status of Poles" appeared on the walls of the capital. It was really an underground state action ridiculing the occupant's legislation (source:public domain).
Although it was only a satire intended to ridicule Nazi legislation in the occupied country, it surprisingly correlates with the memories of Wanda Piotrowska:
As for the soap […] I don't know what they gave there, but it didn't soap at all, but you could wash your hands. It's like as if someone poured washing powder and then two cups on the sand and mixed it .
However, even this was rejoiced. Zofia Nałkowska wrote at the beginning of the war: A piece of soap, a bandage, cotton wool, paper and ink - these are objects of desire and dreams, whole treasures.
Wash yourself with wine, soup, coffee
For many women, the need for hygiene was stronger than the hunger or thirst. Hanna Maria Malewicz recalls her stay in the Oberlangen camp: We were given minimal food, a watery liquid, which (with apologies) drank a little, and simply used a little for hygiene to wash up a bit.
In turn, Krystyna Bukowska says: I used to wash in coffee sometimes as there was no hot water. […] They say:"Are you crazy?" I say:"It's hard, I prefer not to drink, I prefer to wash myself".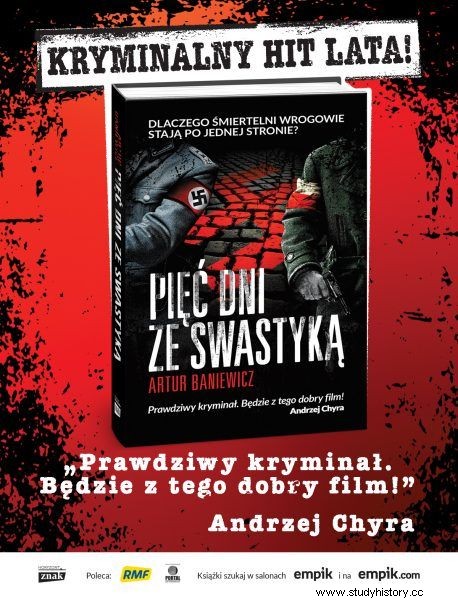 The article was inspired by Artur Baniewicz's crime novel "Five days with a swastika", just published by Znak Horyzont!
Such choices were made not only in the camps. Nurse Zofia Bernhardt, who stayed in Warsaw's Old Town during the uprising, recalls: It was difficult to get water, after all, we had no access, the water was provided for drinking. For example, my friend washed my hair in red wine . […] The wine smelled like a barrel.
Stronger drinks were also used. I remember that one of the very famous fighters of [the Old Town], captain "Zdan" [Tadeusz Majcherczyk] […] sent his orderly to us. He brought us [to the hospital at 24 Miodowa Street] a large bottle, it was spirit - says the nurse "Marysia", Stanisława Orlikowska. The one coming says:" Marysia" take it to wash, just don't wash it off " .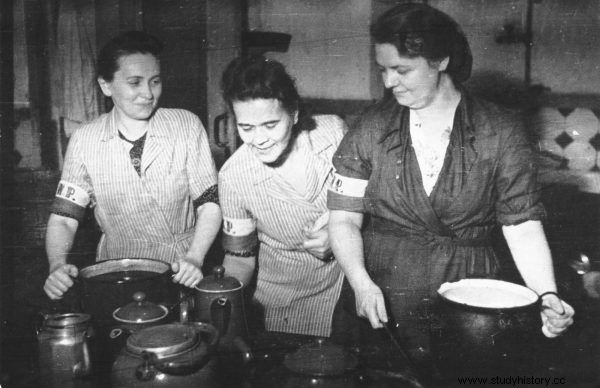 Women in the Warsaw Uprising, fighting, working as messengers, nurses, cooking in field kitchens and taking care of order, tried to look as neat as possible (source:public domain).
Lavender-scented cellar
When we talk about the horrors of the Uprising, about hunger, [what] cannot be conveyed is the smell. The uprising had its own smell at the end of August and in September it had a terrible smell - states "Hank's sister", that is Anna Trzeciakowska. Dead bodies in the streets, wounds in hospitals that could not be disinfected, faulty sewage system, and finally - the stench of unwashed bodies.
Sometimes women found a way for that as well. Janina Kin, nurse "Janeczka", recalls the time when she took care of order in a cellar with people in hiding:
[…] w there was a so-called soap factory in the house where I lived. ... I poured this lavender water over the walls in the basement to make it smell nice to keep it fresh, because it's on alcohol. Those who lived in the basement were so saturated with the scent of lavender that you could recognize each other by the smell, who is from, which basement.
Inspiration:
This article was inspired by the newest novel by Artur Baniewicz titled "Pięć dni ze swastika", just published by Znak Horyzont.
Bibliography:
Archive of Oral History, interviews with participants of the Warsaw Uprising, [access:19/06/2016].
Anna Herbich, Girls from the Uprising, Znak Horyzont, Krakow 2014.
Zofia Nałkowska, Diaries of the time of war , Czytelnik, Warsaw 1970.
Karolina Lanckorońska, War memories, Znak, Kraków 2002.
Tomasz Szarota, Occupied Warsaw, Weekday, Reader 2010.
Check where to buy "Kitchen Occupation":