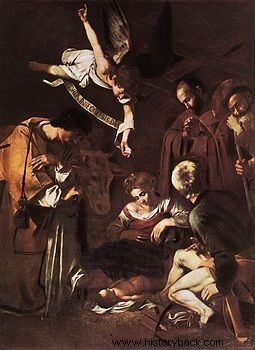 Nativity with Saints Lorenzo and Francis of Assisi, the work by Caravaggio stolen in Palermo in 1969
Saturday, October 18, 1969, one of the most sensational thefts in the history of art took place in Palermo.
The event took place inside the church of the Oratory of San Lorenzo, in the city center.
In the early afternoon, around three o'clock, two custodians who had to prepare everything for mass, realized that the large canvas above the altar had disappeared.
It was not just any painting, but none other than a masterpiece by Michelangelo Merisi , called Il Caravaggio ( see also :https://www.pilloledistoria.it/11170/notizie/caravaggio-mori-di-setticemia):the Altarpiece of the Nativity with Saints Lorenzo and Francis of Assisi, there since 1609.
Despite the research, the painting has never been found.
It was not even a difficult theft, since the thieves entered through a defective door and took the painting with them, among other large ones, without anyone hearing or seeing anything.
But who stole the Caravaggio and, above all, what happened to him?
Most likely, the mafia, is behind the sensational theft as the recent testimonies of some repentants would confirm.
Unfortunately, it is not known whether the work has been sold, destroyed or is, instead, somewhere.
Will he ever find himself again?
The hopes are very weak, but who knows….