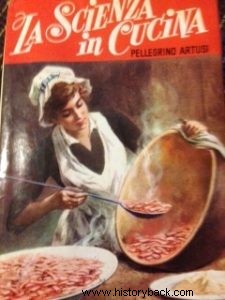 The text by Pellegrino Artusi
Romagna-style cauliflower is one of the many recipes taken from the text Science in the kitchen and the art of eating fine by Pellegrino Artusi.
Here is the recipe verbatim:
"Divide a large ball of cauliflower, or two if they are small, into snacks that you will wash and so raw, without drying them, cook them in this way:put a proportionate mixture of garlic, parsley and oil on the fire, and when it is browned stop it with a drop of water.
Then throw the cauliflower in it seasoning it with salt and pepper and when it has absorbed the mixture, cook it using tomato paste dissolved in hot water.
Give it grace and more flavor with Parmesan when you send it to the table, where it can serve as a side dish to boiled, stewed or coteghino ".
Would you like to try the recipe?
In fact it is a good side dish, but in the 19th century the kitchen was fatter:just limit the oil ( see also :https://www.pilloledistoria.it/7007/storia-contemporanea/dallartusi-salsiccia-con-luva).