Tunisian doctor and activist, Tawhida Ben Cheikh ( – is the first Muslim woman in the Arab world to become a doctor, pediatrician and gynecologist.
From Tunis to Paris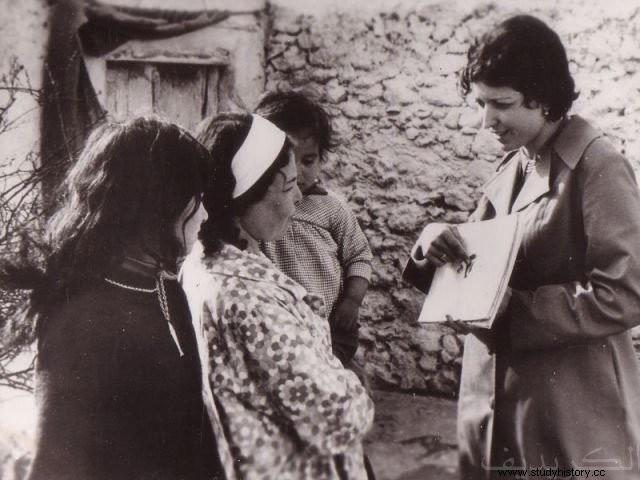 Tawhida Ben Cheikh was born on January 2, 1909, into a wealthy family in the city of Ras Jebel in northeast of Tunisia then under French protectorate. Fatherless, she received a good education, first with the sisters of rue du Pacha then at the Armand-Fallières high school in Tunis . A brilliant student, in 1928 she became the first Muslim woman to obtain the baccalaureate in Tunisia.
Noted for her intelligence and aptitude for study, Tawhida enjoyed the support of Dr. Burnet, a French physician, and his wife, who helped her enroll in the Faculty of Medicine in Paris. But it is his mother, Halouma Ben Ammar, who manages, not without difficulty, to extract the agreement of the paternal family for this trip. Leaving in 1929, Tawhida graduated in 1936. She returned to Tunis, the first Muslim woman in the Arab world to become a doctor.
Feminist and committed
In Tunis, Tawhida Ben Cheikh practices in a private clinic dedicated to the care of women and newborns. In a Tunisia under protectorate, public hospitals are managed by the French authorities and the young woman cannot practice there. Initially, Tawhida practiced general medicine and pediatrics, before specializing in women's issues and gynecology.
At a time when, in Egypt, Huda Sharawi defended gender equality, particularly in the family, and girls' access to education, Tawhida was also interested in the rights and status of women. From 1937, she participated in the Tunisian Girl's Club and the Union of Muslim Women.
In 1937, Tawhida became head of the magazine Leïla . First female magazine in Tunisia, founded the previous year, Leïla aims to be "an illustrated monthly magazine for the evolution and emancipation of North African Muslim women". In fact, the monthly publishes some pioneering articles on the emancipation of women and their role in Tunisian society.
Family Planning Director
Tawhida Ben Cheikh is committed to access to health for women, children and the poor. She founded several companies dedicated to social assistance, the reception of orphans, the care of children or the education of mothers. In 1955, Tawhida obtained a position at Charles-Nicolle Hospital and began a career at the public hospital, where she headed the obstetrics department. Contributing to the creation of a school of midwives in Tunis, she became in 1959 the first woman to sit on the National Council of the Order of Physicians of Tunisia.
In 1963, Tawhida created a family planning service at the Charles-Nicolle hospital. In 1968, she opened a birth control clinic in Tunis before becoming director of the National Family Planning Council in 1970.
Tawhida Ben Cheikh died in December 2010 at the age of 101.