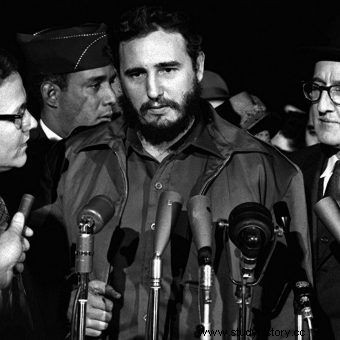 Fidel Castro
Fidel Castro
Cuban revolutionary, politician, dictator, 1st secretary of the Communist Party of Cuba. He was born on August 13, 1926 in Biran in the east of Cuba to a wealthy family of sugar cane growers. As a child, he worked in the cultivation of reeds. After the age of six, he and his brothers were sent to school. He graduated in law but quickly became one of the leading figures in the Cuban Revolution. He was a staunch opponent of General Fulgeni Batista, who came to power in a coup d'état. In 1953, Fidel Castro led the unsuccessful attack on the Moncada barracks in Santiago de Cuba, in which his brother Raul also participated. For this, Fidel was sentenced to 15 years in prison. He left them in 1955 thanks to the amnesty. He was in exile in Mexico, where he met Ernesto Che Guevara. There he founded the July 26 Movement, of which he became the leader.
In 1956 he returned to the country, he made an attempt to overthrow the military junta, initially suffering further defeats. The revolution, however, was spreading out more and more. In 1958 Fidel Castro already enjoyed the support of over 80% of the Cuban population. The participants of the Cuban Revolution managed to overthrow Batista, who even lost the support of the United States, only at the turn of 1958 and 1959. On January 1, Fidel Castro's troops entered Santiago de Cuba, the former president had left the island earlier. Castro arrived in Havana on January 8th.
Dictator in Cuba
He filled state posts with people loyal to himself, and he himself became prime minister. He strove for good relations with the USSR, worsening it with the US, which supported the infamous Bay of Pigs operation. In 1962, Soviet rockets were installed in Cuba, which led to the famous crisis. For over 40 consecutive years, Fidel Castro continued to rule Cuba, suppressing opposition activities and plunging Cuba into an increasing economic collapse. Due to Fidel's increasing health problems, Raul Castro took the helm of government in Cuba in 2006. Death of Fidel Castro took place in Havana in 2016.