Alfonso X el Sabio was king of Castilla y León , his life coincided with the strengthening of the monarchical power recorded during the 13th century throughout the Iberian Peninsula, which was experiencing a critical moment in its long struggle against Islam. The victory over the Almohads in the Navas de Tolosa , achieved by a true coalition of Christian sovereigns in 1212, just a few years before his birth, will be decisive for the Spanish future. From then on, Fernando III and Jaime I will make a progressive and definitive advance. A time characterized by transition and intolerance, it is the framework in which Alfonso X was born, a Wise King for peace and indulgence.
Data on the life of Alfonso X El Sabio
1221 He is born in Toledo.
1244 He married Violante, daughter of Jaime I the Conqueror and Violante of Hungary.
1252 Coronation as King of Castile and León.
1257 Election of Alfonso X to occupy the throne of the Holy Roman Empire
1282 Insurrection of his son Sancho. War between father and son.
1284 He dies in Seville at the age of sixty-two.
The long reign of Alfonso X (1252-1284) can be considered, in its governmental aspect, as a sad succession of failures. Both in domestic and international politics, his performance sometimes denotes an absolute absence of strategy, and others an overflowing stubbornness. Judged from posterity, the effort of the Wise King seems to have or in each political failure the stimulus to continue his fruitful cultural work. It is through her that his figure acquires the size that will make him stand out from most medieval characters. Destined to reign in a society dominated by greed and intolerance, his high spirit could not help but end up sunk by her. But in the meantime, from his time as an infant and until shortly before his death, that same spirit was building the vast and diverse set of works that would transcend him:that "silva of various lessons" that constitutes the best legacy of the 13th century in knowing Spanish
The infant don Alfonso
Eldest son of Fernando III and Beatriz de Suabia, Alfonso X was born on November 23, 1221 in Toledo , although his first years were spent alternating between this city and Burgos. An applied, contemplative, tenacious, spare and generous child, he was strange at the same time. His love of verse, music, numbers, and stars set him apart from others, even adults, and despite his affability, he was necessarily a loner. He was nine years old when the death of his grandfather Alfonso IX in Villanueva led his grandmother Berenguela to travel in a hurry to meet their son, Fernando, who was projecting the siege of Córdoba. He knew that, out of rancor towards her, Alfonso would leave her two daughters from her first marriage to Teresa of Portugal as heirs, and he was trying to get the throne of León for Fernando. The infantas were assigned an annual income, and Fernando III, with the strength that the union of both crowns gave him, was able to continue and expand his conquests.
When he turned twelve, the infant moved definitively to Toledo. A jurist, Jácome Ruiz, an alfaquí, or Muslim doctor, Master Xossé, and Isaac ibn Sid, a physicist and astronomer, will be in charge of his training, which will last for six years. In 1235 his mother died in Toro, leaving Don Fernando nine children, seven boys and two girls. For the infant, his siblings will be a hotbed of envy, disloyalty and ingratitude of which he, towards the end of life, would be his favorite target. A year had not yet passed since the death of her daughter-in-law when Doña Berenguela combined with the French court the union of her widowed son with Juana, daughter of the Count of Ponthieu, while at the same time trying to marry the infant with Felipa, the sister of that. Fernando's wedding took place, but the grandmother saw her second attempt with Don Alfonso fail —she had already rejected Blanca de Navarra— when he was only fifteen years old. At eighteen, while his family remains in Burgos, he prefers to continue in the fortress surrounded by a faculty of professors that grows in the same proportion as his erudition. Toledo is his city, and, like him, it admits everyone. Its population is a hive of Castilians and Leonese, Mozarabs and Franks, Jews and Christians who speak five languages ​​from the fortress to Plaza de Zocodover. The romance detaches itself from Latin, rubs against Arabic, corners Mozarabic and is impregnated with Gallicisms in a confusion that warns of the urgency of a power that orders life, unifies law and fixes the language. The infant is thinking and working on all this when his father calls him to fight.
Under the orders of Fernando III, Alfonso participated during his youth in a series of conquests in which he demonstrated an unusual value in a personality like his. Between one battle and another, Mayor Guillén waits for him in Toledo, who had been a lady-in-waiting for his mother. It was when he conquered the kingdom of Murcia that Mayor gave him a daughter, Beatriz, who over the years would become Beatriz de Castilla. (Alfonso X was the father of three other natural children:Alonso Fernández el Niño, with Dalanda, the daughter of master Xossé; Martín Alonso, future abbot of Valladolid, and Urraca Pérez, whose mothers are unknown.) However, for that At the same time, the Treaty of Almizra, through which the Castilian and Aragonese conquest territories were delimited with Jaime I the Conqueror, commits him in marriage to Violante, daughter of the King of Aragon. In 1252 Fernando III would see his death in Seville —already conquered— when he was preparing to go to Africa.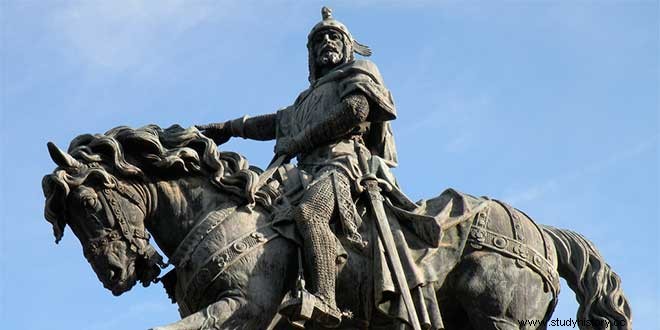 Alfonso X the king and the «date of the Empire»
Alfonso X crowns himself on June 2, 1252 and his reign begins trying to continue the reconquest policy of his father. It will be more than thirty years of continuous battles, in which he achieves some squares in Andalusia and manages to suffocate several of the repeated Mudejar rebellions, but he also suffers various defeats and recovers the kingdom of Murcia thanks to his father-in-law, who gives it to him once reconquered. He must also give up the Algarve in favor of Portugal and fails in his aspirations to the kingdom of Navarre. The succession occupies its last years. He tries to create a kingdom of Jaén feudatory of Castile for Alfonso de la Cerda, son of his deceased eldest son, but the opposition of the infante Sancho unleashes the civil war between father and son. Family intrigues and conspiracies, from which his wife does not escape, even force him to order the killing of his brother Fadrique and his son-in-law, Simón Ruiz.
His economic policy was no better:altering the value of the currency, then resorting to the rate, later revoking the edict and ordering new taxes due to the impact it had on the treasury were measures that discredited him. The same thing happened with his resignation from the Duchy of Gascony to Prince Edward of England and, in general, with the liberality that provided privileges, exemptions from taxes and donations to abbeys, monasteries and individuals. All this was creating mistrust that would later turn into hostility. Dedicated at the same time to his work, he only accepts advice from scientists. He has great self-confidence, which increases when at the end of 1256 the Pisa embassy offers him the throne of the Holy Roman Empire. His status as grandson of Felipe Staufen allows him access to it, and on April 1, 1257 he was elected emperor in Trier. From then on the imperial dispute with his other competitors - Otto of Brandenburg and Richard of Cornwall - became an obsession for him. The "date of the Empire" does not enjoy popular favor and the Cortes unwillingly grant the necessary financial aid. The nobles use it as
pretext for his rebellious attitude and, above all, with the manifest opposition of the pontificate. The king does not resign, however, and in his efforts he will forever compromise his domestic policy. Dead Ricardo de Cornualles, Rodolfo de Habsburgo will be elected in 1273; but Alfonso remains firm in his claims until he meets in Lyon with Pope Gregory X, to whom he finally promises to renounce his aspirations in exchange for financial help in the fight against the Muslims. It was a long and stubborn dream that he lived as his saddest failure, although it did not tarnish his great literary work.
The Wise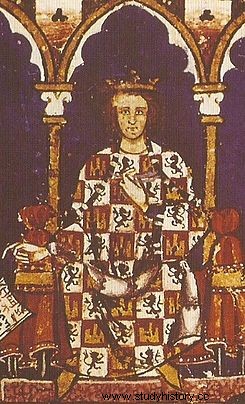 Happy cultivator of Galician poetry in his youth, his work was enriched over time, diversifying into three main aspects:legal sciences, history and astronomy. From the three cultural centers of his kingdom —the school of translators in Toledo, Seville and Murcia— he promoted and directed the work of a true research council made up of translators, compilers and authors who rightly supported his guidelines. Given his universalist orientation, his work as a whole acquires general characteristics of an encyclopedia in treatises of all kinds, including astrology and recreation. It would be lengthy to enumerate this set, remarkable in its entirety. However, it is necessary to point out its importance and diversity with only some of his works. While still an infant, in 1251, he had Calila written and Dimna , adaptation of a collection of oriental stories and apologies. The Code of the Seven Games (1265), inspired by Roman law but adjusted to the tradition of Castile —in fact, it was an extension of its previous Royal Charter of Castile, of 1254—, which replaced the existing plurality of jurisdictions. General Chronicle and General and great story , national history of Spain the first, and universal the second. Books of astronomy knowledge , with its Alphonsian Tables based on Ptolemy's system. Astrolabe Book and Book of chess, dice and boards . Lapidary , incomplete work in which five hundred precious stones, metals and other substances and their astrological relationship are described (1276-1279). Poetic works of a religious nature such as the famous Cantigas de Santa María , composed of 420 songs, and of a profane nature, songs of love and cursing as Par Deus Senhor or Quem da war levou cabaleiros and hundreds of other compositions that make him the first cultivator of poetry in the Galician-Portuguese language, founder of Castilian prose, the last link between medieval Europe and Arab culture and the first, also, to adopt a modern vision of historical science .
At his court he brought together Provençal and peninsular poets, musicians and minstrels, and made it the most important center of troubadour poetry. Many of his subjects, given the breadth of his knowledge, expected to see in him a serious, dour, and circumspect man; however he was a simple and kind being, according to some chronicles. And judging by the popular language of his derisive songs —sometimes ironic and scathing, other times parodic and even lewd—, it could be inferred that he had fun writing them, that he was even cheerful on occasion...
Sad and old, on April 4, 1284 the king died in Seville at the age of sixty-two . The Sage would continue to serve centuries.